We recently spoke about how green and ecological toys that are plastic-free contribute positively to our future and the well-being of our planet, but how can we inspire our children to be more aware of our impact on the planet and show the right example for them to learn to live a sustainable life? As parents there are lots of changes to our lifestyle we can make to live more sustainably.
There are also lots of ways we can help children to create new eco-friendly habits, building their awareness to be more eco-conscious as they grow. Here are some top tips and ideas for everyday ways to teach children about sustainability.
Get children to help with recycling
From sorting cardboard and different types of plastic to rinsing glass jars, making recycling a fun part of children's everyday life will build sustainable habits for the future. Explain the system for recycling in your house, using labels or different coloured boxes and bins. Let children help with sorting items and crushing them down. Younger children can squash cardboard cereal boxes while older children can remove plastic tape or staples and crush plastic bottles flat.
Talk about how important it is to try to avoid too much packaging and minimise the space it will take up on the recycling truck so that fewer trips or trucks are needed to collect it.
Visit a recycling centre
Let children see what happens to their recycling at their local recycling centre. Children will love to watch recycling trucks coming and going, machines at work, and people unloading items into the different zones such as metals, glass and plastics. Talk about reducing, reusing and recycling, such as repairing items instead of buying new ones, donating items you no longer need to charity shops if they could be used again by someone else, and what other items could be made from the plastic that is being recycled.
Share children's books about how to live a sustainable life
There are lots of fantastic books to help explain to children how to live a sustainable life. Old enough to save the planet by Loll Kirby is an inspiring book which takes a closer look at 12 young climate change activists from around the world. It covers subjects such as using less plastic and what we can do to save the bees, the trees and the ocean.
A turtle's view of the ocean blue by Catherine Barr introduces young readers to our oceans, ocean wildlife, the challenges we're currently facing and what we can do to help save our big blue world.
We are Together by Britta Teckentrup is a delightful story showing children the power of friendship, teamwork and the importance of working together to look after our planet.
Spin a scarf of sunshine helps children understand where clothes come from and encourages natural, sustainable living and recycling.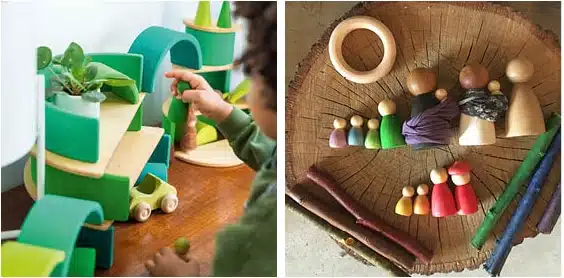 The Nienhuis Montessori thoughtful living series books highlight themes of nature and help children connect with their own inner peace. Containing 6 books, this series nurtures the developing human spirit and reveal the relationship of children with the Earth.
Explain why you choose ecological toys
Giving children sustainably made and ecological wooden toys that last a long time rather than the latest craze or fad in plastic toys helps to avoid adding to the landfill problem. Talk to your children about how important it is to look after their toys, how resources and energy are used to make them. 
Discuss how the sustainable toys you buy them use only FSC-certified, sustainably sourced wood, so precious rainforests aren't destroyed and replacement trees are always planted for the sake of our planet and our environment. Talk about how vital trees are for providing oxygen for all living things to breathe, and the work of the Forest Stewardship Council in preventing deforestation and taking care of forests and the people and wildlife who live there.
At Teia Education & Play, all brands are carefully chosen for their sustainability and values. The sustainable and eco-friendly manufacturing of their range of products ensures every effort is taken to conserve natural resources and protect our environment. These beautiful and ecological toys and learning materials are created with care for the planet and designed to last for generations to come.
Teach children to look after their toys
Children naturally treasure their possessions so build on this culture of care. If any of their wooden toys need repairing, let children see that a little wood glue and time in a clamp means they can soon be as good as new and they need never end up in landfill. You can also talk to them about how special ecological toys that have been carefully handmade are and how they should be treasured and passed on to future generations. 
If you are lucky enough to have any of your family's old wooden building blocks, you could involve your children in carefully giving them a gentle clean, sand or oil where needed and add them to the toy shelf. 
Having fewer toys that are carefully chosen to be versatile and open-ended will help children to use their imagination and creativity. Rather than a house filled with plastic toys, children learn to value the ecological and sustainable toys they have and play with them in many different ways. Simplicity parenting: the extraordinary power of less to raise calmer, happier, and more secure kids by by Kim John Payne and Lisa M. Ross is a great book on sustainable parenting.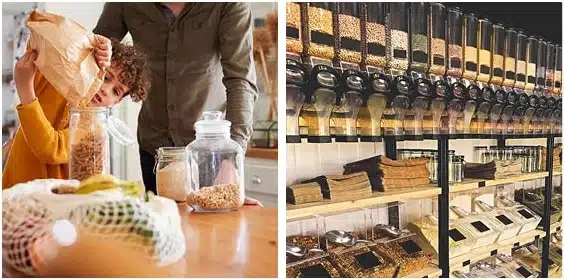 Visit a refill shop, packaging-free store or zero-waste cafe
Finding shops and cafes near you that are trying to save the planet is a great way to inspire your children to do the same. Take along your own storage jars and containers to weigh and fill to avoid plastic packaging and give your children hands-on learning about sustainability!
And why not enjoy a cake at a zero-waste cafe, supporting sustainability efforts and talking to your children about how hard these establishments work to reduce the greenhouse gas emissions caused by food waste.
Make sustainable lunch swaps
Lunch boxes are a great place to teach children about making more sustainable choices. Talk about how you are avoiding single-use packaging going into landfill and reducing the need for recycling by using durable reusable drinks bottles instead of juice cartons or plastic bottles and reusable boxes and beeswax wraps instead of zip-lock plastic bags or cling film.
Visit a local farmer's market
Not only connecting children with the food they eat and the people who grow it, a visit to a local farmer's market is the perfect place to discuss how we should be eating food that is grown as close to our homes as possible to reduce carbon emissions. 
Even on a trip to the supermarket, children can be involved in remembering to take reusable bags instead of using plastic bags and selecting seasonal food that has been grown in our own country.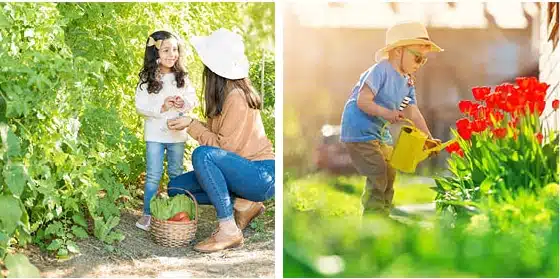 Gardening with children
Gardening is a great way to teach children about sustainability. Involve them in composting, showing them that kitchen food waste and garden cuttings can be turned into food for plants.
Be sure to install a waterbutt to show children how we can harvest rainwater for an eco-friendly way to water our plants. Let them see how much it fills when it rains, and how rain falling onto the roof can be directed into the waterbutt or tank by roof gutters and pipes. Talk to your children about how conserving rainwater in this way saves the energy needed to treat tap water to make safe drinking water for us but that isn't necessary for the plants.
Letting children grow their own fruits and vegetables is a great way to show them how we reduce our carbon footprint every time we eat them from our own garden instead of food having to be transported. Child-sized gardening tools are great for helping children to really enjoy getting involved in every stage of gardening and learn to love this great sustainable habit for the future. Children's gardening kits are a great way to get started on a small scale and let children see for themselves the effort involved and reward of growing plants.
Little energy monitors
Give your children different responsibilities around the home for monitoring energy use and seeing where it might be wasted. Even young children can make sure lights are switched off when a room is empty or not letting the water run while brushing their teeth.
Putting older children in charge of unplugging their electronic devices when not in use can cultivate good habits that will last into adulthood. Talk about closing curtains and doors to conserve heat and how we put on jumpers and slippers if we are cold, rather than turning up the heating, to reduce energy consumption.
Starting to teach our children about sustainability from an early age and instilling eco-friendly habits on a daily basis at home is key. We would love to hear your tips for teaching children about how to live a sustainable life!
Sarah Varley is a freelance writer and mother of two from England. Sarah embraced the Montessori method for her children's early education and is a huge fan of open-ended play with beautiful toys that last for generations. As a former Librarian, there will always be a special place in her heart for books, sorting and organising!