We are so excited to bring you Grapat's new WILD collection for 2022: Spanish family-run brand Grapat are true specialists in open-ended play, creating unique, Waldorf-inspired and sustainable wooden toys that are so appealing to both children and adults. Their new collection is just as certain to delight!
The new Grapat WILD collection is a stunning range of handmade wooden toys celebrating a wild and free childhood filled with play. You can see immediately that each of these very special wooden toys is inspired by the raw beauty of nature and its different natural forms, as well as the spirit of living according to the seasons and enjoying the little things in life.
These beautiful handmade wooden toys truly spark joy and are sure to inspire hours of open-ended play. Each piece reflects the wonder and magic that children find in nature and everyday life. For children, every day can be an adventure and they will seize every opportunity for joy and play.
Grapat's message behind their new Wild Collection for 2022 is to inspire families to take their time to enjoy the small joys in life, always and everywhere. Their special message to children is " You can be whoever you want. It's exactly who you are meant to be".
Most of all, Grapat's wonderful creations are a magical invitation for play, play, and more play! These simple yet perfectly formed Waldorf-inspired wooden toys are so appealing and sensory, and are intended to inspire children to explore, make memories, feel and enjoy simply being in the moment.
Just like playing in nature, Grapat's open-ended toys don't have a right or wrong way to be used. We love how Grapat wooden toys leave so much room for a child's imagination. This type of toy helps to grow your child's creativity and imagination every time they play.
Grapat Wild Toy Set
The Grapat Wild playset contains 12 beautiful, whimsical wooden creatures, each with a special message or invitation to play and imagine. Each wooden toy has its own 'superpower'- some promise to eat your child's sorrows or fears, or accompany them when they feel lonely. Others encourage them to dance with the wind or walk in the snow.
All of the wooden elements of the Wild playset are gorgeously hand-painted in pastel shades and beautifully shaped to reflect nature's wondrous forms. We also love the partitioned wooden sorting box, which is not only beautiful storage for the toys but also gives the playset an extra scientific element with a space to collect, sort and study each specimen!
Grapat Wonders Toy Set
The Grapat Wonders set includes 12 amazing wooden treasures inspired by the botanical world. Designed to help your child embrace the seasonal changes in nature, they are ideal to complement a wooden perpetual calendar.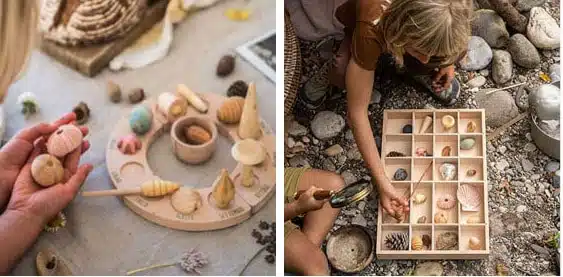 There is a toy for each month which reflects nature at that time of year. These tactile shapes represent elements from the floral realm, including seeds, bulbs, nuts, fruit and fungi, to help connect children to nature through play.
Grapat Petals Platforms Set
The Grapat Petals platform set includes 24 beautiful wooden flower petal shaped platforms. Their lovely and unique shape makes them a great addition to mandalas, loose parts play or building blocks play. Lay them out as bases for your mandalas in all the different flower petal patterns you see in nature. Or use them as platforms and layers to add amazing nature-based architectural elements to buildings, structures and small world play.
Grapat Hooray! Wow! Yay! And Ooh-lala! Toy Sets
The Grapat Hooray! Wow! Yay! and Ooh-lala! Toysets each contain a delightful family of 3 wooden peg doll toys from the Grapat 2022 Wild collection. These beautiful little collections of wooden toy figures come in diverse natural, tactile shapes and all in the perfect sizes for grasping in a child's hand, taking along on adventures and inspiring lots of open-ended, imaginative play and conversations!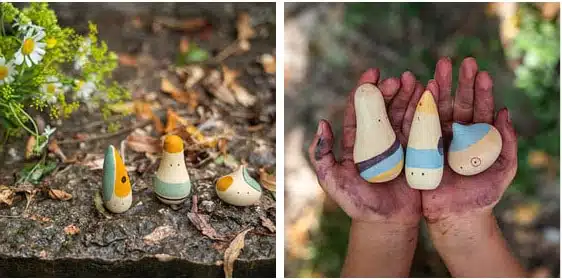 Each of the sets are finished in lovely hand-painted earth tone colours and patterns and beeswax. Grapat's sustainable wooden toys are always handmade in Europe and hand-finished using only 100% safe, non-toxic vegetable dyes, waxes and oils of vegetable origin.
Grapat Dark Baby Nins Toy Set
This Grapat wooden toy kit contains 6 delightful dark baby nins toy figures and a coconut shell. Each of the nins are painted by hand in lovely colours of the rainbow and encourage endless play possibilities! The dark baby nins have unpainted faces and no discernible gender so they offer creative inspiration for imagining stories, adventures and are the perfect little companions for symbolic play and story telling.
New Grapat Mandala Sets
Grapat have also created some new additions to their hugely popular mandala range: Mandala rainbow mushrooms, with 36 wooden mushrooms in 12 gorgeous graduating rainbow colours, and the Mandala tulips set to add wonderful sunny shades of yellow to your playtime, learning or nature table. The Grapat mandala natural wood set has 120 pieces in 10 different natural forms including bee hives, seeds, shells and cones. They are all beautiful additions for creative play, transient art, mindfulness, loose parts play, small world play, sorting or counting.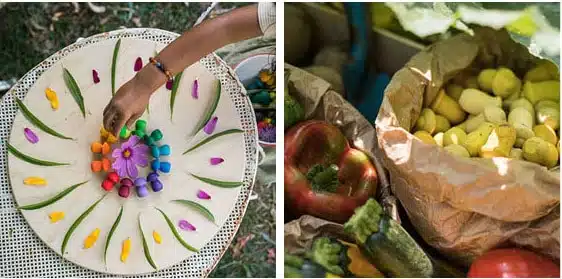 Ultimately, these versatile toys can be whatever your child wants them to be, and that is the true magic of them. The pieces from the Grapat Wild collection really invite and inspire a child's own creativity. They are ideal for loose parts play, building and construction and can be small world friends, counting tools or inspiration for storytelling. They lend themselves perfectly to all kinds of sensory, mathematical or language games, nature scenes and marking of the changing seasons.
These wonderful toys can accompany children on each stage of their learning journey. Grapat means "a handful" in Grapat's native language Catalan, and because of their handmade wooden nature, these toys feel so warm and smooth in a child's hand, fitting perfectly. One day these wooden treasures of childhood can be lovingly handed down to the next generations of children to come, for true sustainability where they will spark joy again and again.
At Teia Education & Play, we specialise in high quality learning materials and toys that are functional, beautiful, safe and sustainable. Read more about the Grapat brand and shop the full Grapat toys collection here.