Following the Montessori method at home is a fantastic way to foster your child's development in all aspects and environments of their lives. By ensuring that there is cohesion between a child's Montessori school or educational setting and home life, allows for reinforcement of the core principles and philosophies of the Montessori pedagogy, and creates harmony between the settings.
Alternatively, if you are Montessori homeschooling it is key to ensure that the home environment, where much of the day-to-day learning will take place, is designed in a way that flows and performs as it should.
There are many benefits for cultivating the Montessori method and ethos within your home, not least that it'll make learning for your child seamless and without barriers. As well as this, it will also give your child the freedom and security to explore and learn in a safe space, where they feel truly supported.
There are many aspects of the Montessori method that you can incorporate into your home to promote independence and confidence in your child. A little preparation is key but these changes and activities will grow with your child!
Have a place for everything
Create an organised environment that is accessible for your child so they can learn where everything goes and put things away easily. This is great for reducing frustration and promoting self-sufficiency.
Place clothes in low drawers and on low rods so children can reach their own clothes when getting dressed. Hang a low hook for their coat and bag.

Organise

Montessori materials

, toys, games and puzzles in different baskets and trays so sets stay separate and can be easily found. 

Place toys and baskets on low shelves so they can be easily reached for play and put away independently.

Organise

pencils

and

creative supplies

in stands, holders and baskets ready for art and craft activities.

Rotate toys every few weeks – this helps to keep them fresh and interesting and having less out makes it easier to keep organised and reduces changes that your child will be overwhelmed and finds it hard to focus.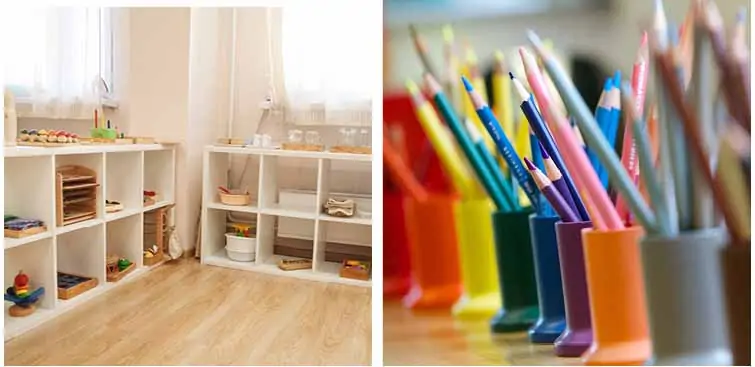 Emphasise life skills
Even the smallest child is capable of many things! A key aspect of the Montessori method is to involve children in household tasks and practical life activities right from the start to build independence and confidence in helping to take care of themselves and their family home.
Place step stools in both the kitchen and bathroom so children can help with meal preparation and wash their hands independently.

Find child-sized tools such as small watering cans, brooms or specially designed kitchen utensils to help them succeed in helping with household chores.

Place your child's cups, plates and bowls on a lower shelf so they can get their own drink or help to set the table. 

Let them pour drinks with a smaller jug and water the plants, providing a sponge nearby so they can simply wipe up any spills.

Take the role of guide and teach by example, demonstrating and modelling rather than dictating or criticising.

Gradually develop their skills in activities such as laundry, cooking and shopping, giving them greater responsibility as they grow.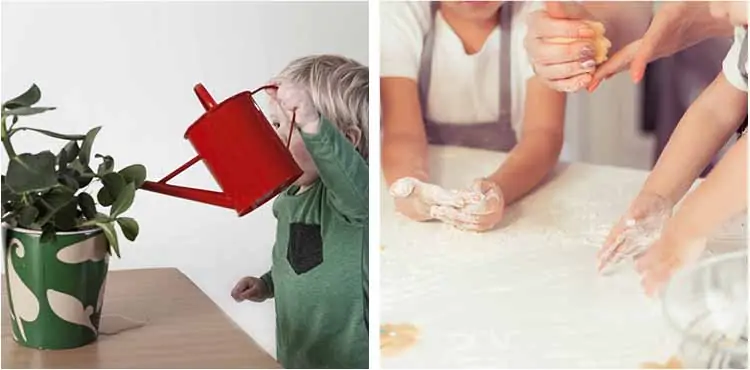 Encourage grace and courtesy
Children are learning all the time and home is the perfect place to practice grace and courtesy – which is one of the key Montessori principles. Demonstrating the desired behaviour in any situation and avoiding criticising mistakes will protect your child's deep sense of personal dignity. Show them how to cover their mouth when they cough, to catch sneezes in a tissue or to wait rather than interrupt so they are ready for next time. Model behaviour as you go about your day and talk about why you are doing things from holding a door open for others to table manners.
Build concentration and a love of learning through play
Provide toys and materials that appeal to your child's own interests and provide the right level of challenge for them. Well-designed toys will teach new skills and build your child's ability to concentrate as they learn through play.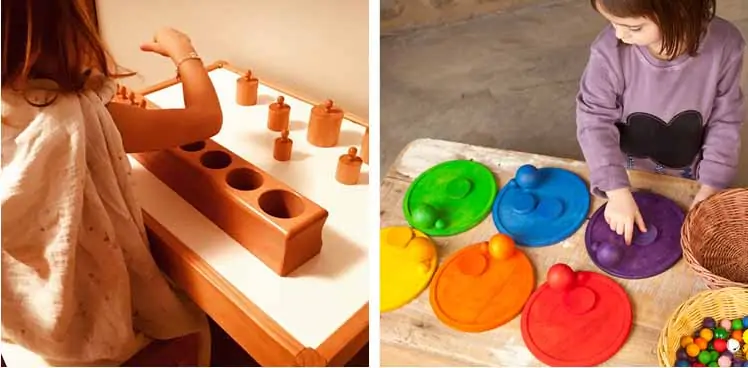 Provide natural and traditional wooden toys that offer long-lasting play value and help children to learn to treasure and take care of their toys.

Select

puzzles

that challenge and stretch your child at the right level, developing their critical thinking and problem-solving skills.

Include materials that offer

self-correcting

opportunities, such as the correct pattern underneath, so children can build their understanding and ability to learn independently.

Offer

sorting

activities that keep children's attention and develop their fine motor skills.

Follow the child, offering a choice of activities led by their own interests, such as

dinosaur-related puzzles

or vehicle-related play.

Supply materials that make learning visual and hands-on for greater understanding such as an

abacus

and

sandpaper letters

. 

Add some carefully designed classic Montessori materials like the

cylinder blocks

which teach visual discrimination, critical thinking, problem-solving and develop fine

motor skills

all at the same time in absorbing independent activities.

Try not to intervene or interrupt your child's concentration. Give them time and space to work through materials and solve problems for themselves

Provide plenty of books and create a cosy quiet corner especially for reading.
Teia Education & Play also has a range of books on Montessori parenting and education to help with Montessori in the home.
I hope some of these ideas help with incorporating the Montessori philosophy into your home. Patience is key, giving children time to explore, make mistakes and learn for themselves at their own pace. Wishing you happiness and harmony in your home!
Sarah