Waldorf is so often confused with Montessori but it is quite different! Waldorf education is based on the educational philosophies of Rudolf Steiner, an Austrian philosopher, social reformer and the founder of Anthroposophy. The name Waldorf comes from the school Steiner established for the children of employees of the Waldorf-Astoria company in Germany in 1919. 
Here are a few of the elements that make up a Waldorf education:
Educating the whole child
Also known as Steiner Education, the Waldorf approach believes in educating the "head, heart and hands", appealing to all the senses and educating the whole child. In a Waldorf school, each subject or concept is taught in many different ways including storytelling, poetry, movement, art and circle games, incorporating multiple arts and senses for a holistic approach to each subject. 
Recognising different learning styles
The intention in combining art, music & handwork or crafts within each lesson is to encourage a lifelong love of learning. Steiner wanted to provide an education that would reach all children whatever their learning style, from visual to kinesthetic learners. 
This is one of the reasons Waldorf teachers ideally stay with the same class through several years of school, so that the teacher really gets to know each child, how they learn and how best to reach them. Waldorf teachers aim to discover each child's unique personalities and gifts and help them reach their full potential.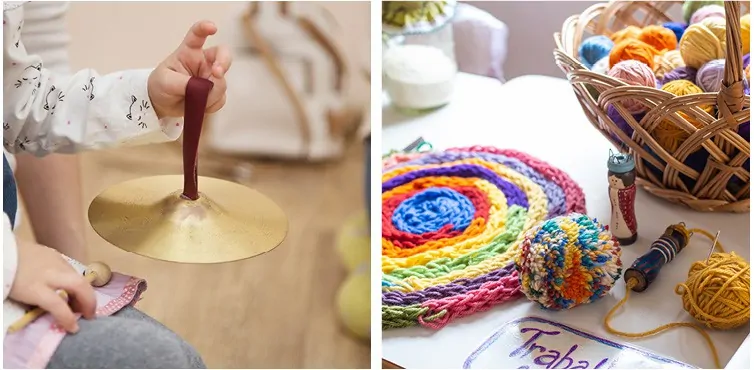 Letting the imagination grow
In the early years, a non-academic environment is provided to let the imagination unfold and grow. Allowing the imagination to flow freely in childhood is believed to form the foundation for creative, lateral and critical thinking in later life. 
The emphasis in Waldorf education is on language-rich storytelling, fairy-tales and poetry learned by heart by the teacher so they can be told with eye-contact from one heart to another. 
The importance of play
Play is considered to be the work of the young child in Waldorf education. Open-ended, unstructured and self-directed play is encouraged and the toys provided are simple and largely unformed so that they can be whatever the child imagines. 
Children are encouraged to play imaginatively, embracing fantasy and the fairy-tales they have heard as well as role-play and make-believe. From building castles and imaginary worlds with wooden blocks, dressing up as wizards or fairies in costumes made of playsilks to play kitchens and baby dolls, there is always plenty of time and opportunity for play.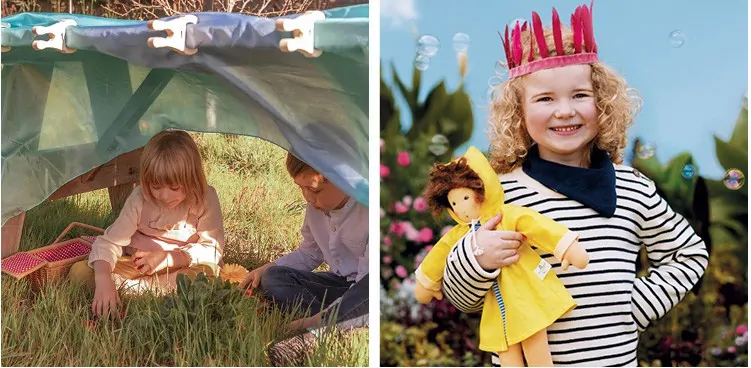 Natural toys that appeal to a child's senses
Waldorf toys are specially chosen to take into account a child's sensitivity to touch. Toys are made from warm, natural materials that nurture their senses and maximize imaginative potential. Great care is taken in how they are produced – handmade toys are favoured again because they are more natural and simple, and also because of the loving care embedded during the making of toys for children to cherish.
For example, Nanchen's Waldorf dolls are handmade from natural fibres so they feel soft and warm in a child's arms and the simplicity of their facial features leaves room for the child to imagine the doll's emotions. 
Grapat's beautiful wooden toys are perfect for Waldorf play as they are so open-ended and are all hand-crafted from wood. Each item can be played with in a variety of ways, from stacking and nesting to small-world play. 
Sarah's Silks are another wonderful Waldorf-inspired range offering playsilks that can be anything the child imagines, from costumes to landscapes, dens to baby doll slings.
The emphasis on handwork
Handwork skills are taught right from the start, naturally integrating the Waldorf philosophy of teaching the whole child, combining the head, heart and hands. Rather than learning to write or count in the traditional way, learning takes place through crafting and arts. 
From knitting and crochet to weaving and woodwork, children create useful and beautiful items that are as unique as they are. Moreover, they are building skills needed for learning all subjects, such as developing dexterity, sensitivity, and fine motor control of the hands and fingers, thinking and learning for neurological readiness for reading and writing, increasing their capacity for sustained attention and focus and experiencing living connections to math through the practical use of number, patterns, and measurement.
First crafts include simple hand sewing, finger knitting, rolling beeswax candles and wet felting. Again Waldorf art and craft supplies are as natural as possible and aim to appeal to the senses, such as Stockmar's beeswax-based products which are naturally scented, warm and tactile, and Filges soft and natural organic wool for knitting and felting.
Learning through imitation
Waldorf emphasises the way young children learn through imitation. Waldorf teachers model purposeful work and the children naturally imitate. From observing and helping with meaningful activities such as cooking, cleaning, baking, sewing, raking, gardening or knitting, children learn real life skills and become confident and capable helpers.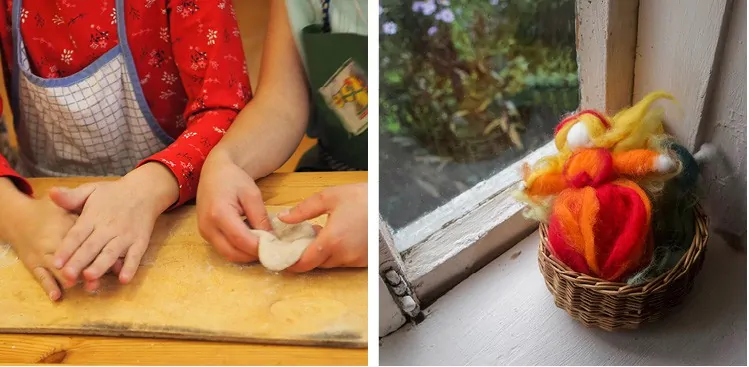 Rather than individually, Waldorf teachers demonstrate lessons and skills often to the class as a group. They guide the children through the day as it is believed children thrive in a rhythmical and predictable environment. 
Special attention is paid to the changing of the seasons, demonstrating and encouraging a love of nature. Waldorf education aims to provide students with a strong sense of ethics, to produce individuals who can impart meaning into their lives and contribute positively to society.
Teia Education has a large collection of wonderful Waldorf-inspired toys, made from wood and other natural materials and designed for open-ended, creative and imaginative play. You will find carefully chosen Waldorf brands creating handcrafted toys as well as natural arts and crafts materials, all with reverence to both the child and the environment, including Grapat, Nanchen, Grimm's, Glückskäfer, Sarah's Silks, Debresk and Stockmar.
Sarah
Sarah Varley is a freelance writer and mother of two from England. Sarah embraced the Montessori method for her children's early education and is a huge fan of open-ended play with beautiful toys that last for generations. As a former Librarian, there will always be a special place in her heart for books, sorting and organising! Find out more at Letterpress Content