Teia Education has added some more wonderful brands to their collection, five companies producing some of the very best pretend play toys and creative materials that are green, sustainable and Waldorf-inspired to ignite your child's imagination. As always at Teia Education, they are all beautifully crafted with the highest safety and eco credentials so they are a joy to recommend!
Debresk
Debresk is a Swedish company that has been producing hand-made wooden toys in the Waldorf tradition since 1987. These delightful wooden vehicles including trucks, cars and trains have a simple, rustic charm yet their play value is immense. All the features for the most satisfying vehicle play are there, such as fully functioning wheels, pivoting box sections, opening doors, working cranes and hoists, detachable and tipping trailers and room for passengers. My son taught me the importance of looking for these things in a toy and the resulting hours of happy play when you find them!
The philosophy of Debresk is to create 'toys to take care of' and these really are toys children will treasure and want to pass on to future generations. Smoothly shaped from pine and birch and coated only in linseed oil, these Waldorf toys are natural, eco-friendly and designed to appeal to the different senses of children and cultivate in them an appreciation of the beauty of nature and the importance of taking care of the things around us.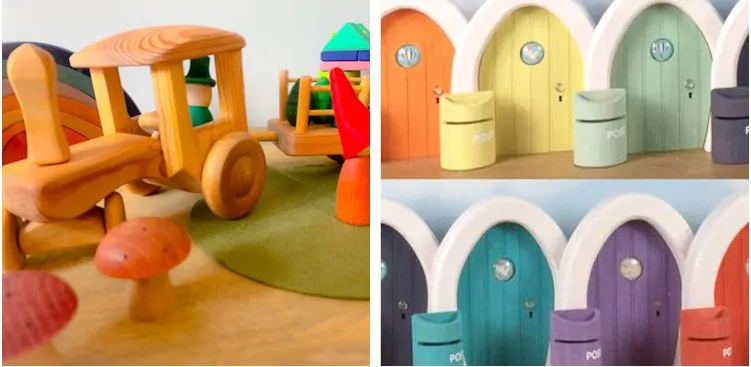 Droomdeurtjes
Dutch brand Droomdeurtjes ("Dream Doors") was inspired by the Waldorf pedagogy, creating beautiful, whimsical handmade miniature doors that encourage children to let their imagination run free. A whole magical world can be imagined behind the doors of the elves or fairies that might live there. The fairy doors and their delightful accessories such as miniature postboxes, bottles of fairydust, tables and chairs, flower gardens and even wellington boots appeal to children of all ages, and it is lovely that even older children love them as a room decoration and enjoy setting up different doorstep scenes.
The dream doors can also provide comfort and a way of expressing feelings for children, by leaving messages and pictures for their imaginary friends. Droomdeurtjes are regularly used by teachers, children's coaches and psychologists to support children in processing difficult situations. For all children they are a lovely gateway to imagination, immersing themselves in magic and make-believe and aiding communication of their wishes and experiences. It is also great to know that Droomdeurtjes are CE certified, made by hand and finished with non-toxic water-based paint and biodegradable glitter and come in beautiful recycled cardboard packaging.
Nanchen Natur
Teia Education's new range of Nanchen Natur Waldorf dolls are the perfect companion for babies and young children to love. They are handmade in Germany entirely from organic, natural materials which is fantastic to find! It also means they take on the warmth of the child and so feel wonderful to hold. Their hand-painted faces are deliberately simple in the Waldorf style to allow the child to imagine the expression, feelings and personality of their doll. 
The Nuckel Blanket dolls, silks dolls and Nucki dolls are all suitable from 3 months and are easy for babies and toddlers to hold and cuddle, soft and appealing to their developing senses and safe and toxin-free for the gumming and chewing that all toys undergo at this age. Children are naturally drawn to role-playing with dolls from a very early age and these gorgeous creations are the perfect crossover between a doll and what is sure to become their favourite comforter!
Sarah's Silks
Sarah's Silks are one of the most versatile toys to encourage open-ended, imaginative play and are hailed as an essential item in Waldorf homes and settings across the world.
This US family-owned company specialising in Waldorf-inspired, natural and sustainable toys to tap into children's amazing creative potential. 
The playsilks, cloths and capes are made with non-toxic, eco-friendly dyes and natural fibres ranging from 100% real silk to 100% cotton. Their beautiful colours and silky, incredibly tactile nature appeal to a child's senses and their dramatic play value is as limitless as your child's imagination! In a child's hands the playsilks quickly become dens, seas and landscapes for voyages, props and costumes for storytelling and theatrical performances and baby doll slings for role-play. They are also wonderful for sensory play and the perfect accessory for dancing and movement.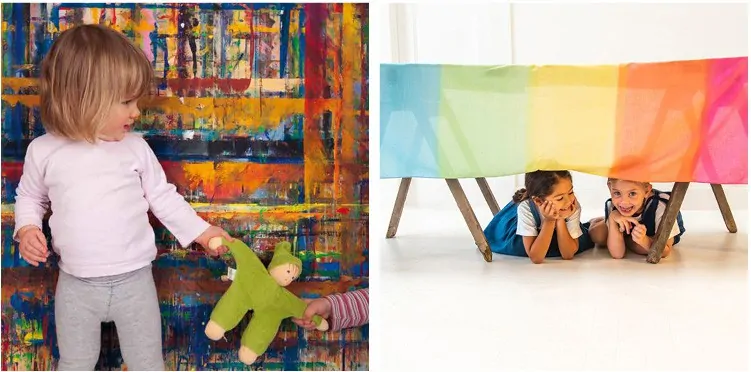 Stockmar
Stockmar art materials are used in Waldorf Schools all over the world and have long been a favourite in our home so I am thrilled to see that they are being added to the Teia Education collection! Made in Germany using beeswax, Stockmar's modelling beeswax, crayons and paints are non-toxic and appeal to all the senses with their wonderful colours, textures, warmth, ergonomic shapes and natural beeswax scent. 
Originally made at the request of Waldorf teachers, Stockmar art materials are produced to the highest pedagogical, artistic, social and environmental standards and tested by independent laboratories in Germany to ensure their safety and purity. 
The Stockmar art supplies are all richly pigmented so they produce vibrant and satisfying arts and crafts at any age. We are glad we found them because beforehand, my children could easily become discouraged with art projects if a paint's consistency was difficult to work with or a crayon's colour did not show on the paper as they would like. Happily these art supplies are also very long-lasting for all the creativity they will inspire!
Wishing you and your children joyful playtime filled with fun, creativity and magical make-believe! 
On the our brands page you will find out more about the other brands Teia Education represents.
Sarah x
Sarah Varley is a freelance writer and mother of two from England. Sarah embraced the Montessori method for her children's early education and is a huge fan of open-ended play with beautiful toys that last for generations. As a former Librarian, there will always be a special place in her heart for books, sorting and organising! Find out more at Letterpress Content