One question on the minds of parents and educators is how to clean wooden and fabric toys. Wooden, handmade toys require a gentle touch when it comes to cleaning! The toys in Teia Education's collection have been carefully curated to be natural and non-toxic, using only natural finishes and safe, water-based paints. This means that harsh chemicals, detergents, hot water or submerging in water would all damage them and should be avoided. 
Keeping snuggly fabric (baby) toys germ free and fresh is quite a feat. Fabric dolls, stuffed animals, play cloths and favourite comfort blankets tend to get dirty as they often accompany the child everywhere. Even though the smell of a treasured fabric toy can be a comfort to a child, it can also cause health concerns as it collects dust mites and allergens.
Cleaning tips for fabric toys
Nanchen advise that their handmade Waldorf dolls should only be hand-washed for the best results. They state that it should be taken into consideration that their dolls are filled with virgin sheep's wool and that this natural fibre shrinks and starts to felt when washed at temperatures which are too high or strong washing detergents are used. They therefore advise that special wool detergents should be used as they have a lipid-replenishing effect which maintains the wool fibres. During washing, Nanchen provide further advice to avoid rubbing, brushing, spinning or wringing the dolls. After washing, the doll should be gently squeezed or laid on a towel to dry.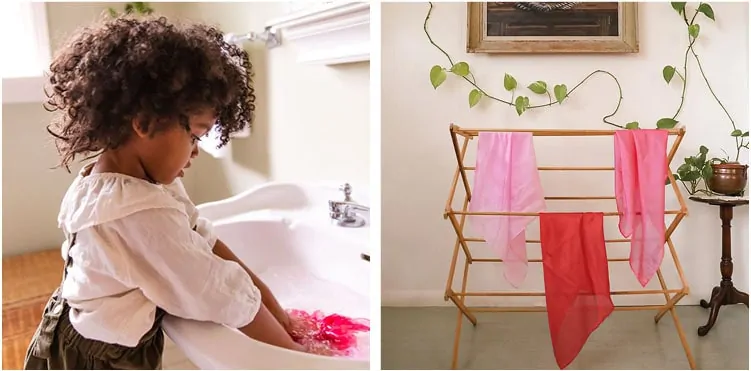 Sarah's Silks recommend hand washing their play silks and fabric toys with mild dish soap or shampoo, then hanging them to dry. They state you can iron the play silks  on a medium heat if you want to restore the shine. They also make a nice point that children enjoy the tactile, sensory experience of washing the wet playsilks and hang drying them and so it is a nice task or chore to include them in.
Cleaning tips for wooden toys
Happily, good quality untreated wood is naturally antibacterial, but the odd sticky situation can arise! When you need to give your child's toys a gentle clean, here is the advice from some of Teia Education's beloved brands:
Grimm's advice to remove dirt from their wooden toys is to simply wipe gently with a damp cloth and a little soapy water if necessary. They emphasise that when drying, you should not place wooden toys on any heater or radiator as this may cause the wood to crack. Instead, the iconic German toys brand states to allow the toys to dry at room temperature. Grimm's also say to never clean their toys with disinfectant or hot water.
Grapat say that their handmade wooden toys should be kept in a dry place and in terms of cleaning, the toys can be wiped with a damp cloth and should be dried immediately. They state that their wooden toys should not be submerged in water nor should disinfectant be used.
This is all great advice. I would add that sunlight naturally kills germs so on a fine day you might want to let the toys dry for a short time outside, though please remember that too much sunlight and strong sunlight can damage wooden and fabric toys and cause paint or the fabric colour to fade.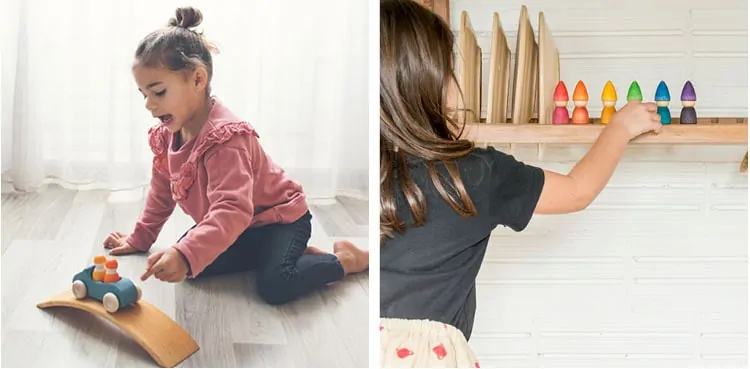 So, to clean your wooden toys and ensure they last for generations to come, follow these easy steps:
Gently wipe your wooden toys with a cloth dampened with a little warm water, adding a little gentle soap to the water if needed.

 

Do not get them too wet, never submerge them in water and don't use anything stronger than gentle soap.

 

Leave them to dry at room temperature.

 
If you have old wooden toys that you want to bring new life to, you might want to give them a gentle clean as above and then condition them with a little natural oil. Teia Education's founder Sylvia Zihna recently revived her grandmother's set of 100-year old handmade and untreated natural wooden building blocks by sanding them gently and giving them a rub with olive oil. How wonderful to see your children playing with the same toys your grandmother did as a child! With the right gentle care, this is exactly the long life as treasured playthings all Teia Education's lovely toys can lead!
*Please note: COVID-19 guidelines for public settings such as nurseries and play centres recommend a more aggressive approach in cleaning. The recommendations here are for cleaning toys at home only, in a gentle way to avoid damaging the fabric and wooden toys and their natural, water-based paints.
Sarah
Sarah Varley is a freelance writer and mother of two from England. Sarah embraced the Montessori method for her children's early education and is a huge fan of open-ended play with beautiful, sustainable toys that last for generations. As a former Librarian, there will always be a special place in her heart for books, sorting and organising! Find out more at Letterpress Content 
Sources:
grimms.eu/en/frequently-asked-questions-faq/product-information
grapat.eu/en/com-treballem/
sarahssilks.com/pages/faqs
nanchen-puppen.com/en/service/faq/