Teia Education have put together a special collection of autumn themed toys and learning materials offering fun ways to learn about the seasons and to bring Autumnal inspiration to your play or home-school curriculum. This collection of the best educational toys, high quality learning materials and handmade wooden toys for the autumn season will help your child understand the changing of the seasons and the changing weather, and immerse themselves in play and learning inspired by everything that signifies the autumn season. I have picked out a few of my favourite autumn themed toys!
Learning about Autumn and the seasons
Educo's Autumn puzzles and lotto games are a lovely way to learn about the seasonal changes in nature and the weather. These fun wooden learning puzzles depict familiar scenes full of seasonal details from raking leaves to flying kites and jumping in puddles. They promote problem solving, critical thinking and storytelling skills with so much to observe and discuss.
Educo's storytelling theatre is ideal for bringing lessons and stories about Autumn, the seasons and daily rhythms to life. It's perfect for cosy moments and indoor play with puppets as the weather and shorter days bring us inside more. This foldable theatre is also known as a Kamishibai; the ancient Japanese storytelling tool – kami, meaning paper and shibai, meaning play or theatre. This creative teaching tool can be used with story sheets to visually support storytelling, as a puppet theatre with hand and finger puppets, to hang your child's own sketches and pictures in, or as a whiteboard to develop young children's language skills and enrich their vocabulary.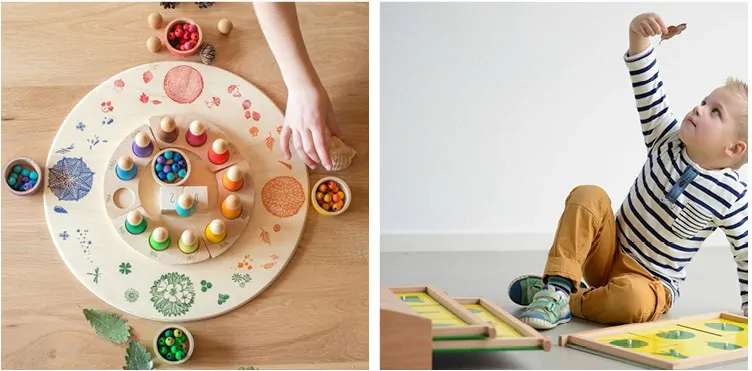 Grapat's wonderful perpetual calendar and rings help children understand the months of the year and the concepts of the passing of time and the corresponding seasons. The beautiful Grapat platform 4 seasons, 4 elements represents the 4 seasons in anticlockwise direction and allows your child to understand which months belong to each season. Moulin Roty's Magnetic Calendar is also a fun way to mark the passing days, weeks and months and note changes in the weather.
The Moulin Roty explorer's suitcase is perfect for turning any walk into a nature detective's adventure. When you get home, all the treasures collected need to be given closer inspection, and Nienhuis Montessori's box with colour tablets is a wonderful resource for looking closely at the colours of the season, examining and comparing the painted wooden tablets to find the closest match to each item.
To continue the learning, Nienhuis Montessori has lots of great botany materials including their fabulous botany cabinet and leaf puzzle.
Autumn-themed play
Grapat have beautiful handmade wooden autumn themed toys sets and mandala loose parts in colours and themes typical of this season, perfect for an Autumn nature table or immersing play in all the wonderful hues of this time of year. The Grapat aguamarina autumn kit is dyed in warm and bright hues of ochre, green orange and leafy brown, and all crafted entirely from wood by hand for open-ended play that is grounded in nature.
Play silks in the colours of the season are ideal for inspiring Autumn pretend play. Sarah's Silks' gorgeous Enchanted playsilk in Fire is perfect as a pretend campfire or for role play gathering up of fallen leaves. It also makes a beautiful backdrop for your Autumn nature table or cosy corner.
Grimm's lovely wooden toys make a great addition to your Autumn nature table or Autumn-inspired play, especially their perfectly autumnal tower leafs, fiery Casa Glora and their stunning Four Elements set, which is building blocks, a puzzle and a work of art all in one!
Similar to Grimm's, Glückskäfer make the most beautiful wonderful hand-carved wooden toys. Bring all the incredible natural colours of Autumn to your child's play with their fantastic autumn themed toys such as Gable House or Arch house, fabulous nesting play sets which can be used as a puzzle, for stacking or in endless ways for imaginative, free and open-ended small-world play from tunnels to dwellings for fairies, pixies or your child's hand-crafted woodland creatures on the nature table.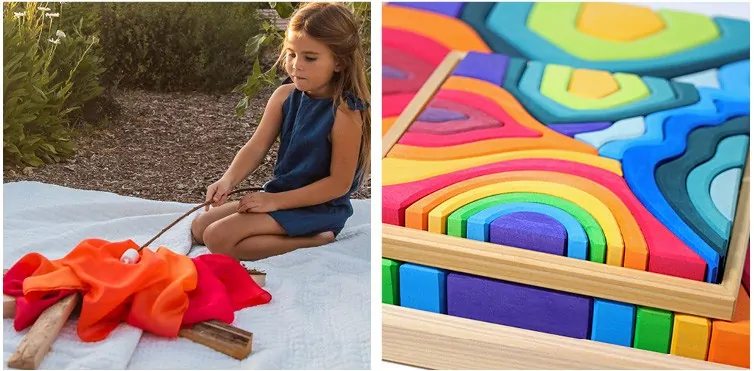 Autumn arts and crafts
Autumn is a lovely time for arts and crafts, inspired by the colours and incorporating any natural materials gathered on walks such as acorns, brightly coloured leaves and wind-fallen sticks. Combine them with modelling clay to craft woodland creatures or paint to create 3D Autumn collages. Stockmar's range of high quality, non-toxic art materials including modelling beeswax, crayons and paints are richly pigmented and designed to appeal to children's senses with their warmth, ergonomic shapes and natural beeswax scent for vibrant and satisfying art and craft activities. 
Natural Earth Paint is completely natural, made from just earth, mineral pigments, gum arabic and corn starch, and can be used on most surfaces including paper, glass, fabric, stone and wood for endless Autumn arts and crafts projects. 
The fantastically tactile and ergonomically designed Crayon Rocks are another natural art material that children love to use. They are beautifully blendable to create lovely Autumn art.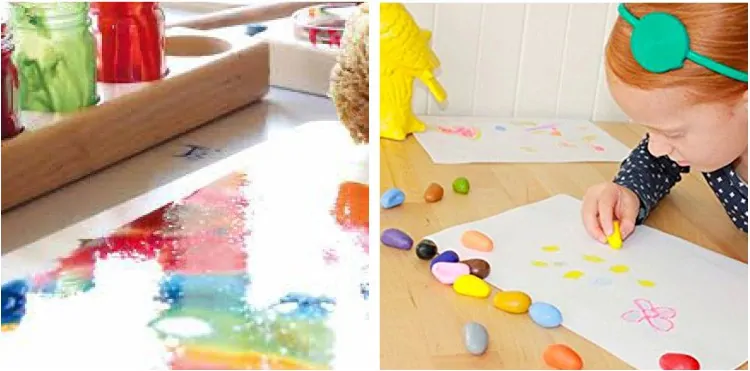 Indoor play
Erzi have a fantastic range of indoor pretend play wooden toys for colder days. Children love totally immersing themselves for hours in role play with the fabulous supermarket-style grocer's shop and lovely wooden food, arranging the stock on all the shelves and helping their customers to check out with a wooden cash register. Building vocabulary as they name the different items or weighing out the produce on wooden scales, children are learning all the time as they play for perfect Autumn indoor fun. Cosy tea parties are also always a popular play activity at this time of year and we love the lovely shapes and natural finish of Erzi's tea sets. 
We love to spend time doing puzzles in Autumn, and Larsen's beautiful maxi tray puzzle of a thriving European forest is perfect after a woodland walk to think about the animals we share nature with and discuss which ones might be going into hibernation.
Erzi make some of the best wooden exercise toys to burn off energy indoors in bad weather. They are carefully designed to build motor skills, coordination and balance. Their wooden balancing toys are so much fun!
Classic wooden toys provide hours of building and creative fun, and wooden building blocks sets are hard to beat for play value. Teia Education has some brilliant sets including Gluckskafer's wooden coloured building blocks, Grimm's Natural Geo-blocks and Educo's wooden building blocks.
My daughter recently declared Autumn to be her favourite season. From the mesmerising kaleidoscope of leaves in reds, oranges and yellows to the feeling of the squelchy mud or crunchy leaves underfoot, there is so much to appreciate in nature when viewed through a child's excited eyes and senses.
Wishing you happy Autumn days filled with wonder, learning and play!
Sarah
Sarah Varley is a freelance writer and mother of two from England. Sarah embraced the Montessori method for her children's early education and is a huge fan of open-ended play with beautiful, sustainable toys that last for generations. As a former Librarian, there will always be a special place in her heart for books, sorting and organising! Find out more at Letterpress Content