Many of the carefully chosen brands at Teia Education offer handmade and sustainable (wooden) toys. I have taken a look at what makes these handmade toys – and the brands behind them – truly special.
Handmade is unique
Each handmade toy is unique, crafted in ways that work with the natural beauty of the material used. The grain and the knots in wood are allowed to shine through, making each wooden toy distinctive. Being handmade by individuals means that even two pieces of the same model might never be the same and you own something truly unique.
For example, Glückskäfer's wooden toys are all individually handmade in Germany. Handcrafted from durable solid hardwoods including maple and beech, each toy is gently rounded for a beautiful, tactile finish you simply do not get with machine-produced toys. Their classic and sustainable wooden toys such as the wooden building blocks and stacking sets are left purposely slightly rough making them fully stackable, less slippery and incredibly pleasant to touch.
With a few exceptions, German brand Grimm's wooden toys are all sanded and sawn by hand because this allows for greater expression of the craftsmen making the toys than pure machinery-work and ensures the uniqueness of each piece.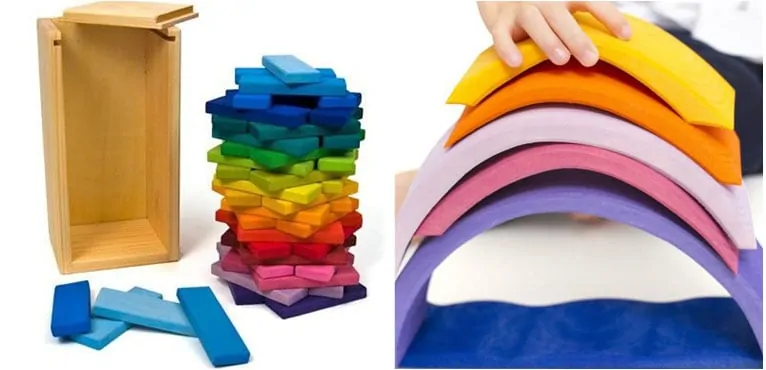 Handmade is high quality
The handmade brands selected by Teia Education are all producing toys of the very highest quality. These toys are strong and durable, built to last for generations. They are safe, meeting the rigorous demands of European and International toy manufacturing safety regulations. They are also made with the highest quality materials and finishes, ensuring they are toxin-free. All wood finishes used on these sustainable handmade wooden toys are either waxes or oils of vegetable origin and only safe, water-based paints are used.
Many of the handmade toys in Teia Education's range have been awarded the coveted Spiel Gut seal of approval, one of the most prestigious certifications for children's toys. These include 27 of Grapat's toys such as their Nins®, rings and coins sets, a large part of the SINA Spielzeug learning toys collection and many of Grimm's toys including their 12 piece rainbow.
Each of these handmade toys is made by an experienced crafter ensuring unsurpassed finish and quality. At Glückskäfer, Grapat and Grimm's, each toy is carefully hand-painted with safe, water-based paints, resulting in a unique, heirloom toy of the highest quality aimed to promote a child's development through creative and independent play.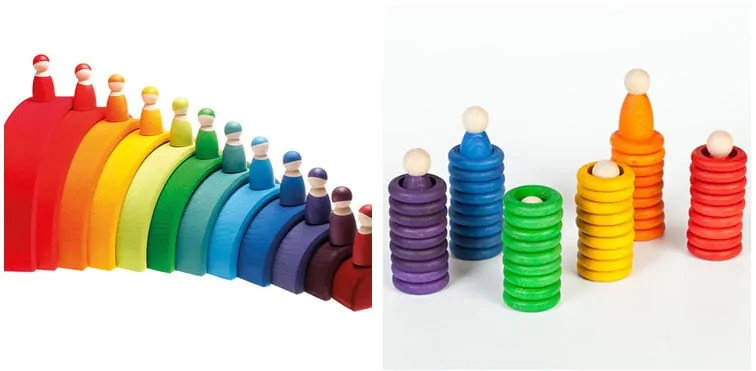 Handmade has heart and soul
Making toys by hand allows the skills and care of the craftsperson or artisan to shine through in the toys. 
Swedish company Debresk hand-crafts each wooden vehicle such as a truck, car and train in the traditional Waldorf style in their workshop with the intention of making toys with such care that children will treasure them and learn to care for and value their possessions and the world around them. 
Debresk wants to appeal to a child's senses and natural appreciation of the warmth and feel of wooden toys so they smoothly shape each toy individually from pine or birch and coat them only in linseed oil to let the natural beauty of the wood shine through. 
Nanchen's Waldorf dolls are all handmade one by one in their small factory in Germany. The dolls are stuffed by hand, and the faces are all hand-painted. This way of working means each doll is completely unique and leaves room for the child's imagination to create a soulmate in their doll. 
Handmade is sustainable
The brands who specialise in handmade goods tend to care greatly about where their materials come from and will pay more for that quality and peace of mind that they are not harming our planet. 
The processes involved in making an item by hand tend to be much less wasteful. Work done by hand uses less energy than a mass production assembly line, which makes it more environmentally sustainable. 
Plus, handmade toys are created of a lasting beauty and quality that they will be enjoyed for generations, not broken or discarded to landfill as so many plastic toys quickly are.
Spanish brand Grapat is a family-run company hand-crafting wooden toys in their workshops in Catalunya, Spain. They follow traditional processes to create toys much more sustainably than mass-produced toys. They only use wood derived from sustainable forests and again each toy is unique, painted by hand with water based dyes. 
The natural dyes allow for the wood veins to remain visible – the natural grains and knots of the wood are embraced for the uniqueness they bring to a toy. This is of course much kinder to the planet than viewing differences as imperfections and discarding items in a search of uniformity. Even the cloth storage bags are handmade and the company repairs rather than discards any faulty bags as larger companies would. 
Latvian brand Flockmen make natural unfinished wooden toys entirely by hand in their own area of Latvia, investing in training within the local community instead of opting for cheaper outsourcing. They also use only locally sourced sustainable Baltic wood.
Nanchen cut all fabrics for their dolls sustainably so that there is almost zero waste and even have a 'doll doctor' who will repair damaged dolls to give them a new lease of life.
I love that Teia Education is committed to championing brands who are working hard to sustainably create toys of the highest quality. This means that as well as finding beautiful and unique toys for your children, you have peace of mind that they are produced in ways that are kind to our planet and will last for generations. 
Sarah
Sarah Varley is a freelance writer and mother of two from England. Sarah embraced the Montessori method for her children's early education and is a huge fan of open-ended play with beautiful toys that last for generations. As a former Librarian, there will always be a special place in her heart for books, sorting and organising! Find out more at Letterpress Content