The holiday season and Christmas is approaching fast which means it is the time of year to find the perfect gift(s) for children! Educational and Montessori-inspired toys and moreover Montessori materials are always a great choice as gifts for children as they make learning fun and hands-on and are thoughtfully designed to be returned to again and again. 
At Teia Education & Play we have a large selection of handmade, sustainable and durable materials from AMI certified Montessori brands. To help you decide, we have selected a few ideas for high quality and original Montessori materials to give this Christmas!
Montessori for Infants & Toddlers
Discs on vertical dowel – Nienhuis Montessori (ages 6 months+) CHF 41.95
For little ones, to start off their Montessori journey right. This absorbing toddler material is great for development of wrist, finger grasping, hand-eye coordination, preparation of fine motor skills and most importantly concentration!
Multiple shape puzzle set – Nienhuis Montessori (ages 1+) CHF 104.15
This is one of our most popular Montessori toddler materials and part of the Montessori infant and toddler range. Playing with the multiple shape wooden puzzles lays the foundation of "figure-ground" concepts, learning about shapes and the primary colours. These beautiful and high quality puzzles are made in The  Netherlands and are meant to last for generations!
Wooden tray large – Nienhuis Montessori (ages 1 year+) CHF 64.00
The Nienhuis Montessori large  wooden tray  is a must have for organising and working with Montessori materials and activities and fits in all areas of the Montessori prepared environment. It can be used for a large variety of practical life exercises and is an indispensable addition to material shelves, play rooms or pretend play corners. This beautiful wooden tray is natural, sustainably made and of the highest quality.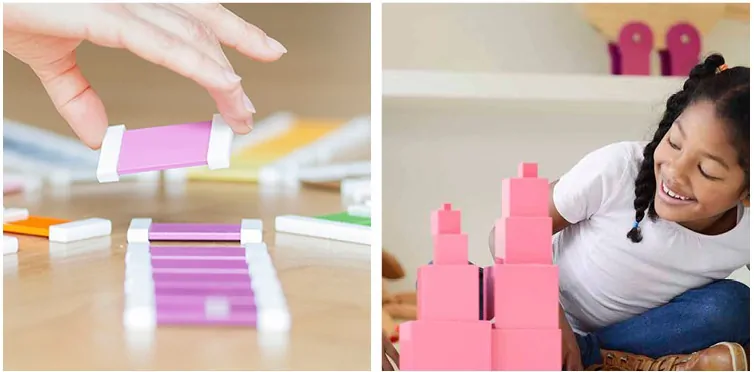 Montessori Early Childhood
The pink tower – Gonzagarredi Montessori (ages 3-6) CHF 109.60
The Gonzagarredi Montessori pink tower is a classic Montessori material and key element to the sensorial range. This high quality series of beautiful pale pink cubes develops visual discrimination of size in 3D and prepares the child for mathematical concepts in the decimal system, geometry and volume.
The symbol of Montessori, and welcoming sign to the prepared Montessori environment, this iconic pink tower indirectly prepares the child for all other materials and lessons. And, like the Grimm's rainbows, the beauty of the pink tower is irresistible!
Colour box of 32 pairs – Nienhuis Montessori (ages 3-6+) CHF 161.75
Part of the Montessori range of sensorial materials, this lovely colour box of 32 pairs of painted wooden tablets introduces children to the world of colour and refines the chromatic sense. The set contains four matching shades of red, blue, yellow, purple, green, brown, pink and grey. Match the colours to build visual discrimination skills and explore how the colours relate to one another.
These attractive and tactile colour tablets are versatile and support so many extended learning activities. Use them to match objects found in the house, or to visually support seasonal learning by pairing coloured leaves, flowers or other elements found in nature. The possibilities are endless!
Hollow letter shapes: international cursive – Nienhuis Montessori (ages 4+) CHF 205.75
The Nienhuis Montessori hollow letter shapes in international cursive prepare children for writing in the Montessori way. The hollow letter shapes are beautifully made from wood and delightfully tactile! They a perfect preparation for the exact movements required for writing and will help children to develop their writing skills, tracing the letter shapes with the included wooden pencils or with the index finger.
Botany cabinet – Nienhuis Montessori (ages 4+) CHF 415.95
This beautiful wooden botany leaf cabinet from Nienhuis Montessori features 3 drawers containing 18 leaf shape insets and frames, corresponding to the shapes in the leaf shape cards set. This cabinet is a wonderful introduction to the child to deepen interest in nature. 
The botany leaf cabinet's primary purpose is to encourage children to refine their senses of sight and touch, and secondary language concepts associated with the studies of botany. But this is a material offering endless extensions. For example, the leaf shapes can be traced and coloured in or matched with leaves found on nature walks!
Animal puzzle: frog – Nienhuis Montessori (ages 4+) CHF 45.15
The Nienhuis Montessori animal puzzle of a frog is part of a series of five Montessori zoology puzzles illustrating characteristics of vertebrates. The different body parts such as the head or stomach can be taken separately from the puzzle and sorted and traced. Made entirely of wood, this high quality puzzle promotes logical thinking and language development too!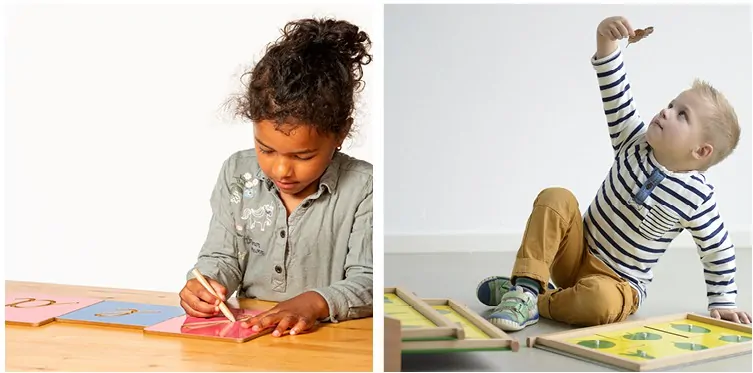 Montessori Elementary
The clock exercise – Nienhuis Montessori (ages 6+) CHF 153.60
The Nienhuis Montessori clock exercise is a mathematical material activity set which introduces the concept of time to children. Time is presented as 4 segments: the whole hour, a quarter past the hour, half past the hour and a quarter to the hour. This Montessori material is beautifully made entirely from sustainable wood and is great for developing visual perception, language and hands-on learning and understanding of time!
The stars exercise – Nienhuis Montessori (ages 6+) CHF 168.70
Part of the cosmic education curriculum, the Nienhuis Montessori stars exercise activity set is based on the Montessori concept of starting by showing the whole, in this case, the universe.
By working with this material, children gain an understanding of our universe and become familiar with the starry sky. The stars exercise addresses the most significant stars and planets and includes a large dark blue map showing the skies of the northern and southern hemispheres. It is the perfect gift for a budding astronomer and curious child eager to learn more about science!
Your Swiss shop for original Montessori materials
As the official Swiss distributor of the original Montessori brands Nienhuis and Gonzagarredi, Teia Education & Play specialise in Montessori learning materials. They are certified by the Association Internationale (AMI) and handcrafted from the finest sustainable materials according to the original blueprints as defined by Maria Montessori. See our entire range of Montessori materials and toys inspired by the Montessori pedagogy here.