With so much choice, finding the right durable and educational toys and gifts to give children at Christmas can be tricky. We want to give toys that will last, not break in 5 minutes, and that children will get value out of and want to continue playing with. We also want to be sure that products we buy are sustainably made without harming our planet!
All Teia's carefully selected brands follow strict quality procedures and protect the environment with their sustainable and eco-friendly manufacturing processes, so you will find a great range of toys and learning materials that you can feel good about giving this Christmas! 
To give you some gift inspiration, we have put together a list of high-quality and durable toys and fun learning materials, all with great educational value for hours of fun and plenty of learning through play. These beautiful toys and creative materials will last for generations and make the perfect gifts for Christmas and many years to come!
Wooden Building Blocks Set – Le Toy Van (age 12 months+) CHF 79.90
Wooden building blocks sets are a classic toy with very good reason! This beautiful and sustainable playset from Le Toy Van is full of vibrant colours and shapes to inspire lots of creative building and stacking and comes with a lovely cotton storage bag. Strengthening motor skills, critical thinking, and colour recognition, this traditional wooden toy encourages early learning in a fun way.
Manhattan blocks – Bajo (age 18 months +) CHF 59.90
This amazing skyscraper building set is a modern and sustainable handmade wooden building toy to inspire little architects to build, stack and create! A really unique and beautifully designed toy.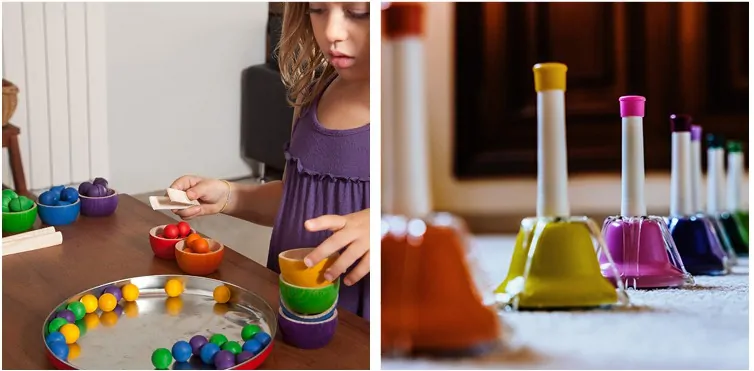 Toddler Puzzle: 5 Pets – Nienhuis Montessori (age 2+) CHF 31.15
Wooden puzzles are a wonderful way to stimulate hand-eye coordination and fine motor skills of the young child, and the pet images of this puzzle are so appealing to little ones. Perfectly designed for little hands, the animals are proportional to be placed in size order and will generate lots of discussion and promote vocabulary.  Perfect early problem solving fun!
Hand bells – Nienhuis Montessori (age 2+) CHF 99.00
A lovely instrument to inspire musical learning and creativity in children of any age, hand bells are especially fun at Christmas, lending themselves perfectly to christmas tunes and encouraging the whole family to join in. These high quality hand bells each represent a diatonic C tone and the colour of each hand bell facilitates recognition of the notes in the range, as well as being clearly marked with note and number.
Bowls and marbles – Grapat (age 3+) CHF 50.90
This lovely sustainable set of wooden bowls and marbles from Grapat in all the colours of the rainbow is versatile and fun and sure to become a toy shelf favourite! Using the wooden tweezers to sort the wooden balls into the coloured bowls is an absorbing and satisfying sorting activity that promotes fine motor skills, colour recognition and classification skills.
Wooden crockery set nature – Erzi (age 3+) CHF 38.85
Erzi's lovely natural wooden crockery and tea set is a lovely toy for pretend play and great for learning to set the table, laying out cutlery correctly and pretending to pour tea for teddy bear tea parties or customers in your play cafe. This high quality playset is durable and sustainably made in Germany.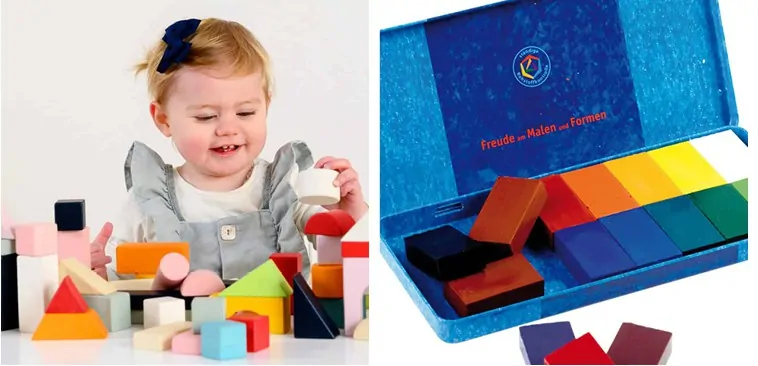 Wooden fruit salad cutting set – Erzi (age 3+) CHF 26.60
This super fruit salad cutting set with lovely realistic wooden play food from Erzi is great fun as children practice slicing and chopping up a delicious fruit salad. Sustainably made and well designed to enable children to easily use the wooden knife. A fun activity which enhances fine motor skills as well as providing lots of role play inspiration in their pretend kitchen or cafe.
Wax block crayons – Stockmar (age 3+) CHF 25.90
Stimulate learning by encouraging children to experiment. These blendable crayons are perfect for trying different combinations of colours, layering them on top of each other. They are non-toxic and high-quality, contain pure beeswax and meet the highest educational, aesthetic and artistic demands, promising years of pure drawing pleasure!
Motor skills board: quantities – Educo (age 3+) CHF 39.75
Move the coloured balls through the maze with the magnetic pen for a fun way to develop maths skills and understanding the concept of quantities. As well as counting and sorting the balls by colour, working with this absorbing material also stimulates fine motor skills, spatial awareness and the ability to concentrate.
Wooden ball track set – Glückskäfer (age 5+) CHF 43.90
Glückskäfer's ball track set is a handmade wooden toy which unleashes creativity, develops problem solving skills and provides endless sensory play! The perfect captivating and fun toy for encouraging children to learn by experimenting. 
Teia Education & Play specialise in Montessori and Waldorf inspired handmade wooden toys and indispensable learning materials. Take a look at our  entire range of safe, sustainable, ecological and certified products for babies and children aged 0-12 years.