Tis the season and time of year to find the best Waldorf toys and gifts for children! At Teia Education & Play we have a large selection of handmade, sustainable and durable wooden toys, fabric toys and creative materials free of toxins from the world's finest Waldorf and inspired brands.
Our collection of thoughtful, natural and handmade Waldorf toys and craft materials help children to understand how to flow with nature and make the perfect gifts for imaginative play.
We hope you will enjoy this selection of beautiful open-ended, high quality Waldorf toys and creative materials for children to give this Christmas!
This gorgeous handmade wooden grotto from Glückskäfer offers a sensory rich experience for the child with its lovely organic, whimsical shapes. A versatile stacking toy and perfect for magical dwellings for fairies, elves and dragons in imaginative small world play.
A hugely versatile toy that adds so much to the Waldorf world of fantasy and imaginative play, each day a giant Sarah's Silks playsilk is reimagined as a vibrant den, a flowing costume or a magical landscape to explore. Choose from the gorgeous dyed silk patterns of enchanted fire, sea, blossom or rainbow.  
A Waldorf inspired handmade wooden building set from Grimm's. 23 wooden organic shaped building blocks in lovely bright colours, representing the four elements of earth, air, fire and water. Perfect for open-ended play and building creative sculptures, the pieces also create a beautiful puzzle in their wooden tray.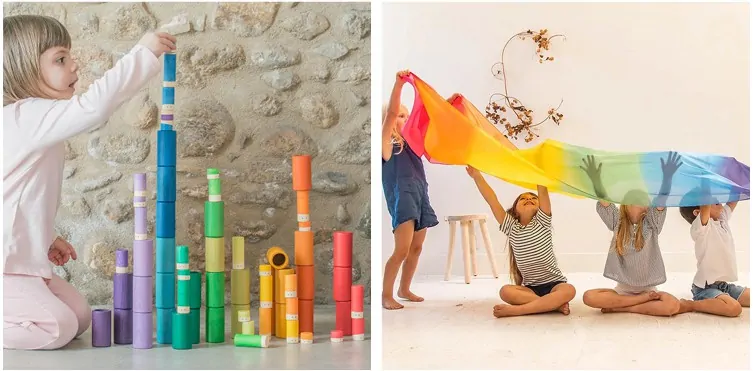 Made by hand with the highest quality natural materials in Germany, this lovely Waldorf doll is the perfect companion for play and comfort. Each Nanchen Natur doll is stuffed by hand with 100% organic pure new wool so they take on body heat and feel wonderfully soft and warm in babies and children's arms. Their faces are individually hand-painted in traditional Waldorf style, giving them their own unique character and leaving room for the child to imagine the doll's emotions.
A quintessential item for dressing up and escapades into the world of Waldorf fantasy and imaginative play! This high quality, soft yet durable and flowing heavy-weight silk cape is dyed in a stunning rainbow pattern.
The dream door concept is inspired by the Waldorf pedagogy and invites children to create their own safe place and let their imagination run free. The gorgeous Dream Door starter kits consist of a handmade, sturdy wooden dream door, a magical key and a matching mailbox to send and receive dream mail. There are also lovely accessories such as a welcome mat available.
Considered a true Waldorf brand, Debresk toys are designed to appeal to and create balance between the different senses of the growing child. Entirely made by hand in Sweden, this lovely wooden heirloom toy is built to last. The trailer can be removed from the trailer, the wheels really steer and there is room inside for driver and cargo.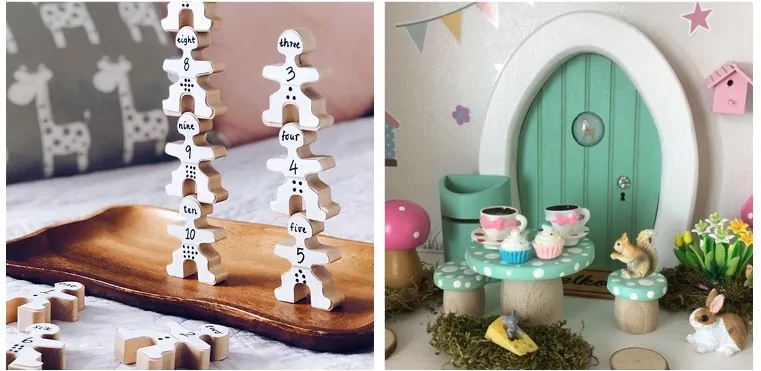 Offering great open-ended play, Flockmen are intended to be whatever each individual child wants them to be and played with in their own unique way. They tessellate beautifully as blocks for towering and curving monuments or pyramids. They also make great people for small worlds and drivers for vehicle play. These 100% natural sustainable wooden toys can also be decorated in many ways with art supplies or the stickers available and then used for games such as sorting and matching to make learning hands-on. Supplied with a natural linen drawstring storage bag.
Stockmar modelling beeswax has been tried and tested in art education and Waldorf/Steiner schools. Made in Germany from all natural ingredients according to a long-lasting tradition, Stockmar modelling beeswax has been awarded with the Spielgut® seal.  This wonderful material allows you to experience art and creativity through all the senses through its natural honey-like scent, beautiful colours and lovely consistency.
This lovely and very large Grapat Lola toy kit from the 2020 collection has 72 handmade sustainable wooden pieces offering an endless variety of open-ended and educational play! Stack, sort by colour, put the pieces together as a puzzle or use them as elements for small world play. Hand-painted and finished in natural beeswax, Grapat's toys are all inspired by the Waldorf pedagogy and this set of large, medium and small Lolas and mix of hollow, solid and half tubes is perfect for creative, free-flowing play. 
Toys inspired by the Waldorf pedagogy are a speciality at Teia Education & Play with their handmade and durable ranges from sustainable brands of the highest quality. View the entire range of Waldorf toys for children that make perfect gifts for any age here.
Wishing you a Christmas filled with magic and joy!
Sarah