Glückskäfer is a small, ethical German toy brand that has been renowned for their beautiful, high-quality and traditional colourful wooden toys for over 60 years. Their gorgeous toys are not only high in play value, they are also made to the highest quality and child safety standards using sustainable, environmentally friendly processes.
Glückskäfer toys from the colourful shapes range bear many similarities with Grimm's in their wonderful colours and designs that are as decorative and pleasing to adults as they are to children. Glückskäfer is one of Teia Education's favourite wooden toy brands of all, not least because they never compromise on high quality or sustainability in their production.
Why we love Glückskäfer
These non-toxic, open-ended toys are a joy to give to children. The stunning and unique designs such as the sunray, sunset and gable house and grotto all look fantastic on the playroom toy shelf and offer endless opportunities for play.  
Handmade in Germany, Glückskäfer wooden toys have been carefully designed to promote child development through creative, independent play following Waldorf and Montessori principles and in collaboration with pedagogues, parents, doctors and midwives. It certainly shows! Each toy invites the child to stack, nest and invent their own, unique small-world play scene of dwellings for little people or animals, roads, tunnels, bridges, ball runs, sculptures and anything they can imagine. 
Glückskäfer wooden toys offer the very best in open-ended play, giving children the opportunity to find so many ways to play, explore, test and learn from their own ideas and feeding their imagination.
The rainbow effects of the graduating colours, the visibility and texture of the wood grain and the warmth of the solid wood all add to the wonderful sensory experience offered to children. They are sure to be treasured and become family heirloom toys passed down through the generations.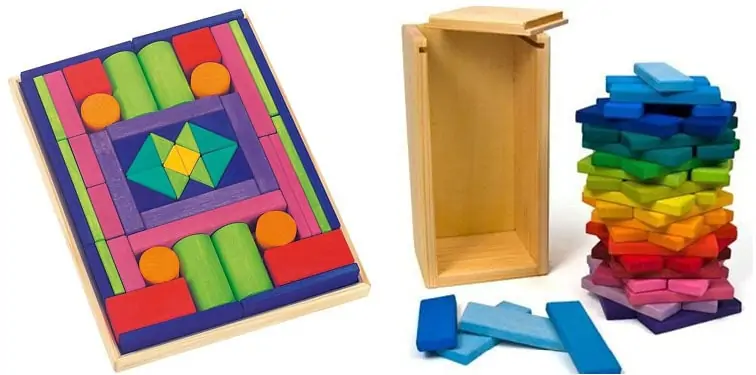 Glückskäfer's history and values
Founded by Manfred Käfer back in 1950, the German ethical toys brand Glückskäfer began making functional toys and educational construction kits for children and soon became renowned for producing high-quality and educational toys. Käfer described them as "use-oriented and good toys" carefully designed to have both high play value and to promote important skills for child development. 
In 1985, Glückskäfer took the further important step of developing their natural range of wooden toys that were ecologically oriented, placing great importance on the high quality and environmental friendliness of all materials and the use of environmentally friendly processes and humane working conditions in all production.
Käfer described Glückskäfer toys as "beautiful, colourful and practical things made of natural materials for all kinds of occasions, which appeal to many senses and are simply fun to play with." He stated that children need opportunity for "essential, original, quiet, technology-free experiences" in play as it is these times that are "important foundations for the development of self-confidence, world trust and independence." Glückskäfer's aim has always been to create "toys that provide space for the development of the senses, the joy of movement, children's own activity and their imagination."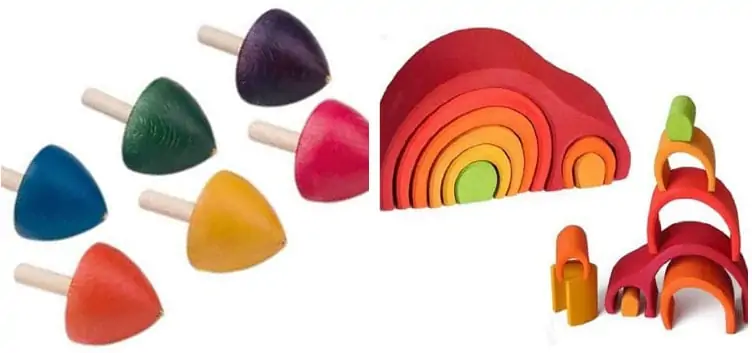 Now owned by Nic Toys, the high quality and ethical, sustainable values of the German toy brand is continued.  ​​​​​​​All of the toys are made in Germany; their CE-compliant and award-winning production is carried out in the Upper Swabian region under the strictest requirements and guidelines. 
Glückskäfer traditional colourful high-quality wooden toys are made using only selected wood, mainly beech and maple, from European forests that have been certified as sustainably managed. Wood waste is collected and energetically recycled in Nic's own operations.
All products are treated only with tested and certified varnishes and paints, which are mostly water based and are all completely harmless to the environment and the health of children. It is especially reassuring that even if mouthed by the youngest children, any dye that could be released through contact with saliva is completely harmless. 
Some of our favourite Glückskäfer toys from the colourful shapes range
It is very difficult to choose, but Glückskäfer's amazing sunray arch stacker looks wonderfully joyful on the toy shelf and is fantastically versatile. The varying slopes make a great addition to ball run play so you can select just the right angle, and offer an awesome stacking challenge to hone those fine-motor and problem-solving skills! The wavy base provides a lovely undulating road surface for vehicles in small-world play, as well as a ready-made seascape.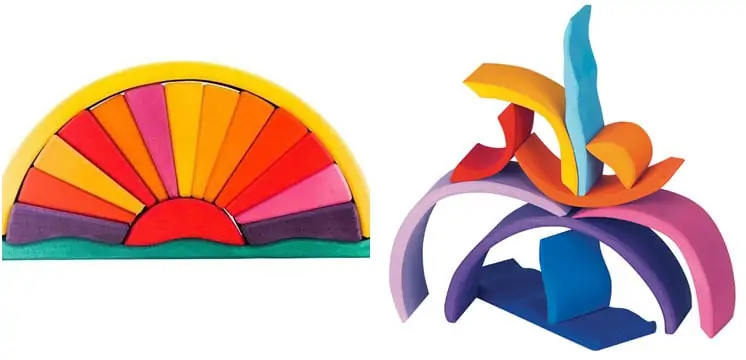 Another favourite is Glückskäfer's Sunset Stacker design. Each beautifully shaped wooden piece can be used as a bridge, tunnel, sleigh, slope or ramp and turned on its side, the whole set becomes a puzzle as all the pieces slot together like a jigsaw.
A delightful discovery this year were the handmade wooden Glückskäfer spinning tops. They are very affordable, especially given their very high quality, and spin so well and stable on their vertical axe!
Finally, the Arch House play set is hard to beat. Offering a rainbow of little dwelling places for small world play and nesting together so beautifully into one large house, this design represents the beauty of Glückskäfer toys. It's whimsical shape immediately conjures up ideas of elves and fairies and begs to be stacked into colourful mountains and rainbow tunnels.
In all the pieces from the colourful shapes range, the rainbow effect of the graduating colours, the visibility and texture of the wood grain and the warmth of the solid wood all add to the wonderful sensory experience offered to children by Glückskäfer's toys.
You can find a large range of Glückskäfer's wonderful traditional and high-quality colourful wooden toys from the colourful shapes range at Teia Education as well as a celebrations range. 
Sarah
Sarah Varley is a freelance writer and mother of two from England. Sarah embraced the Montessori method for her children's early education and is a huge fan of open-ended play with beautiful, sustainable toys that last for generations. As a former Librarian, there will always be a special place in her heart for books, sorting and organising! Find out more at Letterpress Content 
Sources
Glückskäfer Spielzeug – Nachahmung und Rollenspiel – an interview with Manfred and Marianne Käfer
nictoys.de