Maria Montessori believed that a prepared environment is vital in helping children to learn whilst becoming independent and confident. Specialist Montessori materials are wonderfully designed to help children learn the important skills they need for practical life, language, math and all areas of the curriculum. But where do you begin? What are the must-have Montessori materials essential for introducing Montessori at home?
Must-Have Montessori Materials For Home Learning
Teia Education & Play is the Swiss distributor for the Heutink International brands, and specialise in original Montessori materials that are AMI-certified to be consistent with Maria Montessori's guidelines and of the highest quality. If you want to create a prepared environment at home, this list of must-have Nienhuis Montessori materials, divided into the different areas of the Montessori curriculum, will help when choosing what to buy and make available to your child!
Montessori Practical Life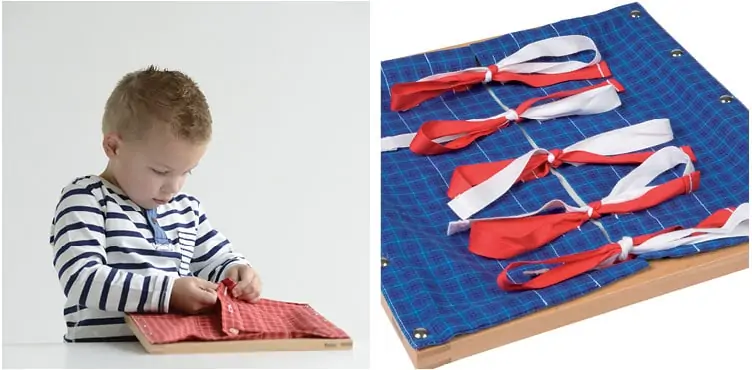 Dressing frames – Nienhuis Montessori
Dressing frames are a key piece of Montessori practical life equipment. They help prepare children for independence by enabling them to learn and practice all the fastenings they might encounter when getting dressed independently, putting on their coat or securing a bicycle helmet. Using the dressing frames to practice these important skills for self care also promotes concentration and helps to avoid the frustration often encountered when striving for independence in dressing.
Montessori Sensorial
Pink tower
– Nienhuis Montessori
The pink tower is the most iconic of all the Montessori materials, forming the very basis of the Montessori pedagogy. It is considered the symbol, and welcoming sign to the prepared Montessori environment. Scientifically designed by Maria Montessori herself, the cubes are all the same colour, shape and texture to help the child focus on one quality – the size. Working with the pink tower, children learn to use visual discrimination to assess the relative size of each cube. Developing careful hand-eye coordination and concentration, children can then self-assess when they have successfully stacked each cube in size order. 
Through practice, children learn to build the tower more and more precisely, refining their control and perception and growing in confidence and independence.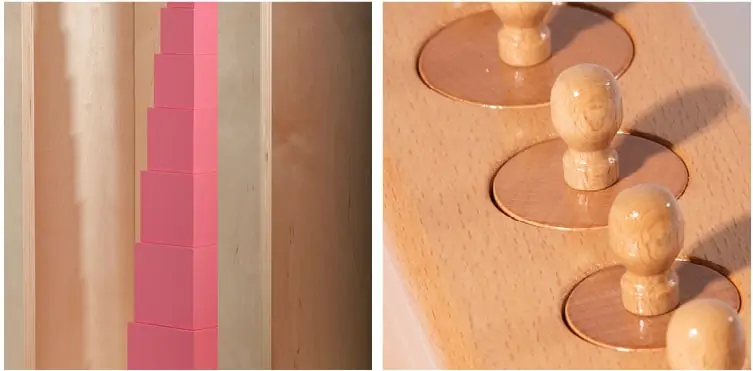 Cylinder blocks
– Nienhuis Montessori
The series of four Montessori cylinder blocks are one of the first sensorial materials your child might be introduced to. Grasping the knobs of the cylinders prepares the hand for holding a pencil and refines hand-eye coordination. The satisfying task of correctly placing the cylinders in the blocks requires the child to notice subtle visual differences. Assessing the differences in length or diameter of the cylinders develops visual processing and the skills needed for math. 
Montessori Language
Sandpaper letters
– Nienhuis Montessori
The sandpaper letters are another iconic Montessori material and an important tool for literacy. By brilliantly engaging a child's sensitivity to touch, sandpaper letters build strong foundations in their understanding of letters. The raised sandpaper allows your child to feel and trace each letter with their finger as well as hearing it and sounding it out, and also helps to develop the skills needed for writing. 
Movable alphabet
– Nienhuis Montessori
The moveable alphabet is another important step in language and literacy development and preparing for writing. This material is designed to allow children to form words and sentences as Dr Montessori recognised that children can do long this before they develop the fine motor skills necessary for handwriting. It is therefore also an important tool for self-expression in children and another key Montessori material children will use a great deal.
Montessori Mathematics
Number rods
– Nienhuis Montessori
Working with number rods gives children a solid understanding of important math skills and concepts, including length, measurement and quantity. As they count the blue and red segments, children learn to assign and associate number values to each rod. With this versatile material, children learn to identify not only which rod is longer but also by how much for deeper mathematical understanding.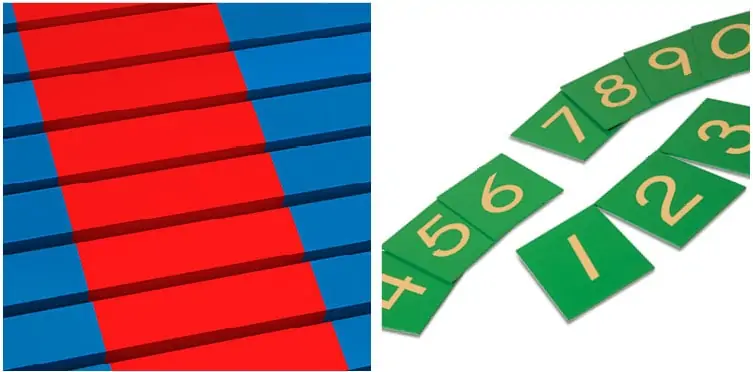 Sandpaper numerals
– Nienhuis Montessori
Sandpaper numerals are another great essential Montessori material that allows children to better understand numbers by engaging their tactile senses. Working with the sandpaper numbers enables children to identify different numbers and also recognise their value, as well as preparing them for writing numbers each time they trace them with their finger.
Montessori Biology
Botany cabinet
– Nienhuis Montessori
The botany cabinet can be used in many ways, expanding your child's ability to identify and compare different leaves, building their vocabulary and following their interest in nature. As well as encouraging children to explore and examine the world around them scientifically, the leaf shapes can be used as a tracing tool using the finger or a pencil in sensorial activities, refining the senses of sight and touch and promoting fine motor skills.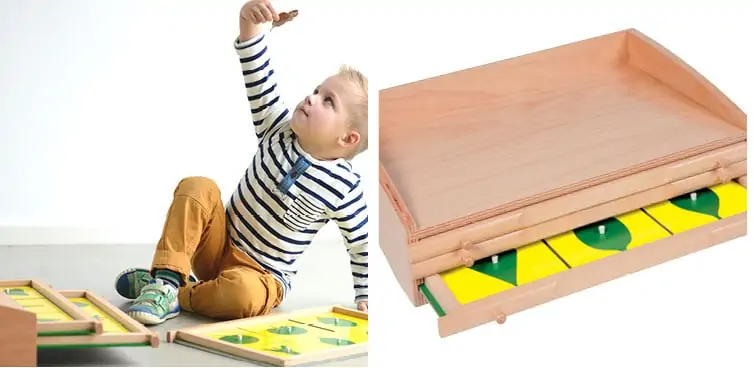 Montessori Geography
Globes
 – Nienhuis Montessori
The coloured globe of the continents and sandpaper globe of land & water are carefully designed Montessori globes bring many aspects of geography to life for children, from exploring the different continents and countries to distinguishing between the different areas of land and water both visually and tactilely. They are a wonderful first step into studying geography and the concepts and language of topography.
Land & Water form trays
– Nienhuis Montessori
Land and water form trays set 1 and set 2 offer children great hands-on learning in geography and topography. Children not only learn to recognise and identify a strait, island, lake, peninsula, gulf or isthmus but explore how water behaves in each formation.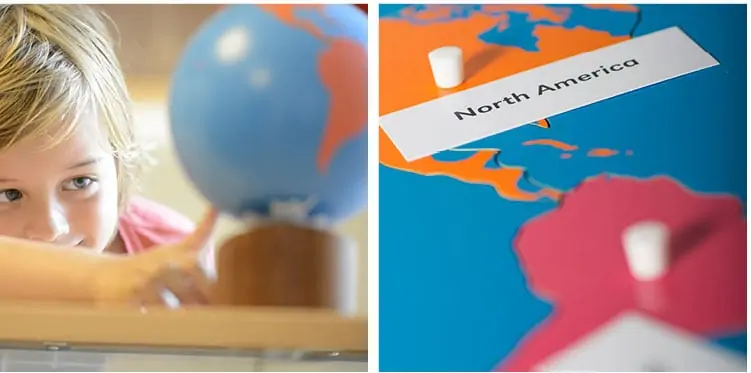 Puzzle maps
– Nienhuis Montessori
The continents and countries puzzle maps are another classic and essential Montessori material, bringing visual and hands-on learning to the child's understanding of world geography. As well as learning to identify the different continents of the world, children develop understanding of their position and size in relation to each other. Manipulating the pegged pieces also prepares the hand for holding a pencil and writing. 
I hope this comprehensive list of must-have Montessori materials helps you in deciding which are the essential materials for your child at every age and stage when planning your own prepared Montessori environment!
Your Swiss shop for original Montessori materials
Teia Education & Play is the official Swiss distributor of the original Montessori brands Nienhuis and Gonzagarredi and specialise in Montessori learning materials, furniture, curriculum support materials and books. Our entire Montessori range is certified by the Association Internationale (AMI) and handcrafted from the finest sustainable materials according to the original blueprints as defined by Maria Montessori. See our entire Montessori range here.
Sarah
Sarah Varley is a freelance writer and mother of two from England. Sarah embraced the Montessori method for her children's early education and is a huge fan of beautiful, sustainable toys and materials that last for generations. As a former Librarian, there will always be a special place in her heart for books, sorting and organising! Find out more at Letterpress Content