Are you trying to avoid too much candy and chocolate this year and give something that is plastic-free, eco-friendly and will be cherished for a long time? We have a lovely selection of sustainable Easter basket fillers, including beautiful handmade wooden toys, inspiring craft supplies and wonderful books. As well as some great colourful baskets to present Easter gifts in, take along for egg-hunting and reuse for toy storage and activities for an even more sustainable Easter! To avoid using plastic you can line the basket with shredded brown paper bags which can be composted afterwards.
It may require some planning but we love putting an Easter basket together with meaningful and practical items that can be used year-round.
Ideas for the perfect Easter basket of fun
Add a few of these beautiful and sustainable Spring-inspired toys and activities to a reusable basket for a fun-filled Easter without the sugar overload!
A very cute box of colourful wooden eggs from Erzi to hunt for, count and learn colours with. Or Grapat's lovely mandala rainbow eggs are perfect for colourful play, creative pattern making or decorating your brunch table or nature table for Easter.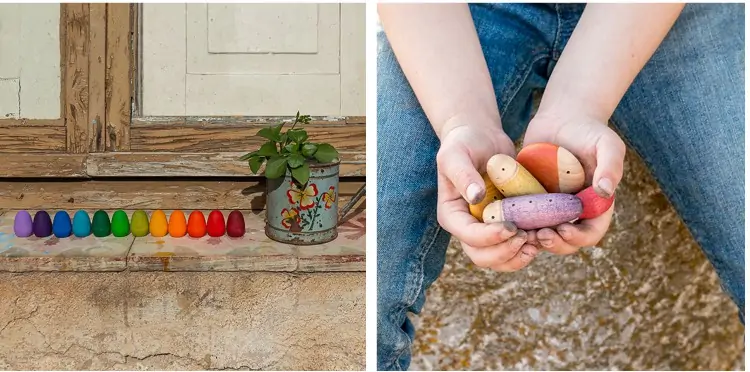 The magnifying glass from Safari is great fun to take on a nature walk, perfect for little hands as children study all their Spring nature discoveries.

 
Another one of our favourites is the collection of beautiful handcrafted Waldorf wooden insects from Grapat in bright Spring colours and warm, tactile shapes. They are perfect for inspiring imaginative small world play, you can also sort them by shape, count their spots, stack them and make patterns with them.

 
Jigsaw puzzles are really the perfect combination of learning and fun for children and Educo's bird growth puzzle offers plenty of both! This layered wooden puzzle challenges children while illustrating the life cycle of birds, including little eggs in the nest and the hatching of Spring chicks.

 
Safari's life cycle of a chicken makes a fabulous Easter surprise, with a little chick, adult chicken, hatching chick and nest of eggs, all perfect little toys for Spring learning through play!
Goober's seasons pocket crayons are delightfully shaped like lego bricks, fit together to combine play and art and are divided into different lovely seasonal packs to take anywhere. The seasons pack is full of the perfect colours of Spring. They are inspiring craft supplies sure to provide lots of happy colouring fun as you can even fit them together to make your own multi-coloured colouring creations!
Le Toy Van's Little Bird House is the perfect Spring-themed toy for younger children from 12 months. A beautiful version of the classic shape-sorting wooden learning toy.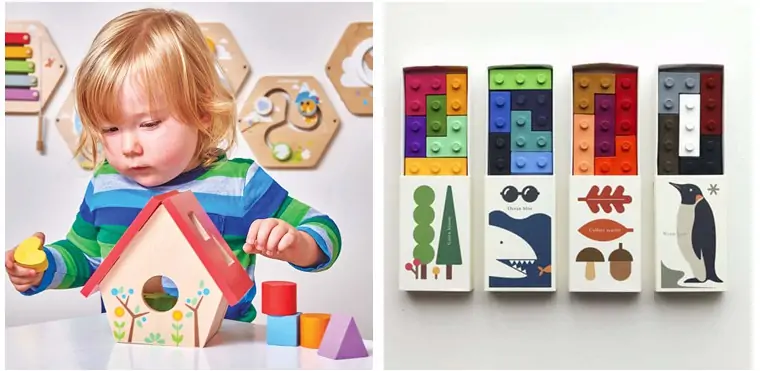 A beautiful playsilk from Sarah's Silks is sure to inspire lots of sensory and imaginative make-believe play. Playsilks are one of the most versatile open-ended toys and can even be used as sustainable gift-wrap or bedding for your Easter basket and a gorgeous covering for your Spring nature table or Easter display.
A handmade wooden spinning top from Glückskäfer is a perfect traditional toy for your child's Easter basket, providing hours of good old-fashioned play for all ages!
And if you have babies to celebrate with this Easter, let them join in the fun with one or two of Lanco's wonderful organic and 100% natural teethers, made entirely from natural rubber. The Green Leaf teething toy is perfect for Spring.
You can find all these sustainable Easter basket fillers and more in Teia Education & Play's 2021 Spring collection, a thoughtful and fun mix of Spring-related learning materials, sustainable handmade wooden toys, books and inspiring craft supplies. The range reflects all the lovely colours and new life blossoming in this wonderful season.
Wishing you lots of Easter fun and play!
Sarah
Sarah Varley is a freelance writer and mother of two from England. Sarah embraced the Montessori method for her children's early education and is a huge fan of open-ended play with beautiful, sustainable toys that last for generations. As a former Librarian, there will always be a special place in her heart for books, sorting and organising! Find out more at Letterpress Content