Teia Education & Play has carefully chosen some fabulous new high-quality eco friendly toys and crafts brands for Spring 2020 – SINA Spielzeug, Le Toy Van, Flockmen, Crayon Rocks, Waytoplay, Natural Earth Paint and Glückskäfer. I have taken a look at some of the amazing credentials behind these brands.
SINA Spielzeug
SINA Spielzeug creates wooden toys designed to encourage adults and children to play together. SINA's range includes didactic and therapeutic wooden toys and playing items created according to the Froebel pedagogy. Based on the sphere, cylinder, cube and their parts, SINA makes building blocks, wooden tiles and a range of other toys and games that help playful children grasp the world around them – by building, experimenting, ordering, categorising or slotting things together.
SINA is a family company and all products are designed and made in the company's workshop in Germany to ensure the highest quality and safety. They use only stains and varnishes that comply with DIN EN 71 3 & 9 to be completely harmless to children and use hardwood, mostly Beech, which reduces the risk of splintering.
The brand draws inspiration from the renowned pedagogue Friedrich Froebel whose Gifts have long been a symbol of children's play. Froebel's idea that toys should have a soul is taken to heart at SINA to produce classic and modern toys that spark creativity and imagination during free play.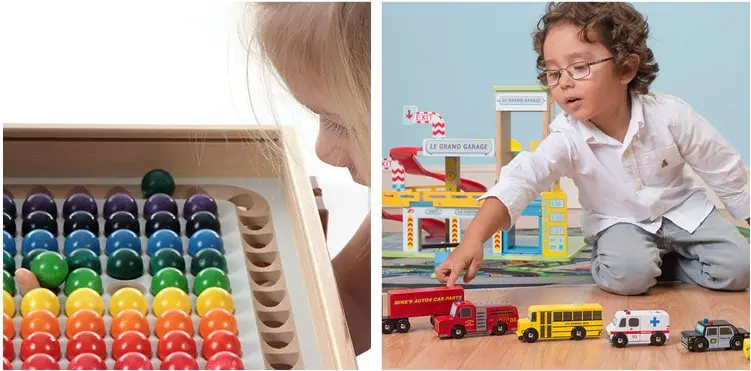 Le Toy Van
Le Toy Van was created in Surrey, England in 1995 by Georges Le Van to design and distribute high quality traditional wooden toys with contemporary style. Their innovative toys are designed in the UK to encourage early learning through imaginative role play. They are ethically made by trusted partners to rigorous comprehensive quality, safety and sustainability standards.
Using natural materials, including replenishable smooth rubber-wood and an array of techniques from hand screen printing to water staining, these detailed hand-finished toys are unique and have won many awards.
Flockmen
Flockmen are small wooden toy figurines produced in Latvia, crafted with care by a family company committed to keeping production local, community-orientated and green. Flockmen are 100% natural open-ended toys, made out of strong and durable Baltic birch plywood and coated with pure linseed oil, using only responsibly sourced, sustainable materials and no chemicals. 
The aim behind Flockmen is to provide open-ended play in each child's own individual way, giving them opportunities to make choices, develop concentration and let their minds grow. The company also aims to connect generations through play, tempting parents and grandparents to join in the fun and work together with children to create the most amazing structures and displays.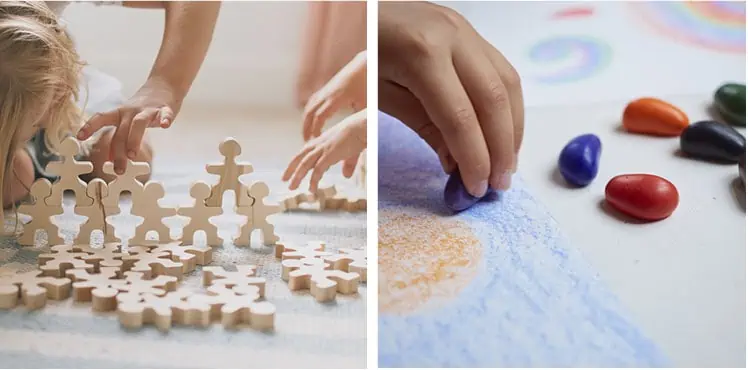 Crayon Rocks
Made in rural Kentucky, USA, Crayon Rocks were designed by a school teacher in the perfect shape to encourage children to use the correct pencil grip of thumb, first and second fingers right from the start. The shape intentionally does not allow children to easily grip them in a closed fist or with any other inappropriate style of grip that deters fine motor development.
Crayon Rocks are made from soybean wax and a variety of non-toxic powdered pigments to create beautiful colours. The result is a smooth, blendable crayon similar to oil pastels that enables children to create textured, vibrant artwork. Crayon Rocks are non-toxic, vegan and conform to ASTM D-4236, ASTM F-963, EN71-3 and CPSIA.
Waytoplay
Dutch brand Waytoplay creates easy to connect and clean road parts and components which can be used on almost any surface, inside or out. Waytoplay believes in open-ended play with no set goal, target or result – their road segments let the imagination pave the way to adventure, creating circuits and road maps for favourite toys and vehicles. 
The Waytoplay road parts are made in Germany from 100% child safe and durable locally sourced PVC which is BPA, cadmium, PAH and Phthalates free. The road segments are then printed on both sides in The Netherlands by a sheltered employment provider who also print most of the packaging, providing jobs for 10 people with little access to regular employment.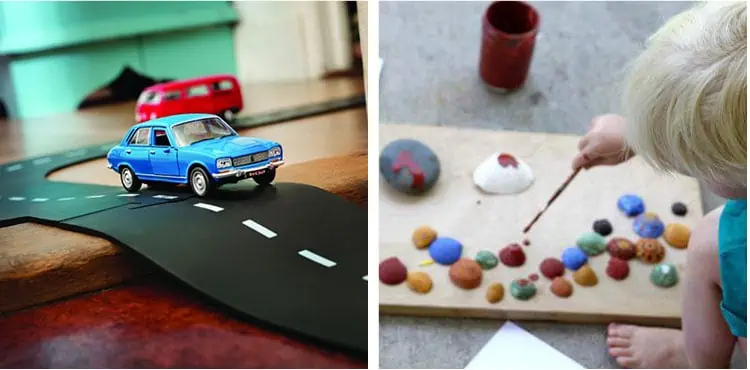 Natural Earth Paint
Natural Earth Paint was founded in the USA in 2011 by professional artist, mother and environmentalist Leah Fanning. When pregnant with her first child in 2009, Leah disposed of all of her toxic and synthetic supplies. She had been searching for truly non-toxic yet very high quality art supplies for years and decided to create the products herself. She discovered this way of painting actually created much higher quality and more archival supplies.
Natural Earth Paint is 100% non-toxic, washable and natural, made from just earth, mineral pigments, arabic gum and corn starch. You simply add water, allowing you to make only what you need and create amazing paint consistencies ranging from tempera to watercolour. Natural Earth Paint's truly eco-friendly business model is reflected by their prestigious Gold certification from Green America and they use locally made, 100% post consumer recycled packaging, biodegradable plastic bags and recyclable glass bottles. They operate out of a 100% solar powered facility and give back to Mother Earth and those in need in many ways including the Plant a Tree campaign and Million Choices Project.
Glückskäfer
Glückskäfer is a traditional German brand that aims to positively support a child's development with the help of pedagogically valuable toys designed in collaboration with pedagogues, parents, doctors and midwives. The company has been producing high quality toys for more than 60 years and mainly offers wooden colourful toys which are all made by hand to last for many generations. 
Only selected woods, mainly beech and maple, from European forests that are certified for sustainable forestry according to FSC / PEFC standards are used, along with only tested, certified and mainly water-based paints and inks. All wood waste is collected and energetically recycled within the company.
Glückskäfer toys are to be treasured for generations and are perfect for stacking and sorting as well as open-ended and small world play to create houses, dens, fences, tunnels, bridges and sculptures. The range of realistic pretend play toys, children's furniture and Waldorf crafting tools are a delightful addition to any play space or prepared environment!
It has been wonderful to learn about the hard work all the brands selected by Teia Education & Play are putting in behind the scenes – the thought given to each design's play value, the stringent safety testing and non-toxic material selection and the sustainability measures for our planet. I love that this selection process gives us peace of mind while we play – read more about Teia's values and other brands.
Sarah
Sarah Varley is a freelance writer and mother of 2 from England. Sarah embraced the Montessori method for her children's early education and is a huge fan of open-ended play with beautiful toys that last for generations. As a former Librarian, there will always be a special place in her heart for books, sorting and organising! Find out more at Letterpress Content.