Trying to keep our children happy and occupied at home is a challenge all parents are facing right now due to school closure worldwide – Teia Education & Play has carefully curated products to engage children, promote creative play and complement homeschooling so I have put together ideas and activities using some of these products to help make this time easier and more enjoyable for everyone.
Homeschooling supplies
Many parents are suddenly finding themselves struggling to teach maths such as fractions and percentages to their children. The secret is making the learning fun and visual! Games such as Jegro's fraction dice and stamps. Jegro's percentage dominoes bring play to learning as you connect the cards with matching values of percentages, fractions and decimal numbers.
Build the basics of understanding fractions right from the start with the Toys for Life's 1-10 set. Children discover and combine the different number representations such as stars and parts of a circle. The circles take on the effect of rainbow colour-wheels as the fractions get smaller, making them more and more visually appealing as they get harder!
Educo's tactile geometrical shapes set brings learning to life as children can feel and hold the shapes as they match them to the contour cards.
Teia Education & Play has a whole range of homeschooling supplies to help bring the fun back to learning from toddlers right up to 12 years.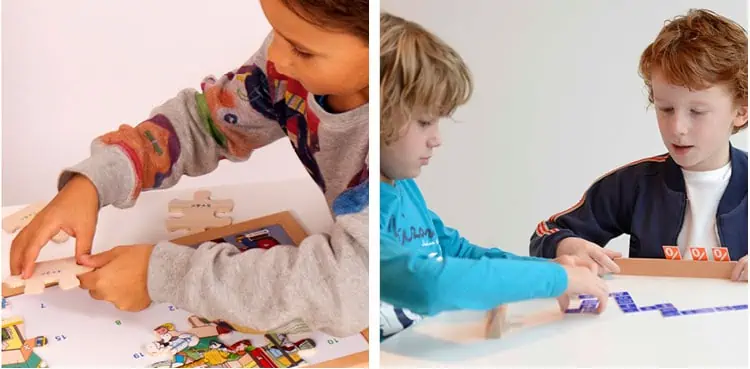 Puzzles are a great way to create a fun learning opportunity for children. Educo has created lots of great puzzles that cleverly combine critical thinking and problem solving through play, as well as special maths puzzles.
Well-designed problem-solving games and puzzles can also keep children's attention for longer. SINA Spielzeug's parcuro game helps children practice patience, dexterity and perseverance as they balance the steel balls through the maze. Educo's coding animals game is great because it engages children in learning the basics of coding without the use of technology and in a really fun way! Point the animals' noses in the right direction and send them along the interconnecting roads, avoiding the obstacles!
Sorting activities for children
Children gain such calming satisfaction from sorting objects by colour, size, shape or type and this is an absolute favourite activity in our house! 
Using Educo's sorting tray or Grapat's gorgeous set of 12 rainbow bowls will create even more visually pleasing results as your children use fine motor skills and logic to bring order to anything. 
Supply buttons, beads, pom poms or coloured blocks together with different tools such as spoons and tongs for diverting fun. Sort the bears from Toys for Life is a lovely game which comes with 36 coloured bears and the great additions of wooden tweezers, to practice fine motor skills, and patterns cards.
Sets such as Grapat's gorgeous nest rings also encourage sorting and critical thinking as well as the most beautifully satisfying rainbow results whether you nest them or stack them in multiple ways.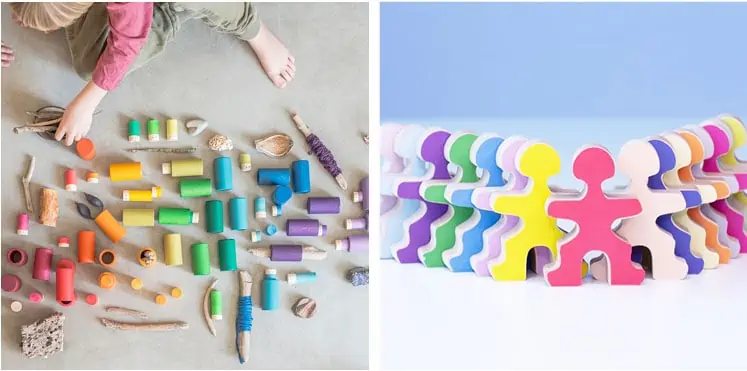 Loose part toys and open-ended play
Loose part toys are the toys that will work hardest for you in filling this time at home with happy, contented play. 
These toys encourage independent and extended play and promote greater creativity and imagination. Start with a set of good building blocks as your basis, then add in different sets to inspire new worlds such as Grapat's stunning Lola set of rainbow-coloured tubes, cylinders and people for endless possibilities of beautiful towers, tunnels and towns!
Grapat's fabulous Nins dolls are a wonderful addition to loose part play. You will find your children adding them to every scene and activity, encouraging language and literacy as they take on the role of any character. Nins Tomten or Nins of the forest are perfect for inspiring woodland scenes and fairytale play with their gnome-like appearance and their accompaniments of cones, honeycombs and toadstools. Hours of blissful fun!
Flockmen are an amazing toy because they are at the same time the most wonderful building blocks and also characters with endless possibilities. They tessellate to let your child build incredible pyramids, curved towers and so much more!
Waytoplay's high-quality flexible rubber roads are a fantastic toy for making playing indoors more appealing and engrossing, exactly what we need right now! Use the open-ended sets of straights, curves, parking spaces, roundabouts, junctions to build roads anywhere, around any furniture, and they're also weather-proof and tough enough to expand into the garden.
Arts and Crafts
Satisfy busy hands and provide creative outlets for all ages with regular arts and crafts sessions and make sure you join in yourself! 
Our new favourite Crayon Rocks are so appealing and tactile they encourage every child to become an artist! These environmentally friendly Crayon Rocks are made of soy wax and have a special ergonomic shape to promote the three-finger grip, the proper grip for writing.
Children (and adults!) of all ages can produce beautiful transient art with Grapat's mandala shapes and stones. 
Decorating and personalising Flockmen is another great way to promote creativity. They can be painted, coloured or decorated with stickers.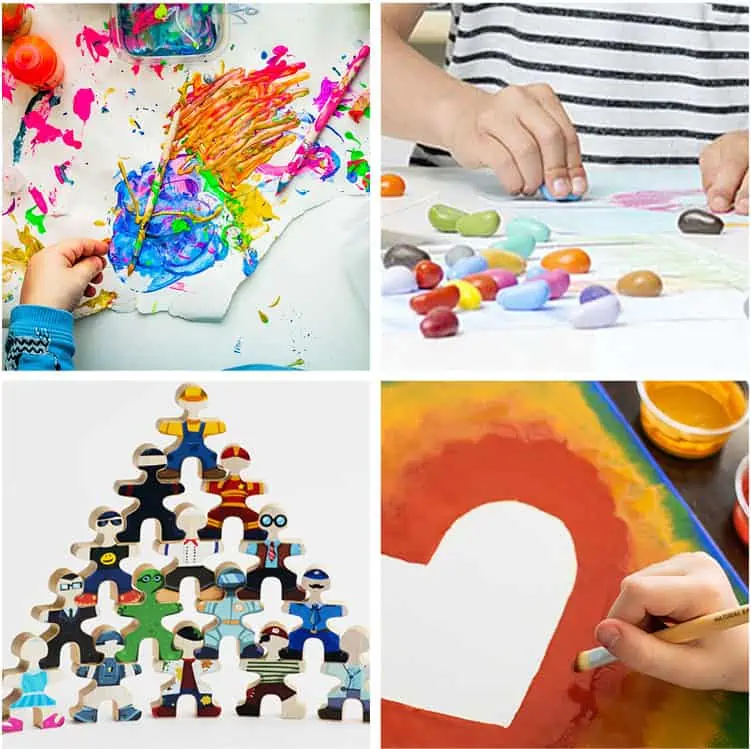 Natural Earth Paint is wonderful because it is 100% non-toxic and 100% washable natural, made from just earth, mineral pigments, arabic gum and corn starch. You simply add water, allowing you to make only what you need and enabling you to create different consistencies. 
It makes a lovely creamy, tempera-like paint perfect for finger painting or stamping, or add more water to create watercolours, like aquarel! It is extremely versatile so you can use it to paint wooden toys, rocks, fabric, paper and glass – plenty of scope for creativity!
Teia's range of giant stampers are themed to inspire creative fun. Let your children create a traffic scene using the transport stamp sets and even add textured fields, lanes and buildings using creative texture stamps. 
Once dry, the fun can continue as the pictures can be used as play landscapes for children to drive toy vehicles along the lanes, stopping to feed the animals, collect eggs and count the sheep!
Music and movement
Even more important while we cannot get outside as much at the moment, music and movement can improve everyone's mood, diffuse a tense situation and just provide fun and diversion as well as energy release!
Play around with music with SINA Spielzeug's wooden musical dolls. These are a delightful 12-piece set of 6 pairs of high-quality handmade wooden musical dolls in the colours of the rainbow. Each pair of two dolls in the same colour make the same sound, with the light colours making a high-pitched and quiet sound and the darker colours a low-pitched loud sound. Have fun testing each other to match the pitch, move when you hear the right sound, and add music to loose-part play too.
Educo's make the right move is an interactive game that can be played in various ways. Concepts such as high, low, left and right are covered as children copy or describe the poses on the cards, as well as balance, coordination and a good stretch!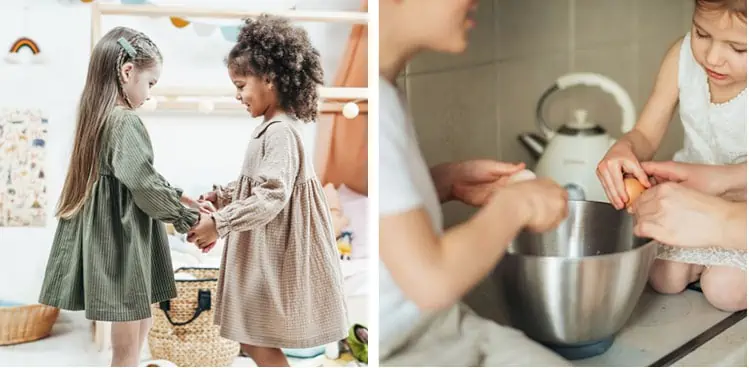 Organisation and toy rotation
Establishing a routine of children helping to tidy away after each activity and at the end of the day is especially helpful right now. Playing music and allowing plenty of time helps children to enjoy the process. Labels with images can help children to keep sets together well. Children love to imitate the work of adults and it is good to involve them in real work such as sweeping, folding laundry and tidying away.
Storing toys and sets in baskets and trays on low shelves can work really well. It makes them more accessible for children, tidying and organising resources is easier and it helps to create a calm, appealing environment for everyone. Teia Education & Play has a range of furniture and storage to help you get set up. 
Toy rotation is a great idea. You can put different combinations of toys out to encourage new play and imagination, and reignite children's toys when toys are rediscovered. It also prevents overwhelm and helps with tidying away. Keeping a couple of special toy sets tucked away for times when you really need to complete an important task works wonders!
Books
If you would like to read about complementing educational and parenting styles or find curriculum support, Teia Education & Play has a range of Montessori, parenting and education reference books available, including all books and booklets distributed by Nienhuis Montessori as well as the books and previously unpublished writings by Maria Montessori published by the Montessori-Pierson Publishing Company.
Gift cards
If your child is celebrating a birthday during this time, relatives might like to send gift cards so you can choose the perfect item to offer years of imaginative play from our huge range of high-quality traditional wooden toys, games and homeschooling supplies supporting Montessori and Waldorf methods of education and play for children 0-12. 
I really hope some of this helps you with your quest for calm, happy learning and play at home. We would love to see photos of your homeschooling in action and hear any other tips for making the best of this time! 
Sarah 
Sarah Varley is a freelance writer and mother of 2 from England. Sarah embraced the Montessori method for her children's early education and is a huge fan of open-ended play with beautiful toys that last for generations. As a former Librarian, there will always be a special place in her heart for books, sorting and organising! Find out more at Letterpress Content