We have all heard about "green" and ecological toys and care about a sustainable future, but do we actually pay attention when shopping for toys? Did you know that 90% of the world's toys that are produced are made of plastic? The cheap plastic toys that we see everywhere have long been a huge contributor to the landfills across the globe. It was probably even a part of our own childhood.
For decades, there has been a throwaway nature with many toys. While plastic has been cheap and easy to manufacture, it can easily break, parts can stop working. Parents, carers and teachers will often find themselves tossing away plastic toys after a short while, to be replaced with something new, shiny and probably made of more plastic.
And with 90% of toys in production fitting this model, that is a scary statistic when we think about the impact of all that waste on the globe. Surely a strong case to support the shift over to more thoughtful, ecological toys?
Making a change
Encouragingly, we are currently seeing a change in consumer behaviour.  A mind-shift towards a greater awareness of our environment and the importance of buying responsibly.
People are becoming more conscious of what they buy, the origins of the raw materials used and the environmental impact of a product.
We know that we need to buy less. That the products we purchase need to be long-lasting and be produced using safe, natural, ethically sourced materials that do not harm our environment.
Teia Education & Play specialises in safe, green, durable eco-friendly toys and educational materials.
They only represent carefully selected high-quality, ethical, sustainable and certified brands mainly from Europe and the United States producing toys designed to last for generations.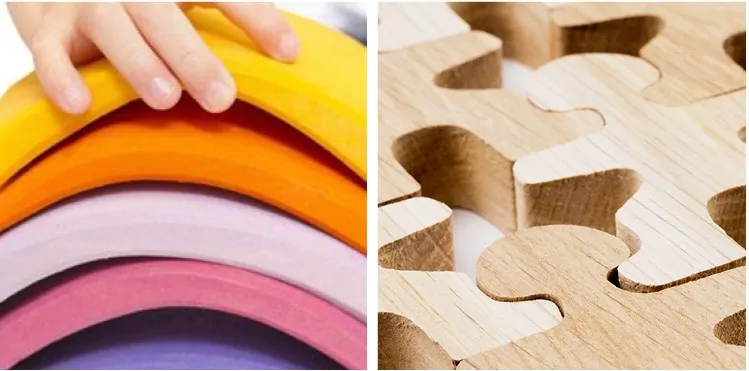 As Teia Education & Play's founder Sylvia Zihna explains: 
"When conveying our values at Teia Education & Play, I quote Ralph Waldo Emerson: 'We do not inherit the Earth from our ancestors, we borrow it from our children.' This way of thinking is very dear to me coming from The Netherlands, one of the first countries at risk to flood if sea levels keep on rising at this pace. We champion green companies who are creating beautiful, sustainable products that are safe for our children, using methods that are kind to our planet, and are also durable and long-lasting, meaning less waste and pollution." 
Ethical, ecological toy brands
Sylvia's careful research means that parents and educators can be sure that the brands Teia Education & Play represents put people and the planet before profits, and this is what we really love. The brands chosen meet the high standards we look for – they use materials that are natural and safe, especially for babies who love to put everything in their mouths. They avoid hazardous chemicals and toxins.
Made in either Europe, Australia, Vietnam, South Korea or the USA, the wooden toys, ecological toys and toxin-free art supplies all use sustainable, renewable materials such as wood from European forests protected by EU law (which states more trees must be harvested than cut down and annual harvests are limited) and eco-friendly production methods that protect the environment.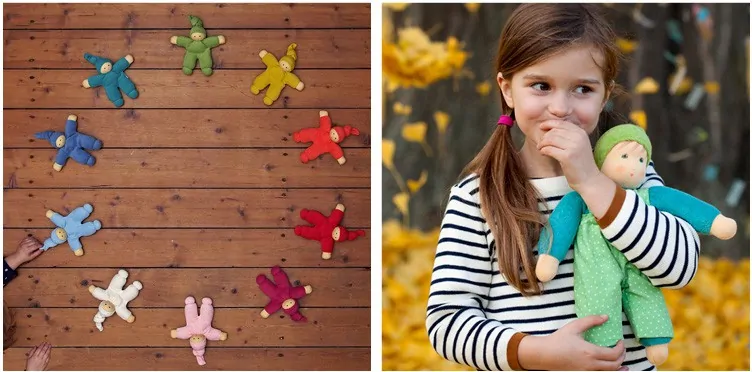 Here are just a few examples of some of the ways Teia Education & Play's brands are working hard for a more sustainable future – you can read more about all our brands' ethos here: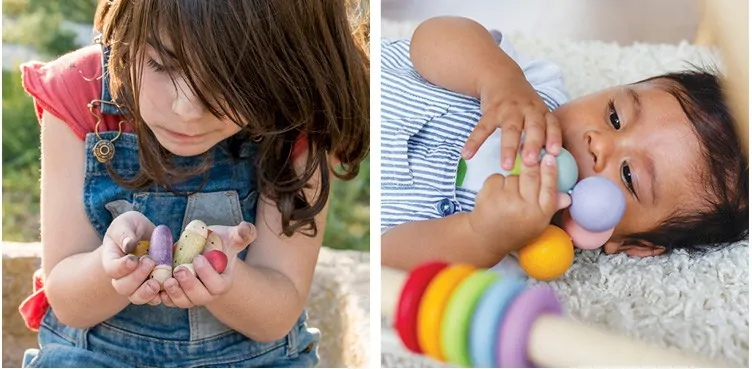 By making small changes in our purchasing decisions, particularly when it comes to toys, selecting good quality ecological toys and wooden toys is a really positive step. Not only do they provide just as much, and arguably more, fun than their plastic counterparts, by selecting sustainable toys they can be passed on to other children and become well-loved heirlooms.
In addition, by choosing ecological toys, games and materials for our children, we lead by example. Teaching the generations that come after us that buying well is a sensible decision not just for play, but for the long-term benefits of our globe.
If every child in Switzerland, aged between 0 and 14, was given one wooden toy instead of a plastic one that would be over 1,000,000 fewer plastic toys! If you apply this same logic to all the other countries in Europe, the US and the rest of the world, those numbers really start to add up. This then amounts to a marked difference in plastic waste but also a strong signal to the toy manufacturers of the world!
Sarah
Sarah Varley is a freelance writer and mother of two from England. Sarah embraced the Montessori method for her children's early education and is a huge fan of open-ended play with beautiful toys that last for generations. As a former Librarian, there will always be a special place in her heart for books, sorting and organising! Find out more at Letterpress Content.