Arts, crafts and handwork are key elements of the Waldorf Steiner philosophy and children are provided with the most beautiful high quality art supplies and materials. Waldorf crafts engage the head, hands, and heart of the child at the same time. At home, parents and children creating simple crafts together provides a lovely shared experience and connection. Waldorf arts and crafts are also the perfect way to create unique toys and playthings made with love for children to treasure, with plenty of room left for the child to add their own imagination!
Waldorf arts and crafts supplies are wonderful because:
– They are natural so they are free of harsh chemicals and toxins, and they help children – and parents – to connect with nature more.
– Natural Waldorf supplies like wool felt and modelling beeswax feel good in your hands, and being natural, they are also more eco-friendly.
– They are of very high quality so they are satisfying to use, such as in texture and pigmentation, and they produce great results.
– They are long-lasting so they are better for the environment in this way too.
– They are so versatile! Waldorf arts and crafts supplies can be used in so many different ways.
Here are 6 essential Waldorf arts and crafts supplies with crafting ideas on different ways to use them.
Waldorf Craft Papers
High quality craft paper ensures great results for your Waldorf arts and crafts projects.
Kite paper is wonderful for Waldorf paper crafts. Coloured wax kite paper is staple for Waldorf Steiner schools. Traditionally, it was used for kite making, but it is useful for many other crafting purposes such as colourful window decorations, folded stars, lantern making and lots of other creative projects.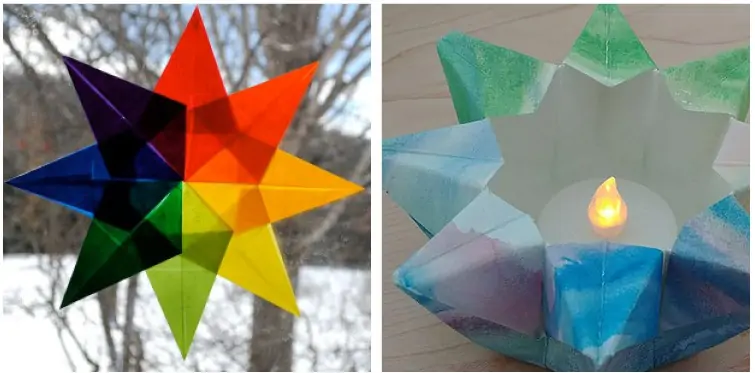 You can find instructions to make a beautiful Waldorf window star with kite paper at Garden Mama.
You will always need plenty of thick, high quality craft paper on hand for Waldorf crafts.  Wee Folk Art has a lovely watercolour folded paper star lantern to make using thick paper and watercolour paints.
There are also great instructions for making Waldorf paper crafts such as lanterns and moving picture cards in the book Making the children's year: seasonal Waldorf crafts with children by Marije Rowling.
Modelling Beeswax
Stockmar modelling beeswax is a wonderful Waldorf craft supply. It is so natural as well as pliable and easy to use, and the amazing natural honey smell really adds to the calming sensory experience! Modelling beeswax is perfect for a quick craft activity for little ones or more detailed projects for older children and adults. Try making beeswax woodland animals for your nature or seasonal table. Create models for story time of favourite storybook characters or fairytale scenes.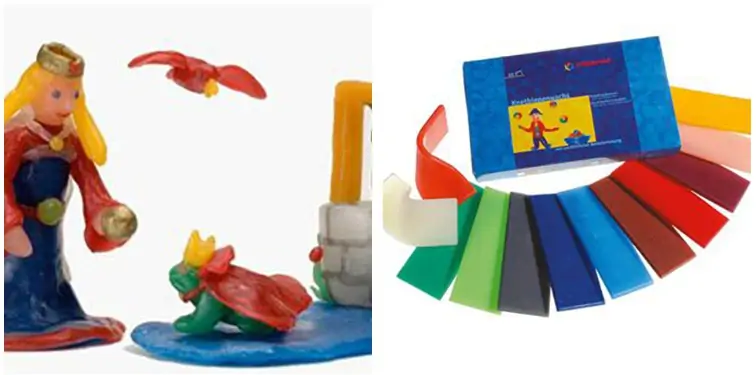 Stockmar provide some great ideas and tips for modelling beeswax including making a zoo, a Sleeping Beauty figure, little boats and elves, as well as these lovely Waldorf flower children!
Another wonderful thing about modelling beeswax is you can use it again and again. If you find it has hardened over time, you can soften it by warming it in your hands first or in a bowl of warm water.
Felting Wool & Needles
Working with natural and plant dyed fibres in both wet and dry felting are important parts of Waldorf Steiner Education. Glückskäfer's fairytale mix of plant-dyed felting wool is perfect for creating all kinds of Waldorf felting crafts such as Fairies, gnomes, landscapes, trees 4 seasons style, Waldorf birthday crowns, flowers, mushrooms, various types of animals and figurines – the possibilities are endless! Felting wool, good quality felting needles and some sort of protective surface are all you need to get started. A needle holder can be handy too.
From beginner to expert level, the book Making Natural Felt Animals by Rotraud Reinhard is full of wonderful Waldorf felting projects and shows how to create felted animals for Waldorf seasonal tables, classroom and home. These gorgeous felt animals would be an amazing addition to your seasonal or nature table and are a great way to bring stories to life.
Playful Learning also has a lovely simple felted acorns craft for children to make. Easy and quick for children to make, they would look fantastic on your seasonal table!
Beeswax Crayons
The drawing supplies children use in a Waldorf school evolve as they move through the grades and it all begins with the right crayons.
Stockmar wax block crayons are the classic Waldorf early childhood drawing material. They are used in preschool, kindergarten and beyond. Stockmar wax stick crayons are more like traditional crayons but they are thicker, more durable and easier to grip, and have a high pigment content that produces brilliant and beautiful colouring effects. They draw and colour more smoothly and evenly too.
Stockmar's range of high quality, non-toxic beeswax crayons are specially designed to appeal to children's senses with their warmth, ergonomic shapes and natural beeswax scent for vibrant and satisfying art and craft activities.
You can even paint with Stockmar's beeswax crayons by layering them or using the melting technique.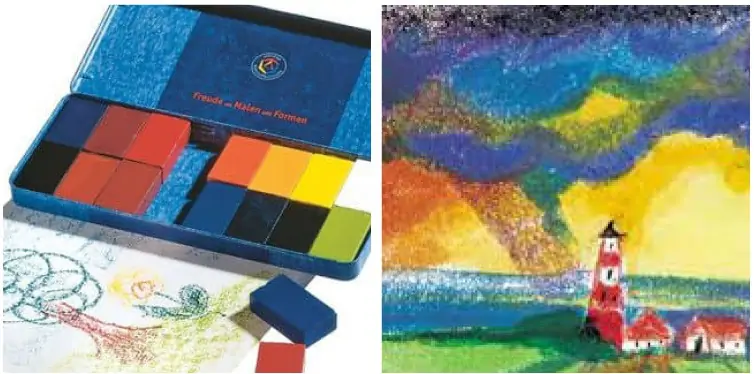 Try the Melting Technique with either Stockmar beeswax block or stick crayons: place a piece of drawing paper on a warm surface such as a hot plate or board safely raised over several tea lights (make sure you cover the hot surface with newspaper so you don't come into contact with it).
The beeswax will melt as you colour so that you can paint with them like a liquid. Mix the liquid colours to create blended colour tones and effects. The top layer of colour will be the dominant one, so if you paint blue on top of red, a bluish-red tone will be the result.
You can also save any small bits and shavings of crayon to make fun ironed wax pictures.
Filia oil crayons are also perfect for Waldorf arts and crafts. Made in Denmark according to a long-lasting tradition, these wonderful crayons have been tried and tested in art education at Waldorf/Steiner schools. They have a distinctive square shape and a really easy to blend consistency similar to oil pastels and promise years of creative drawing pleasure.
Colouring Pencils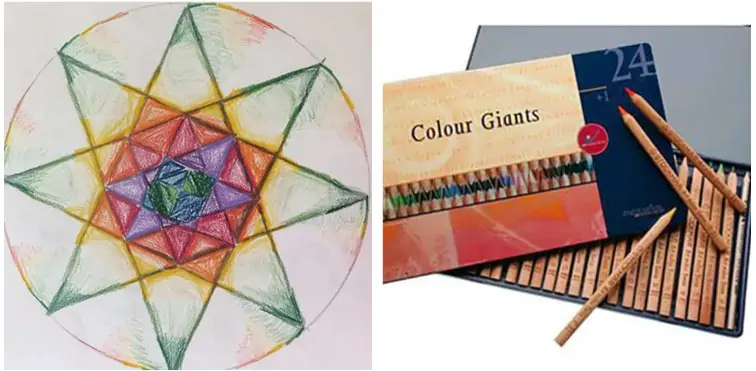 Colouring pencils are a staple art supply in Waldorf schools. Mercurius colour giants Waldorf assortment are a great choice. With 24 Waldorf-inspired colours, they are made in a special collaboration between Stockmar and Lyra, two of the leading makers of the highest quality Waldorf art supplies. These pencils have a lovely rounded, triangular shape to fit easily and securely in children's hands and offer truly satisfying colouring.
As well as all kinds of creative art and techniques, colouring pencils are perfect for creating mandalas. You will find some great inspiration for Waldorf mandalas by Waldorf pupils at grandmother oak. Let children experiment with mandala paper of all different sizes.
Decorating Beeswax
Stockmar decorating beeswax is an ideal material for creating fun shapes with which to decorate candles, boxes, picture frames and much more. You and your children can create delicate and personalised works of art and lovely thoughtful gifts.
Crafting with decorating beeswax is a great way for children to experience art through all their senses – the lovely scent, colour and consistency work together when moulding. Stockmar decorating beeswax meets the highest educational, aesthetic and artistic demands and promises years of pure crafting pleasure for children and adults alike.
Stockmar provide plenty of tips and ideas in their guide to using decorating beeswax.
By providing children with such high quality, artist-grade Waldorf materials, they can produce beautiful and enjoyable art for years to come and develop a love for this important creative outlet. You can view the entire range of Waldorf arts and crafts supplies at Teia Education and Play here. We would love to hear which art and craft supplies are essential in your home or setting!
Sarah
Sarah Varley is a freelance writer and mother of two from England. Sarah embraced the Montessori method for her children's early education and is a huge fan of open-ended play with beautiful, sustainable toys that last for generations. As a former Librarian, there will always be a special place in her heart for books, sorting and organising! Find out more at Letterpress Content