There is something so appealing to children about pretend play with realistic wooden play food! The cute versions of items that children recognise from their daily lives from renowned German toy brand Erzi are the perfect size for little hands and encourage hours of creative and imaginative play.
In our home, our wooden play shop and play kitchen with Erzi wooden play food have been some of the most played with items throughout the years. Absorbing games involving trips to a pretend cafe, shop or acting out kitchen scenes have kept them happy for hours! Well-made and durable realistic wooden play food certainly appeals to parents looking for Waldorf pretend play at home. They even can be applied as curriculum support materials in a prepared Montessori or learning environment.
It is wonderful to see children really immersing themselves in pretend play so I have put together some of the benefits of this type of play, along with some food-themed play ideas to try. I have also added some suggestions for extended learning through play using wooden play food.
The benefits of pretend play
Encouraging creativity and imagination
Immersing themselves in a make believe world gives children the freedom to explore ideas and work through them. Whatever game they decide to play, they can explore the scenario and develop problem-solving skills, thinking up different ways for the story to unfold.
Critical thinking and problem solving skills are key goals for child development. A few pretend play kitchen, shop or cafe props might be all your child needs to spark their imagination, helping build their capacity to generate new ideas and solutions in the future!
Developing language skills
Pretend play in a shop, cafe or kitchen leads to so much dialogue, chatting through what they are doing and interacting in different roles. As the customer or waiter or shopkeeper, children will be thinking up dialogue and strengthening their language skills without even realising. Different play food items introduce so many new words to your child's vocabulary.
A sensory experience
Erzi's beautiful realistic wooden play food has the most delicious detail in each piece of fruit, vegetable or produce which is a visual delight to the senses. The colours are so vivid and deep with detailed hand-painted effects and shading.
They are made of solid beech wood and just lightly lacquered to reveal the natural wood grain so children can enjoy the warmth and feel of the natural material.
Introducing different foods
While playfood doesn't replace tasting and touching real food, it does give children the chance to familiarise themselves with what lots of different fruits and vegetables look like. (Perhaps add learning the name of each?)
And if they love playing with their pretend fruits and vegetables, this can help children to be more open to trying new fruit or vegetables that they haven't eaten before and positively reinforce an interest in eating healthy foods. Grapes, bananas, strawberries and pineapples – discuss how varied their shapes and bright colours are and model how delicious you find them as you pretend to eat!
Plus, wooden play food is in season all year round and unlike real food, it is easy to clear up afterwards!
Enhancing social skills
Playing together in their pretend shop, cafe or kitchen, children learn so much about taking turns and working together in harmony as they act out roles in different role play scenarios and take turns to be the shopkeeper or chef.
Team work, leadership and confidence is developed as children play these immersive games together. They need to work together and make decisions they can all be happy with, so they are learning to be patient, tolerant and to listen to the opinions of others. All through the power of play!
Fostering empathy for different roles
Children build empathy as they act out different roles, learning to put themselves in the position of another, whether it's a shopkeeper, a chef or a parent making food for their family.
Learning life skills
From learning to set the table in a dramatic play cafe and cooking in the play kitchen to practicing purchasing food at a play shop, this sort of food-themed pretend play provides a familiar and safe way for children to practice life skills and different real-life scenarios.
Fine motor skills
Handling the wooden food, picking it up and passing it to customers, putting it in a bowl and stirring it, or placing food items into and out of bags and baskets is all wonderful for developing children's motor skills as they play!
Practicing serving wooden play food with different utensils such as spoons or tongs is also fantastic for developing fine motor skills and dexterity. Erzi's food cutting sets with velcro food pieces and wooden knives are great for developing fine motor skills too.
Neatly stacking items on a play shop shelf, stacking different wooden foods in a sandwich and arranging wooden food on a plate helps to develop precision and accuracy of placement and movement.
Play ideas for pretend wooden food
Shop play ideas
Try some of these ideas to help your children get the most out of their wooden play food-themed fun!
Make stacking the shelves and organising the produce in your child's play shop in different ways part of the fun, as well as tidying up after playtime! Make signs with the names of the products or pictures and put the different produce such as the fruits or breads into separate baskets.
Give your child a pad of paper so they can write (or pretending to write) a shopping list and tick off the items as they fill their basket. Perhaps they are going to pretend to bake a cake today so they will need to buy eggs, flour and sugar. Activity Mom has made some lovely free printable picture shopping lists.
Playing shops is a great way to introduce the concept of money and practice using it.
Add a play cash register and pretend play money or make some with paper. Let children make signs with prices, thinking about how much each item might cost. A chalk board is a great way to advertise products and prices too!

Play kitchen ideas
Make simple recipe cards with pictures for children to follow, such as tomato, onion and garlic so they can pretend to make a pasta sauce or milk, eggs, flour and blueberries to make pancakes. List some of the different vegetables you have so they can find them all and pop them in a pot to make a healthy pretend soup or stew.
To help keep everything organised and encourage tidy habits, you could make picture labels for shelves, cupboards, boxes, baskets so that children know where to put everything back in its place, such as bowls, spoons, cups, vegetables or bread.
Suggest a trip to the pretend play shop and provide little bags so they can put away all their groceries in the kitchen – even this chore is fun for children, putting food away in the fridge, cupboard or different baskets!
Cafe pretend play
Cafe or restaurant role play with your child is one of my favourite activities as it means busy parents get to sit down for a few minutes! Stretch the fun out for as long as you can!
Help your child find a cloth to lay the table, and maybe they could add a jam jar with some daisies from the garden or paper flowers to make it look pretty like Poppet and Little.
Children love to make menus, choosing the tasty options available and reading them out to you. They can draw their own, or provide printable versions such as these from thelittlesandme
With a little notepad and pencil, they can take your order and pop to the play kitchen to prepare it.
Provide different spoons and utensils such as tongs so that children can enhance their fine motor skills as they transfer play food onto the plates.
Practice setting the table with cutlery and cups. You could draw around the shapes on a piece of paper to help show where each item goes. Drawing and colouring decorative paper placemats is a fun creative activity too.
Test your child's ability to walk while balancing food on a plate – not always easy with a plate of wooden oranges! How much can they stack on the plate and carry without dropping anything? Can they carry two plates at once?
Picnics and tea parties
Children love packing up a basket of play food and heading off for a pretend picnic with their teddies or dolly in the garden! What will they choose to take? Is there enough play food for all the guests? Provide a blanket, little plates, cups and napkins and your child can set out some play food for each teddy and pour pretend drinks.
The simplest things can feel like a real little outdoor adventure to children. My children also loved to pack a little bag with wooden play food and pretend they were going camping or on a cycling trip. It is alway funny to see what they pack as their 'essential' items.
Extended learning ideas with wooden play food
Wooden play food is such a fun and versatile toy and provides plenty of learning opportunities as well as play value! Here are a few ideas for extending the learning through play every day!

Sorting activities
Sorting activities are great for developing early math and problem solving skills and pretend food is such a fun material to sort in so many different ways – simply by colour or shape, or by food groups such as fruit, vegetable, meat or dairy, or whether we eat them for breakfast, lunch or dinner. Lay out different bowls for sorting the food into or label different pieces of paper with different headings.
Practice table manners
Let children practice laying the table with plates, cutlery and cups and then serve the food, asking the recipient if they would like each food or replying with 'yes please' or 'no thank you'. The parent can model polite responses and appreciation for their food for the child to see how this feels! This again encourages empathy in a simple way by the child putting themselves in the position of the parent making meals for others.
Memory games
Wooden play food is perfect for tray memory games. Place several items on a tray and let the child examine them, naming all the items. Place a tea towel over the tray and get them to close their eyes. Remove an item and ask them what is missing.
Memory, problem solving skills and concentration are all being developed as the child re-examines the tray and works out what is missing. You can use prompts and clues if needed, such as asking what was in this gap? What colour was it? This was always an absolute favourite game in our house!
Learning about healthy eating
Wooden play food is the perfect material for learning about healthy eating. You have a visual tool for sorting into healthy foods and occasional treats, or discussing the different food groups, the nutrition pyramid and what makes up a healthy plate of food.
Talk about where different foods come from and how different foods are grown or produced. Erzi also have great sets for learning about the foods popular in different countries, including their new Australian assortment, Italian assortment, and I love the Japanese sushi set complete with chopsticks!
Counting and math skills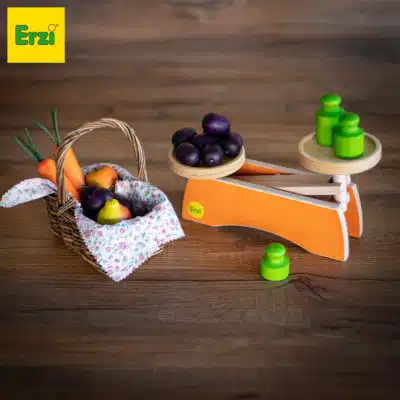 Bring math to life by making it hands-on and visual!
Let children practice counting fruit into a basket, ask them to find 6 food items or help them place items in order of size.
Create simple math problems with food, such as 3 plus 2. It can be so much more fun for children and especially important for visual learners.
Weighing with scales and comparing sizes and amounts is fun with wooden food too.
Guessing games
Put the food item in a cloth bag and get the child to feel and use their senses to work out what the item is. Wooden fruit pieces are perfect for this and you could look at the different fruits you have first to help your child. Then get them to think about what shape they can feel, is it round like an orange? Can you feel a stalk? Children love this game!
We would love to hear about your children's favourite games with wooden play food! You can take a look at the huge collection of beautiful Erzi play food at Teia Education & Play, along with plenty more of the best wooden toys. 
Sarah
Sarah Varley is a freelance writer and mother of two from England. Sarah embraced the Montessori method for her children's early education and is a huge fan of open-ended play with beautiful, sustainable toys that last for generations. As a former Librarian, there will always be a special place in her heart for books, sorting and organising! Find out more at Letterpress Content