Fun rainy day activities to keep little ones happy are always helpful! Even as the weather is getting glorious and sunny in Switzerland, it is still useful to have some indoor children's crafts planned just in case of bad weather or for escaping the midday sun! And in my home country of England and Teia Education & Play founder Sylvia's birthplace the Netherlands, rainy days are never far away! So here are a few of our favourite ideas for crafts with children on rainy days.
Finger knitting or French knitting
Finger knitting is a simple beginner craft that introduces children to the fun of knitting. It is often taught in Montessori and Waldorf schools. There are plenty of video tutorials online to explain the technique so you can get started on this quick, easy and fun craft.
There is a nice simple guide on inner child.
Children love seeing how quickly their knitting grows. Multicoloured wool is always a popular choice as children love seeing the colour of the chain change in their hands.
The strands can be wound into circles and sewn or glued to make pretty table mats or coasters. They also make great friendship bracelets or fun cat toys!
We're planning to get some wire and insert it inside finger knitting chains to create personalised name signs as decorations.
Wet on wet painting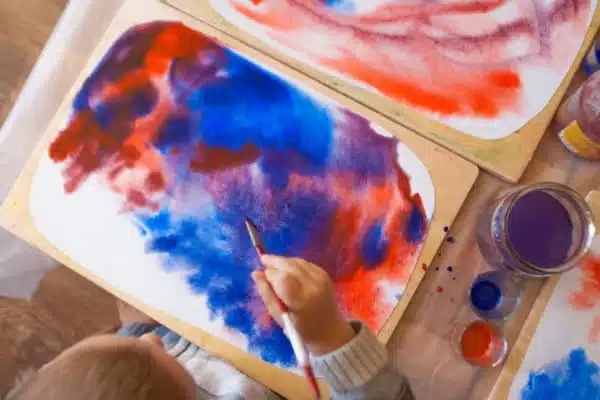 This is a lovely, satisfying way for children to get creative and experiment with colour mixing. The wet on wet painting technique is taught in many Waldorf schools. The focus is really on the experience rather than the results. The paint spreads to make beautiful patterns, the colours flowing and blending on the wet paper.
You will need watercolour paint such as Stockmar, a couple of small jars of water, a larger jar for washing your brushes, a large brush and some smaller watercolour brushes.
Putting down a waterproof tablecloth before beginning is a good idea. Waldorf painting boards provide a wonderful surface for wet on wet watercolour painting and are usually used for this type of painting in Waldorf Steiner schools.
Wet the paper all over with a large brush or soak in a tray. Ideally use thick watercolour paper and let the water soak in for a few minutes.
Let children choose two colours to begin with. Add a blob of paint to a jar containing a little water and mix. If you provide the primary colours of red, yellow and blue, children gain hands-on learning about how colours are made and can have fun experimenting and mixing all the colours of the rainbow!
Make salt dough animals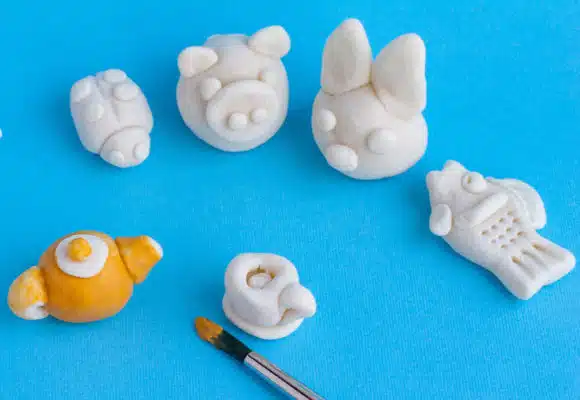 Children will love helping to make salt dough. Weighing out and mixing the ingredients and kneading the dough are all fun learning experiences. As it is not for eating, this is a great chance to let children take charge of measuring out ingredients, building their independence and confidence. As it's for crafting, the salt dough can also be kneaded and played with as much as your children like!
A simple salt dough recipe we use is: 250g (1 cup) of plain flour, 125g salt (½ a cup), up to 125 ml water (½ a cup)
Simply mix the flour and salt together in a bowl and then slowly add in the water a few spoonfuls at a time until a dough is formed that is smooth and easy to handle.
Knead for around 10 minutes, let it rest for 20 minutes (while the children help wash up!)
Now children can have lots of fun making any models they can think of. We love making cats, little pigs and caterpillars by rolling different sized balls and pressing them gently together.
Arrange on a baking sheet and bake in a preheated oven at 250 degrees F/120 degrees C for around 2 hours until hard.
Once the models are completely cool, they can be painted or varnished to carry on the rainy day fun! Natural Earth Paint is a really natural, non-toxic paint that can be used for so many crafts and different surfaces.
Make fairytale scenes with modelling beeswax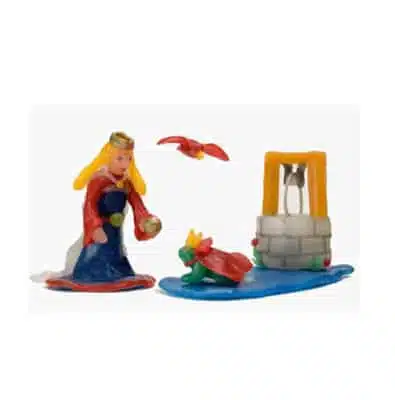 One of our favourite supplies for children's crafts is Stockmar's wonderful modelling beeswax. So pliable and easy to use, it is a really high quality and non-toxic modelling material and the amazing natural beeswax smell really adds to the calming sensory experience for us!
Modelling beeswax is perfect for a quick craft activity for little ones or older children and adults can make really detailed figures and decorations for storytime or seasonal displays.
Suggest your children try to recreate their favourite storybook character or fairytale scene. This can lead to so much fun acting out the miniature scenes and storylines later in dramatic Waldorf play!
I hope these rainy day craft ideas help you make the most of indoor fun with your little ones rain or shine. Let us know in the comments if you try any of them, we would love to see your creations or hear about your go-to rainy day activities too!
Sarah
Sarah Varley is a freelance writer and mother of two from England. Sarah embraced the Montessori method for her children's early education and is a huge fan of open-ended play with beautiful, sustainable toys that last for generations. As a former Librarian, there will always be a special place in her heart for books, sorting and organising! Find out more at Letterpress Content