Are you asking yourself what presents to get for an artistic child? Or what gifts to buy for kids who like arts and crafts? We have the answers for you in our guide to creative gifts for children! It is filled with arts and crafts gifts for babies, toddlers, preschoolers and all kids who love creativity and includes the best Montessori art gifts and Waldorf craft supplies. There are also plenty of ideas for family arts and crafts, and materials to create fun family projects and thoughtful handmade gifts for family and friends.
At Teia Education & Play, we are big fans of giving children high-quality art and craft materials. They allow children to express themselves and enjoy hours of creative fun. You can also feel good about giving our natural, non-toxic art materials and plastic-free craft sets for children knowing they are safe and sustainable.
Within our large range of art supplies, craft kits and crafting materials, you will find so many fun gifts children will love. Whether you are looking for gifts for a Montessori child, a Waldorf child or an artistic child, we can help! We have had lots of fun choosing some of our favourite creative gifts for children.
Creative gifts for Baby & Toddler
Organic modelling clay: Forest small – Ailefo (from ages 2 and up) CHF 24.90
Ailefo organic modelling clay is a wonderful safe, non-toxic, natural play dough that is also allergy-friendly. The essential oils make it soft and malleable even for the smallest children and delightful to use. It is an absolute favourite with all toddlers and young children for creative play and art and craft activities!
Ailefo's wooden animal stamps make the perfect addition for even more creative fun.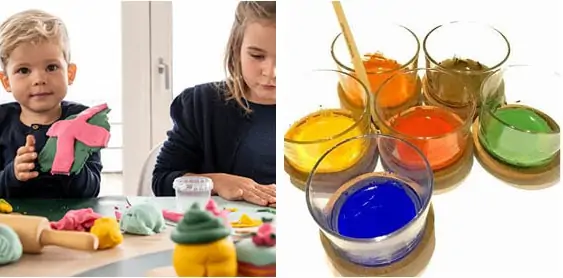 Children's paint discovery kit – Natural Earth Paint (ages 2 and up) CHF 29.90
Get children started with arts and crafts with Natural Earth Paint paint which is free from toxins and perfect for toddlers right up to professional artists! This versatile, gluten-free, GMO-free and vegan paint is washable and can be used for everything from finger painting, stamping and painting on wood and stones to face painting!
Giant stampers: transport – Arts & Crafts (ages 2 and up) CHF 29.15
If you are looking for a gift for a child who loves arts and crafts and also loves vehicles, combine the two with this great transport stamp set! They are ideal for all kinds of fun and inspiring children's arts and crafts activities including paint and ink stamping, creating play scenes and practising motor skills. We have jumbo washable paint/ink pads for the perfect pairing, including a super 6 in 1 rainbow ink pad!
Arts and crafts gifts for Preschoolers
Dinosaur activity pack – 5 Little Bears (ages 3 and up) CHF 58.80
This really is the ultimate fun learning and creative gift for preschoolers! This handmade sustainable gift set is filled with dinosaur themed-activities including dinosaur footprints and shapes to use as stencils or make prints in sand or play dough. You can also make rubbings of dinosaur skeletons and there is even play dough and dinosaur colouring cards included too!
32 Crayon Rocks in cotton bag (ages 3 and up) CHF 28.90
We can't get enough of these gorgeous colourful and tactile Crayon Rocks and they really are a gift any preschool child will love! The perfect ergonomic shape for encouraging the correct pencil grip, your child won't even know they are getting ready for school as they colour and create. These sustainable crayons in pastel and primary colours are all made from natural mineral pigments and soy wax and are free from toxins or softeners for a safe, feel-good gift as always at Teia!
Waldorf wooden holder & paint jars set: 100ml – Mercurius (all ages) CHF 25.90
If your child loves to paint, this lovely wooden paint jar holder set will be in constant use! You will be ready for arts and crafts any time, avoid paint spills and can keep leftover paint for next time for more sustainable arts and crafts activities! Painting boards are a great idea too for different arts and crafts such as wet-on-wet painting and also making displays and themed learning boards.
Wooden Stockmar Crayon Holder – Threewood (all ages) CHF 29.00-49.00
Any artistic or creative child would be thrilled with this beautiful handmade wooden crayon holder to hold their beloved Stockmar block and stick crayons! They will be ready to create their next masterpiece any time!
Arts and Crafts gifts for Primary age children 6-12
Drawing & painting set (hexagonal) – Stockmar (ages 3 and up) CHF 64.90
The ultimate gift for an artistic child, this high-quality art set has everything older children need for drawing and painting, including watercolour paints and brush, mixing palette, drawing pad and colouring pencils.
Flower press 10 x 10cm – Glückskäfer (ages 3 and up) CHF 24.90
A flower press is the perfect gift to give a child a new hobby! Children will learn all about plants and nature as they look for the ideal flowers and leaves to press. They can then get creative with so many children's crafts, such as making pictures and collages and decorating bookmarks, boxes, pebbles and walking sticks.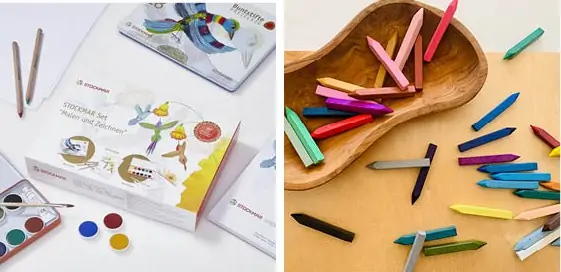 Wooden round weaving frame 22cm – Glückskäfer (ages 5 and up) CHF 14.90
Children can have fun making beautiful wall hangings and placemats with this round weaving frame. A popular Waldorf handicraft, this is a great introduction to weaving and perfect for creative children to make decorations and lovely handmade gifts for others. Add the cotton knitting thread in primary colours from Filges to get children started crafting!
Oil crayons (24 assorted colours) – Filia (ages 3 and up) CHF 13.90
Filia oil crayons make a fantastic gift for children who love art. They are super quality and very affordable and allow children to create art using so many different techniques.
Family crafting gifts and ideas
Make honeycomb candles and bee puzzle – Lily & Mel (ages 5 and up) CHF 44.90
This makes a fantastic gift for older children or for a family to have fun crafting together, with everything you need to make beautiful rolled beeswax candles. You could even make some lovely gifts as a family to give to loved ones. If you are looking for thoughtful, personal gifts for grandparents and other relatives, they are sure to love these handmade candles! This amazing plastic-free craft kit also teaches children about bees and includes a lovely wooden 3D bee puzzle to create.
Wooden lucet / knitting fork – Glückskäfer (ages 3 and up) CHF 9.90
The knitting fork is a wonderful traditional activity for children! It is such a calm, relaxing creative activity for children and a lovely introduction to crafting for children. Pair it with some yarn such as the cotton knitting thread in primary colours from Filges for a really thoughtful gift to keep creative children happy or a lovely activity for the whole family.
The nature of play – Fanny & Alexander (all ages) CHF 25.90
The Nature of Play is a fantastic book if you are looking for creative ideas for children who love arts and crafts! It is filled with ideas for fun children's activities including making seed bombs and kites, as well as lots of nature play ideas and seasonal crafts.
Making Natural Felt Animals – Rotraud Reinhard (all ages) CHF 33.50
Felting is a wonderful activity for creating together as a family with older children. An absorbing handicraft taught in Waldorf Schools, this fabulous book provides step-by-step instructions to create the most beautiful felted animals. We have all the felting supplies you need too, including felting needles and holders, felting pads and beautiful natural plant-dyed felting wool. From mice and squirrels to cats and deer, these felted animals would also make amazing handmade gifts for children to treasure!
We hope we have provided some inspiration for the perfect gifts for kids who love arts and crafts! Whether for Christmas gifts, birthday gifts or gifts for any occasion, we're sure you'll find something that will provide lots of arts and crafts fun! For more inspiration on gifting have a look at our gift guides.