Outdoor and nature play is fun and exciting for little ones and should bring lots of joy. Every trip to the park or time spent playing in the garden can be such an adventure for them. All the sights, sounds and interactions with nature stimulates their development too. Children are developing their fine motor skills as well as learning about nature every time they pick up a pinecone or leaf to take a closer look.   
Time spent outdoors in the fresh air and daylight has also been shown to help your baby or (young) child to sleep better at night. Time spent outdoors in the afternoon appears to have the most positive impact on helping children to get a good night's sleep. And even after the worst night of broken sleep, we know from experience that time spent outdoors and some gentle exercise always makes tired parents feel a little better too!
Sensory nature play and the importance of getting muddy!
Getting muddy allows children to use their sense of touch to explore their surroundings. Outdoor sensory play involving squishing mud in their hands to make mud pies or splashing and squelching in muddy puddles is pure joy for children and connects them with nature. 
Wellies, waterproofs and layers mean bad weather never needs to stand in the way of a good day for children! If children don't want to wear wet-weather clothing or wellies when they are getting ready, talk about the fun activities that lie ahead if they are wearing the right things. Allow plenty of time for them to practise putting on their own  wellies and waterproofs. Or if necessary, you can take these items along with you.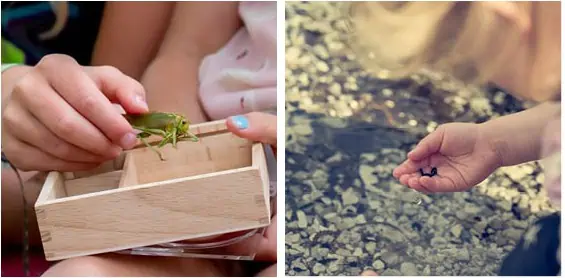 Mindful play
Just being outdoors is great for mindfulness! Walking through trees is perfect eco-therapy – create moments to look up at the birds and the sky through the leaves as you go. Stopping to smell flowers in the park or in the gardens you pass is wonderful for encouraging children to use their senses.
Take along a picnic blanket or waterproofs to the park so even on a wet day you can enjoy sitting and watching the ducks or other birds busy in their activities. Talk about what they might be doing at this time of year. Are they building nests, teaching their young or getting ready to migrate?  
Lie back and enjoy some cloudspotting with your children. What shapes can they see? Teach them some of the cloud formations. Can they spot a flat stratus, a puffy cumulus or a  rain-bearing nimbus? Spend calming time together while learning!
With all these outdoor play benefits in mind, here are some more ideas for fun outdoor play and nature play joy in all weathers:
Treasure hunts
Treasure hunts are also always fun and can be as simple as sharing what colours you can see, to finding leaves and petals to match a colour chart or list you have brought with you, or finding and naming as many different types of trees as you can.
A bug or nature box offers the perfect place to store and display treasures and bugs found on nature walks. It helps children to connect with nature by encouraging discovery, exploration, creating and playing!
Barefoot walks
Children love to feel the grass and different textures beneath their bare feet – try making a barefoot walk in the garden over grass, with a sand or mud patch and large pebbles for stepping stones. Take a washing up bowl of water and small towel out with you for cleaning up before heading back inside.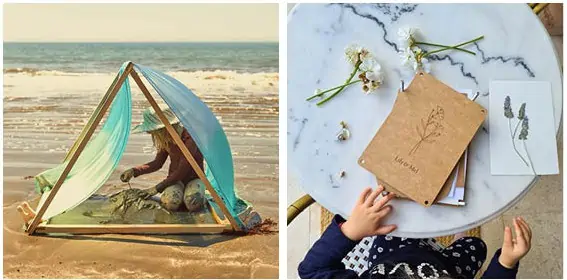 Flower pressing
Collecting leaves and fallen flowers and petals from your own garden or on nature walks where allowed is a lovely hobby for children. Press them and create all kinds of crafts, greeting cards, decorations or art. Or help children create a scrapbook to study botany with their finds.
A thoughtful and calming hobby just right for enjoying a slower paced childhood, flower pressing embraces natural play and encourages creativity and patience. It is also great for supporting Montessori lessons on botany, Waldorf activities and following your child's interests in flowers, plants and nature.
Den building
Provide cloths, tarpaulins or playsilks and some pegs and long sticks for hours of fun den-building in the garden. Or take a tarpaulin along to the woods or beach and let children use sticks and small branches to build a den or fort in any weather. Rain will add to the fun of creating their own shelter!
Gardening
Get children involved in gardening from a young age. They will enjoy weeding, raking and planting seeds with child-sized gardening tools. And they're all important skills and learning experiences. Gardening and seed growing kits make really fun and easy outdoor activities for children.
Gardening is an activity that can be enjoyed by all ages and if a child is encouraged to explore from an early enough age, their love for nature will continue for many years to come!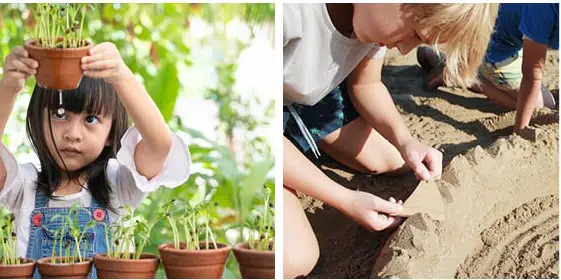 But it's not just about growing things, gardening offers an opportunity to stimulate all the senses – from touching the soil, flower petals and bumpy leaves to smelling fresh cut grass or lavender, tasting home grown strawberries, listening to the wind blowing through a farmer's crop or seeing a bee land on clover or a sunflower change direction to absorb the rays.
Bug hunting
Give children a magnifying glass, bug jar and insect identification book or insect anatomy cards and they will happily hunt in the garden or under logs for bugs and insects. 
Sand & water play
A little sand pit and sand toys will be sure to keep children busy and happy in the garden in all weathers. Rolf's lovely pastel-coloured eco-friendly sand buckets and sieves are strong and durable – and they're made from 'green plastic' produced from sugarcane.
Give children buckets, watering cans and bottles outdoors and they are so happy pouring, filling and experimenting with water.  Provide sponges or cloths and let children wash their bikes, toy cars or other outdoor toys. Add large paint brushes and children will love to pretend to paint the garden fence too.
Natural loose parts play
Collect objects on your nature walks and you will soon have a wonderful supply of materials for imaginative, open-ended play. Add pinecones, shells, twigs, sticks, stones, pebbles, seeds, feathers, logs and slices of wood and see what small worlds your children will build – what about a fairy garden?
Make a mud kitchen
Just a few small pots and pans can let children have the fun of a mud kitchen, pouring water into a little soil and mixing mud with a stick or spoon. Collecting leaves, flowers or grass and making potions is also a fun activity for children!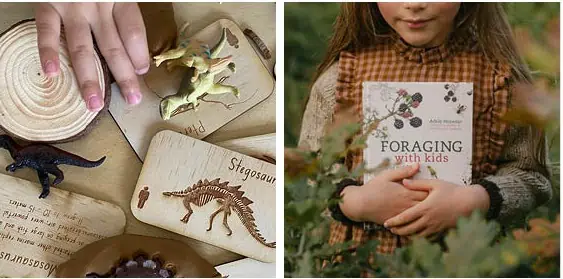 Foraging
Adele Nozedar's book Foraging with Kids is a great introduction to safe family foraging. Take it with you on nature walks and find safe edible ingredients to take home with you for cooking activities later.
In a world of increasingly tempting screen-time, it can be difficult to get children outdoors to play, especially as they get older. This is when it is even more important to tie activities in with your child's own interests. If they love dinosaurs, create a dinosaur dig in the sandpit or plan a walk in an area where fossils might be found and take crayons for rubbings. If they love art, collect leaves and other natural resources on your walk for a collage or leaf printing art activity when you get home. 
Taking along snacks for a little picnic seems to work every time. Try heading to a new playground with more  challenging play equipment. Inviting along friends is a sure way to get children enjoying the outdoors, running around, building dens – and perhaps some adult company for you too!
For more great ideas for outdoor play joy all year round, try these wonderful books: 
Spring and Summer activities come rain or shine – Stefanie von Pfister themed outdoor and indoor crafts and activities for children perfect for Spring and Summer.
Autumn and Winter Activities Come Rain or Shine – Stefanie von Pfister seasonal Autumn and Winter themed outdoor and indoor crafts and activities for children.
The nature of play – Fanny & Alexander  filled with  great nature-based activities and  ideas for every season. Simple and fun natural play for a childhood filled with wonder.
Ultimately, getting outdoors for some fun nature play is always worth the effort and never fails to bring us joy whatever the weather! We would love to hear about your tips and favourite ideas for nature play! 
Sarah
Sarah Varley is a freelance writer and mother of two from England. Sarah embraced the Montessori method for her children's early education and is a huge fan of open-ended play with beautiful toys that last for generations. As a former Librarian, there will always be a special place in her heart for books, sorting and organising!