Glückskäfer wooden toys are wonderfully appealing for children of all ages – from colourful first stacking toys to delightful wooden puzzles and building block sets, they invite young children to play and learn from the earliest ages.
But one of the beautiful things about these toys is the joy they also hold for older children. Here are some ideas for playing with Glückskäfer wooden blocks, and some of the many benefits of this fantastic form of play!
The benefits of playing with wooden building blocks
Wooden blocks are one of the oldest and most versatile of all toys. They are a classic childhood toy with good reason – there are so many benefits to playing with wooden blocks and so many different ways to play with them! Just some of the benefits include:
Building imagination and creativity
Wooden blocks leave plenty of room for children to think of their own ideas, and create whatever they can think of. They are such versatile, open-ended toys. They hold the possibility to become castles, towers, racetracks, and something different every time. Children build their imagination every time they play with wooden blocks because these loose parts enable children to find their own ways to play. 
Promoting physical development
Playing with wooden blocks helps children to develop spatial awareness and hand-eye coordination. Building with wooden blocks naturally encourages children to improve their precision in movement and placing every time they reach for, lift, move and place the wooden blocks. Wooden building blocks are the perfect toy for growing with your child as they challenge themselves to build more complex structures.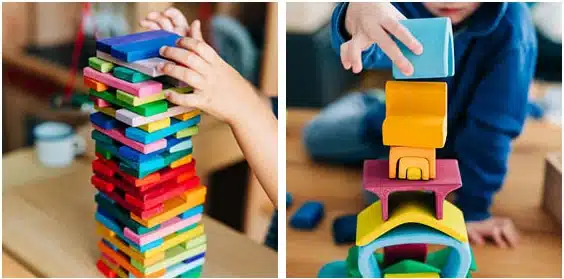 Encouraging problem-solving
While playing with wooden blocks, children are constantly trying out different ways to achieve what they want, selecting the right blocks to build their castle or trying different ways to stack if things fall down. 
Practising maths and science skills
Without realising, children are developing important skills for maths and science when they play with wooden building blocks. They are building sides of equal length and symmetry for their house, creating repeating patterns in their designs, finding balance in their towers or testing different angles for a successful ball run.
Allowing self-expression
Wooden building blocks are fantastic for letting children express themselves through their play and follow their own interests. They can build whatever they like and play in the way they choose and can create whole small worlds for whatever fairies, gnomes or creatures they can think of.
 

What makes Glückskäfer wooden blocks such a great choice
These very special handmade wooden building blocks and wooden puzzles in beautiful colours and wonderful organic or classic shapes are delightful to hold, combine and experiment with.
Following Waldorf and Montessori principles, Glückskäfer toys are all specially created to encourage the development of children's senses, their joy in movement and activity, and their imagination.

 
Each Glückskäfer toy has been carefully designed

in collaboration with pedagogues, parents, doctors and midwives

to have high play value and promote important child development skills through creative and independent play.

 
Founded in 1950 and now part of Nic Toys, Glückskäfer toys are all made in Germany to the highest standards of quality and ethical, sustainable values.

 

​​Glückskäfer's CE-compliant and award-winning toy production is all carried out in Germany's Upper Swabian region under the strictest requirements and guidelines. This gives parents the ultimate peace of mind that these toys are completely safe for children.
Glückskäfer toys are also only made from certified sustainably managed European forests and any wood waste in their sustainable production process is collected and energetically recycled in Nic Toys' own operations.
Play ideas for Glückskäfer wooden blocks
Glückskäfer wooden toys are wonderfully appealing for children of all ages. From colourful first stacking blocks and toys sets to delightful wooden puzzles, these tactile toys invite young children to play and learn from the earliest ages. But one of the beautiful things about these toys is that they grow with your children over the years, and the joy they also hold for older children. They are such versatile, open-ended toys, and there are many, many ways to play with them, including:
Stacking, nesting, puzzling
Stacking and nesting are such absorbing activities for babies and toddlers! As well as stacking, nesting and putting together puzzles, Glückskäfer toys can all be used for sorting activities and adding to building block sets for interesting new ways to create. Ask your child to organise their stacking pieces by size or colour and use them for counting. Nesting bowls and arches can also become beds and houses for peg dolls or feeding bowls for cuddly toy dogs and cats.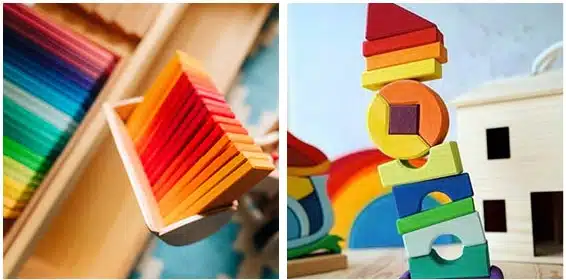 Tower challenges
Who can build the tallest tower? Can your tower even reach the ceiling or the same height as you? Children develop hand-eye coordination, fine motor skills and precision of placement by balancing their blocks in a tall tower. The wooden crooked tower set adds another challenge to this play idea as children need to balance uneven shapes.
Creating a builder's yard
Organise your wooden blocks by colour, shape or size and collect orders for building supplies with toy trucks, tractors with trailers or the colourful shapes train. This is great for practising maths skills including counting and sorting, and enjoying role play and building communication skills by taking it in turns to ask for different orders. The gorgeous rainbow building slats tower and 64 building slats rainbow colours are wonderful sets for this type of play.
Constructing rainbow roads and racetracks
Children can design their own road systems and racetracks for their toy vehicles. The building slats are especially satisfying for this. Try combining them with arches for bridges and hills too, such as the wooden rainbow bridge set!
Designing sculptures
Wooden blocks are a wonderful way for children to express themselves and use their creativity. You could show your children images of modern art sculptures for inspiration. Encourage them to create their own sculpture exhibition and act as museum guide as they tell you the inspiration behind each piece. It is so interesting to see what they create!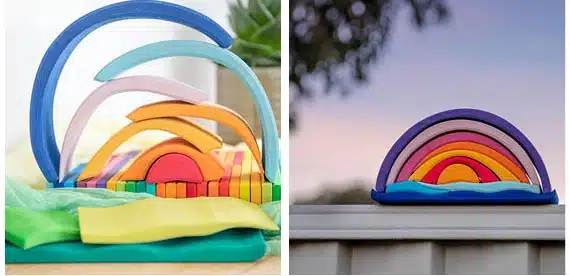 Ball runs
Position wooden slats and arches next to each other so that a ball can run along the top of them. Create steps for the ball to topple down. The wooden sunray arch stacker is a fabulous addition to your ball run kit, with perfect gentle low slopes to keep the ball under control. The wavy baseboard is amazing for ball runs, and you will find the ball makes such a satisfying sound as it rolls up and down the waves!
Houses for peg dolls or wooden animals
Create beautiful little homes for peg dolls, fairies, gnomes or animals. Arches make perfect caves or build a more traditional house from blocks. The gable house and wooden Grotto blue sets are perfect for inspiring small world play.      
Domino rallies
Place thinner, rectangular blocks in rows for domino rally fun. Children need to learn to place the blocks the correct distance apart to create a successful domino effect when they push the first block over so this is great for developing precision. Create swirls and organise blocks in rainbow colours for lots of different beautiful effects.  The rainbow building slats tower and 64 building slats rainbow colours are ideal for this.
Recreate famous or familiar buildings
Give children pictures of famous buildings such as the Taj Mahal, the Great Pyramid of Giza, a Mayan Temple or the Colosseum, or familiar structures such as a church or a distinctive skyscraper, and see if they can recreate them using their wooden blocks. The church building blocks set or toscana building blocks set large are great for getting started with this idea.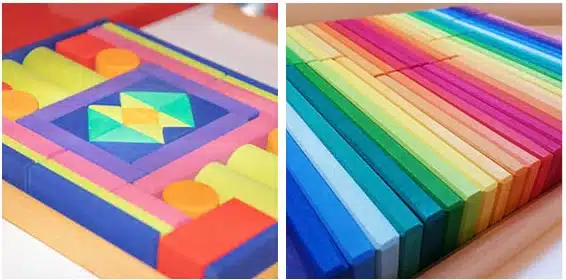 Make your own puzzles and games
Older children can have great fun designing their own puzzles and games with the Glückskäfer wooden blocks. Perhaps take inspiration from Tetris by fitting blocks into a tray in the Tetris pattern or try to remove blocks from your tower without toppling them like in Jenga. Again the rainbow building slats tower and 64 building slats rainbow colours would be perfect for this!
Great for both independent play or getting the whole family involved, wooden block play is so absorbing and always so much fun! We would love to hear your child's favourite ways to play with wooden blocks!
Sarah
Sarah Varley is a freelance writer and mother of two from England. Sarah embraced the Montessori method for her children's early education and is a huge fan of open-ended play with beautiful toys that last for generations. As a former Librarian, there will always be a special place in her heart for books, sorting and organising!