Creating Easter traditions with your family is a lot of fun and something that you can continue to do with your children year after year – hopefully even continuing forward for later generations!  
Easter traditions not only offer a great opportunity to spend time together as a family and create memories but can also work really well in conjunction with learning and development for Montessori, Waldorf or traditional learning styles.
Whether you have some family traditions already or not, here are some ideas for traditional activities, plus some new ideas, to incorporate into your Easter celebrations.
Easter Egg Hunts
One tradition that many children and families enjoy across the globe is the traditional Easter Egg Hunt. Here you hide eggs around your house or garden and then gather together all the family to search for the eggs. 
While many people use chocolate or sweets, we love the idea of mixing it up with some wonderful sustainable options that can be passed on as heirlooms as well. Erzi in particular has this wonderful collection of bright wooden eggs that come with their own egg box, or alternatively Grapat have these rainbow wooden eggs that can also be used to create incredible mandalas as well.
And if the weather is looking a little bit too grey and wet for an outdoor hunt, then this gorgeous book – The Great Egg Hunt by Rachel Piercey​​ – should share the fun of the hunt without getting too cold!
Easter Scavenger Hunt
If you're looking for an alternative to an Easter egg hunt that will give older children a little bit more of a challenge, consider changing it up to an Easter egg scavenger hunt. Write a list of items that are specific to Easter and Spring such as a rabbit, Easter eggs, lambs and flora of the season and have everyone search for them. The first person to find all of the items on the list wins!
This can also be adapted into a larger outdoor activity by taking the family to woodlands and looking for things that occur naturally in the wild. Or, for a smaller scale, you can recreate the outdoors in a smaller space using ecological nature toys and other items, such as animal toys and more.  We love these toys from Safari that represent the life cycle of a frog in particular. 
Bunny Trail Easter
Another Easter tradition that makes the most of the outdoors is creating and following a bunny trail. This can be created as simply as drawing a bunny trail with pavement chalk. With different colours and wiggly lines, it's a simple activity for little ones and offers a great opportunity for learning.
You can incorporate the chance to recognise simple markings and letters, encourages colour recognition and dot the trail with little treasures like chocolate coins and paper Easter eggs. Make sure you hide them well!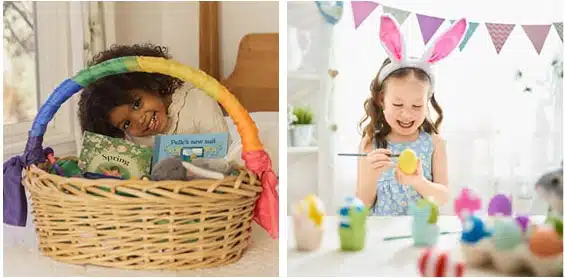 Easter Baskets
An Easter basket is another classic tradition that is enjoyed the world over by children of all ages. These can be filled with toys, sweets, and other treats, and can be made as simply, or elaborately as you like. It may require some planning but we love putting an Easter basket together with meaningful and practical items that can be used year-round for countless hours of fun, learning, exploring, observing and experimenting!
It's also a great opportunity for talking to children about sustainability and we've got some great ideas for sustainable Easter basket fillers.
Egg Dying & Easter Trees
For art fans and any Waldorf children, then the tradition of dying eggs can be lots of fun (and kind of messy in a good way!) You'll need to take eggs and blow out the insides before decorating them (lots of fun in itself!), or, if you would prefer Erzi have this selection of plain white wooden toy eggs which can be painted using non-toxic watercolour paints or with natural egg dye made form vegetables, offering a longer-term and vegan alternative.
You can even create an Easter tree by finding a branch that has fallen from a tree and planting it into a pot and decorating the tree with the eggs, small Spring inspired decorations and some ribbon.
Easter Bonnet Parade
Another fun activity to try, that will make the most of any imaginative crafty children is by creating an Easter Bonnet and holding a mini parade. By using natural materials, upcycling old things around the house and mixing in toys and dress up items, such as silks from Sarah's Silks, it's a great way to get those creative synapses going and encourage any budding fashion designers! 
A Special Easter Breakfast
One of the great things about celebrations is the chance of eating a special meal together as a family and extended family. One idea for creating a brand new Easter tradition is to create a special Easter breakfast, complete with a specially decorated table and themed menu.
This gorgeous Spring Wheel from the brand Waldorf Family makes a wonderful focal point for any Easter table, and can be used on its own or as part of a more intricate tablescaping. Children can also create other special elements to add to the table such as pressed flowers,  felted animals, stamped placements made with seasonal stampers and many other ideas. Or, you could encourage a really lively party and opt for some dressing up or face painting to really go with the Easter theme!
Learn about Easter Traditions From Around the World
There are many Easter traditions that come from other parts of the world – here are just a few that you can explore with children but there are plenty more to discover!
Pysanky Easter Eggs are an item of celebration in Ukraine.

 

These eggs are decorated with incredibly intricate designs using wax and dye.
In Mexico, they celebrate with Cascarones. These are confetti-filled eggs are broken over someone's head as part of an Easter tradition.
For Romanians, Easter means that it's time for a very special dessert called pască which is an Easter bread mixed that's a hybrid of a cheesecake!

 
No matter what traditions you choose to do with your family this Easter, be sure to enjoy spending time together and creating memories!