With Spring upon us, there are so many fun and exciting ways to explore the seasons and we have put together a few ideas for Spring play and learning activities! Such as Spring small world play, crafts, nature play and learning, making sensory habitats, weather-themed play, decorating a nature table and introducing seasonal celebrations. Get inspired to explore this season and to introduce Spring inspiration to your children's learning environment and play space.
Spring is one of our favourite times of the year. It's the season of new beginnings and is so inspiring and hopeful. The days are getting longer and we're spending more time outdoors. The animals are waking up and everything around us is starting to blossom again – there is so much for children to observe and explore during Spring!
Teia Education & Play's Spring collection is filled with themed toys, learning materials, creative and crafts supplies, books and seasonal celebrations items your children will love to play with and two create new family traditions, and as always they are all beautifully and sustainably made too!
Spring small world play
Small world play offers many learning opportunities. It fosters imagination and creativity and is a great springboard for storytelling. Scenes can be set up with bits and pieces found around the house, in the garden and on nature walks. 
There are also lots of fantastic handmade wooden toys to immerse children in endless hours of imaginative and open-ended Spring small world play such as Grapat's gorgeous baby sticks, or their wonderful Together set, a collection of handmade sustainable wooden figures celebrating diversity and inclusion. 
Encourage children to build a small world for their wooden figures and animals with stacking sets or with their wooden building blocks. Do they live under wooden rainbow arches or on top of towering skyscrapers?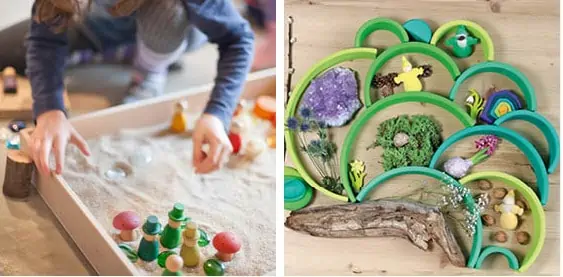 Spring crafts
There are plenty of inspiring non-toxic creative arts and crafts materials to keep those little hands busy such as Ailefo's organic modelling clay in Spring colours and Filges felting wool. Use it to create models of the flowers and baby animals of the season and display them on your Spring table. What about making a bird's nest filled with colourful little eggs? 
Pompom making is also a lovely craft for little ones – supply light, bright Spring colours and help your children turn their creations into lambs, fluffy chicks or caterpillars by making paper legs and beaks.
Add some colour to your windows with "stained glass" kite paper creations! This crafting activity helps building tracing, cutting, and pattern skills and is a great way to capture the colour moods of the Spring season! The book transparent window scenes through the year contains loads of inspiration and guidance on how to experiment with coloured paper and light. 
Nature play and learning
Perfect for the longer, brighter days of Spring, there are wonderful learning kits to encourage your child's love of nature and science, from foraging to botany and biology studies. Kikkerland's wooden magnifying glass and Moulin Roty's bug jar make a nature walk or exploring the garden even more fun! Challenge your children to see how many different insects they can find and identify, gently observing them with care! 
Pack a little bag with the magnifying glass, bug jar and maybe a little snack and your child will love pretending to be an explorer or mini zoologist! Incorporate a nature spotting game into your walk, or make a list of things to look out for with the magnifying glass before you go. For example, 5 things to spot on a Spring nature walk:
Blossom on the trees

A Spring flower – a daffodil, snowdrop or crocus

Migrant birds flying overhead

Frogspawn

New green leaves on the trees
And, if your children are fans of all the flowers, they can also create a memory with flower pressing. Make sure only to choose flowers that are in abundance and are not endangered, and use one of the many flower presses from brands such as Lily & Mel, Glückskäfer and Studio Wald. 
Create a fun game for your children by hiding Moon Picnic's wooden forest mushrooms in a box around a room or the garden, give them a basket and they can imagine they are foraging for supper in an enchanted forest, counting as they go.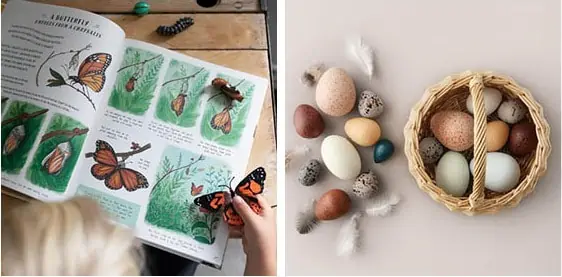 Another idea, that's perfect for Easter as well, is adapting the game with Moon Picnic's wooden bird eggs in the basket. It's also a great prompt to speak with your children about the diversity of animals, and how birds lay eggs of different colour, size and shapes. You can also go on a bird hunt in your garden, or on a longer walk, equipped with this wonderful explorer's suitcase from Moulin Roty – complete with children's binoculars, compass and wonderful things to go bird watching with. 
Finally, some wonderful nature-inspired play themed toys and books have been specially chosen with the joys of a natural, slower-pace of childhood in mind, such as book Slow Down and the matching activity cards, or the brilliant Fanny & Alexander book the nature of play. You will find plenty of inspiration for fun activities children will love from making seed bombs and simple cooking outdoors to building bug hotels.
Another wonderful book all about this joyful time of year for really young children is Spring by Gerda Muller. This sturdy board book introduces children to the different signs that Spring has sprung and offers an early introduction to the seasons. 
Create a Spring nature table
Decorating a Waldorf nature or seasonal table is a wonderful Spring family activity and the perfect centrepiece for seasonal celebrations – and all the items and ideas above can be incorporated into yours. A nature table gives children the opportunity to imagine and explore the natural changes that the world offers each month. Putting items together in this way helps children to think about the natural wonders and colours of the season and provides new inspiration for play.
Create a beautiful display by combining handmade wooden elements and loose parts, wooden figures in the pastel shades of Spring flowers and natural, organic shaped toys inspired by the Waldorf pedagogy such as Grimm's amazing flower stacker. There are also wooden jigsaw puzzles from brands like Educo that offer an interactive way to create visual representations of Spring for your table. Also, brand new for 2022, is the Grapat Wild Collection. This incredible range includes beautiful items such as a collection of mini-beasts, sea creatures and petals platforms that will enhance any nature display.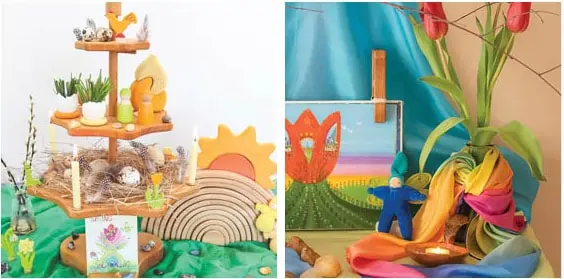 You can also help the children to grow their very own elements to add to their Spring nature table by getting them to plant in the garden. This fun children's gardening set and larger children's gardening set with children's gardening gloves from brand Vilac, are perfect for getting dirty and learning about the way things grow. 
Gardening is an activity that can be enjoyed by all ages and if a child is encouraged to explore from an early enough age, their love for nature will continue for many years to come!
Add natural treasures from your garden or collected on a nature walk, such as pebbles that look like little eggs or a blossoming twig. Maybe add some bright Spring daffodils in a vase. A pastel shade of playsilk such as Sarah's Silks makes the perfect covering for your Spring nature table or display. 
Make sensory habitats
The fascinating new life cycle sets from Safari will bring nature and zoology to life for your children. The life cycle of a ladybug set, for example, helps children understand in a hands-on way the amazing transition from tiny eggs and small newborn ladybirds, to larva, to pupa and through to adult ladybird. 
As well as naming and discussing the different stages, a fun sensory play and learning activity idea is to create different 'habitats' for the creatures using water, stones, soil, sand or leaves and grass.
For the youngest of children, this natural teether from Lanco is handmade in Spain, from 100% organic natural rubber and comes in the shape of a spring lamb. 
Spring weather-themed play
There are great materials for observing the changing of the seasons and weather in fun ways each day including my weather station from Moon Picnic. Recording the weather each day is a great activity for children to help them notice their environment, moving the sliders to note whether it is warm or cool, windy or calm. 
Grimm's weather board book and weather building set are perfect for Spring weather-themed play and adding to your seasonal or nature table. Add to the scene with wooden rainbows or drawings and a blue cloth or playsilk for the sky or the sea. Ask your child how their play people would react to the different weather conditions, perhaps put the people in a little boat on the stormy sea! 
Spring seasonal celebrations
Teia's beautiful collection of products for family Spring seasonal celebrations and rituals are ideal to introduce at this time of year, being filled with so much new life in nature. Perpetual calendars from Grapat are a wonderful way to mark the passing days with children and discuss time, routines and the changing seasons.
Delightful birthday and celebration rings filled with special wooden figurines and candles from Grimm's and Glückskäfer are sure to become treasured family traditions to be passed down through the generations. Choosing decorations that have special meaning or significance for your child, perhaps their favourite animal or toy is such a lovely way to mark each birthday. 
We hope you enjoy our play, learning and crafts ideas and celebrating the joys of Spring with your little ones! And if you need any help or advice on setting up your own Spring-inspired learning environment or play space, we would love to hear from you!
Sarah
Sarah Varley is a freelance writer and mother of two from England. Sarah embraced the Montessori method for her children's early education and is a huge fan of open-ended play with beautiful, sustainable toys that last for generations. As a former Librarian, there will always be a special place in her heart for books, sorting and organising!