Dressing up is so much fun for children, and this form of play has many different benefits too. So let's look at the value of dressing up and imaginative role play for children, and some ideas to encourage dressing up play at home!
The benefits of dressing up play
Creativity and imagination
Dressing up is perfect for encouraging your child to express themselves and use their imagination to get into different characters or follow their interests. With just a few items of clothing and accessories, playsilks or even recyclables, children can be so creative in dressing up and immersing themselves in imaginative play. In Waldorf education, imaginative play in childhood is seen as the key to promoting creative thinking in adulthood.
Cognitive development and problem-solving skills
Imaginative role play requires children to think about what their character will say and do. It encourages children to remember stories they have heard and act them out, thinking about the sequence of events and different characters and scenarios. This is all fantastic for cognitive development through play! Dressing up and role play can also help children to process and make sense of the world around them.
Social development
Dressing up can be wonderful for encouraging children to play together and interact and communicate with each other more. It provides opportunities to work and collaborate together in agreeing on a theme for their imaginative play, decide who will be what character and to act out a story or scenario together. This can be as simple as taking turns to be the shopkeeper or waitress and customer to immersing themselves in an enchanted fairytale world.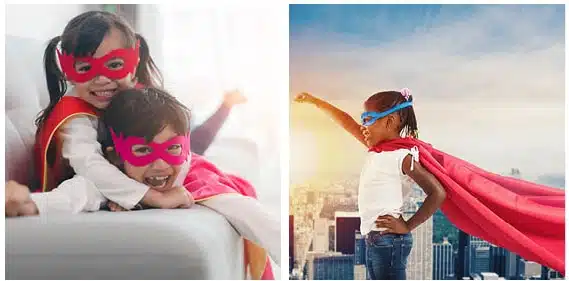 Emotional development and empathy
Dressing up in costumes helps children to put themselves in the place of others. From pretending to be different characters in a story to being a doctor or vet helping their patients, this form of play can help children develop empathy, think about how other people might feel and see things from different points of view.
Building vocabulary
Deciding what their character might say encourages children to get more creative with words than they might in everyday life. They might use words they have heard in stories and you can encourage further building their vocabulary this by asking them to tell you about their magical fairy dwelling or the features of their knight's castle – does it have a drawbridge, a scaly dragon or a shimmering lake?
When playing dress up as a firefighter or police officer, children begin to use the language they have heard in books about these roles and the correct terminology for the equipment.
Motor skills
The simple act of putting on costumes or accessories is a great way to encourage children's development of motor skills, from putting on a hat to fastening buttons and zips. Dressing up also encourages movement as they act out their character, whether they are a dancer, a footballer, a puppy, a postman or a chef. 
Ideas for encouraging dressing up play
Create a special dressing up area
This could be a dress up clothes station in the corner of the play room with hanging space and a mirror, or a special chest or box of dressing up items and costumes.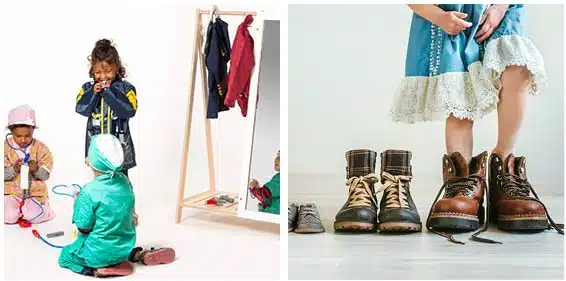 Provide a range of dressing up options
Gather together unwanted items of adult clothing and accessories from family, such as shirts, dresses, belts, beads, hats and handbags to help children get into different character roles. Some pairs of adult shoes are great for inspiring role play as grown-ups or giants. A pair of ski goggles can spark a snowy mountain adventure or roleplay as a crazy scientist or a superhero with x-ray vision.
Offer versatile playsilks such as Sarah's Silks
Children can easily imagine and manipulate playsilks into so many different dressing up costumes, from a superhero or fairy princess cape to a baby sling for carrying their dolly, and a Roman toga to a fairy godmother's shawl.
Giant playsilks make brilliant stage curtains, backdrops or settings such as tents for plays and imaginary adventures.
Save recyclables for sustainable dress up
Give children cardboard boxes and tubes from your recycling to make into costumes and accessories for their imaginary play. There is no end to the dress up and role play items that simple cardboard tubes can become with a little imagination – jet propelled cuffs for a superhero, a wrist computer for a scientist, binoculars for an explorer or a scroll for a Roman soldier.
A couple of plastic bottles can quickly become a rocket pack. Save up some unusual packaging and you will be amazed what roleplay items and costumes children can invent!
Provide inspiration
Encourage imaginative play with some props such as a play cafe with realistic wooden play food such as from Erzi and a set of plates, or a little basket filled with wooden apples and a shawl.
Special dressing up accessories will help children to get into character, such as crowns, wings, soft swords and capes. Keep a collection of fairy stories such as Grimm's fairytales or books about different occupations handy too.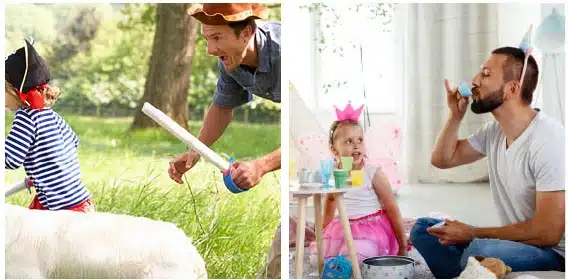 Join in!
There are lots of ways for you to encourage imaginative role play in your children. Whether you throw yourself into a role in their play complete with crown and cape, or simply enjoying the chance to sit down for 5 minutes while you order 'food' from their cafe, children will love to share the fun with you.
Being the 'audience' for your children's play guarantees busy parents another 5 minutes sitting time and children the undivided attention they all need sometimes. 
Children especially love some adult help crafting costumes and accessories. Get your child to draw out their design on paper and let them lead the way in how to make their vision a reality with cardboard and paper tape for some really creative fun.
Dressing up really is a fantastic way to stimulate creativity, self-expression, learning and lots of fun all through play!
Sarah Varley is a freelance writer and mother of two from England. Sarah embraced the Montessori method for her children's early education and is a huge fan of open-ended play with beautiful toys that last for generations. As a former Librarian, there will always be a special place in her heart for books, sorting and organising!