Welcome to the ultimate gift guide for Montessori, Waldorf & more! We don't know about you, but at Teia Education & Play, we absolutely love giving gifts. Whether it's for Christmas, a birthday, seasonal celebration or any other holiday or occasion, the thought of choosing something special and thoughtful for little ones always brings us a lot of joy!
When selecting a gift, while it may be tempting to opt for the "must-have" Christmas toy, or something that you've seen advertised on TV, gifts should be viewed as an extension of the love and care that we want to share with our children.  
And, what better way to show our appreciation for children than to choose a gift or present that helps develop and educate a child, as well as being fun. Try and choose items that will grow with them and provide many weeks, months, and even years, of happiness. 
And, by selecting a present that is aligned with Montessori, Waldorf Steiner, or is even just a high-quality durable item, does just that!
However, with so many wonderful gift ideas for children, where do you begin? 
You may even be asking yourself, "What should I buy for a Montessori baby at Christmas?", "What makes the perfect Waldorf Steiner birthday present?" or even "Does spending more on wooden toys mean better quality?"
That's why we've put together our ultimate gift guide – whether you need presents for Montessori babies, gifts for Waldorf children, or even just children's gifts that last a long time, you'll be able to find the ideal present below!
Happy Gifting!
Baby & Toddler
Montessori Gifts
The smallest people in your life, but often the most curious! Here are some of our favourite presents for Montessori babies.

Infant / toddler mirror with wooden rail – Educo (all ages) CHF 331.60
Every baby is fascinated with their own reflection and this unbreakable mirror comes with its own pull-up bar for them to have a good look. It's perfect for little ones to learn more about themselves and practice sensory and motor skills too.
Infant bell – Nienhuis Montessori (age 3 months up) CHF 30.90
This little bell, set in a wooden cube, is the ideal Montessori toy for babies and toddlers. The perfect wooden toy for babies, it allows them to explore through sounds, textures and motion, it will provide a sturdy, but enjoyable, item for babies and toddlers to interact with. Its small size also makes it the ideal Montessori stocking stuffer!
Multiple shape puzzle set – Nienhuis Montessori (age 1 and up) CHF 114.95 
As well as laying the ground for the important figure-ground concepts, this puzzle set displays a range of shapes and colours to engage and delight toddlers. The perfect size for little hands, its wooden knobs are easy and fun to grasp during play. 
Waldorf Steiner Gifts
When looking for presents for Waldorf babies, they should be all about fun, colour and encouraging creativity.

Silk & wood teether: rainbow – Sarah's Silks (all ages) CHF 24.90
While teething isn't fun for many people – babies and grown-ups alike – this gorgeous silk and wooden teether from top brand Sarah's Silks should ease it a little. Featuring a solid wooden ring and a gorgeous eco-friendly, non-toxic rainbow dyed scarf, it's perfect for infants and can transform into an array of imaginative objects as they grow.
Small wooden car – Debresk (age 1 year and up) CHF 19.00
There is no simpler pleasure as a toddler than playing with cars. Understanding the basics of motion, how a wheel works and seeing how far they can fly when pushed down a steep book – the possibilities are endless! And this Debresk small wooden car will withstand even the most rigorous experiments with the floor!
Small Rainbow (6 pieces) – Grimm's (age 1 year and up) CHF 34,90
Grimm's Rainbows have long been a cult favourite, and for a very good reason! As well as being a total pleasure to look at, they also provide a huge range of potential play scenarios. This small one is enough to keep Waldorf babies engaged with stacking for many years, but small enough to tuck away when finished with. 
Traditional & Durable Gifts
If you want to go for more traditional items, but want to ensure that they are high-quality wooden toys, then take a look at these durable toys.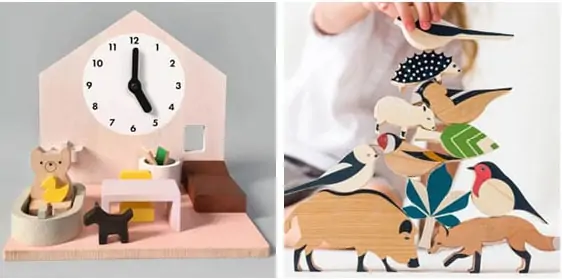 Make my day – Moon Picnic (age 3 years and up) CHF 65.00
As well as providing a chance to learn about daily routines and self-care, this pretty Make My Day wooden dollhouse is also a lot of fun to play with. Helping the teddy to take a bath and walk the dog, will provide limitless stories for toddlers to imagine. 
Hillside forest set – Eperfa (age 3 years and up) CHF 59.00
If they want to walk with the animals, talk with the animals, grunt and squeak and squawk with the animals… then this set of forest creatures from Eperfa will certainly delight and make wishes come true! It's also so well-made that it will become the ideal toy to pass down through the family.
Preschool to 6 years old
Montessori Gifts
If you are looking for celebration presents for children that are a little bit older, then these Montessori and Montessori-aligned toys should fit the bill.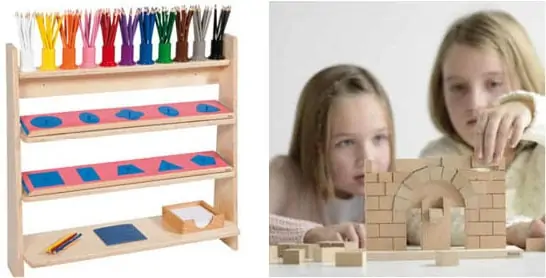 Coloured inset pencil holders: 11 colours – Nienhuis Montessori (ages 3 and up) CHF 135.95
Less of a toy and more of an organisation system, nobody will ever be lost for the "right" coloured pencil. Beautifully painted and lacquered, these pencil holders are a great addition to a creative setting and help teach kids their colours, sorting, maths and also how to take care of their space. 
The Roman arch – Nienhuis Montessori (ages 3 and up) CHF 145.95
Building is so much fun and with these beechwood blocks, mini architects can craft a traditional Roman arch. As well as displaying how shape and space works, along with the keystone concept, it can also provide the backdrop to plenty of imaginative play scenarios too.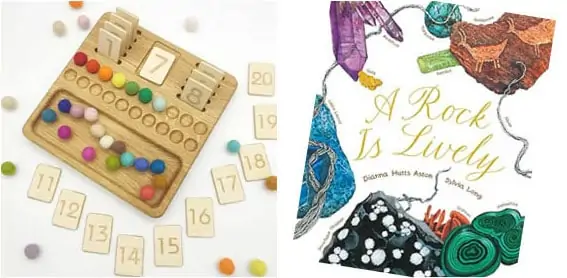 Wooden numbers board – Threewood (ages 3 and up) CHF 69.00
While not actually true Montessori, this Montessori-aligned Threewood wooden numbers board was designed with much of the Montessori pedagogy in mind. Featuring fluffy, colourful woolen balls and high-quality wooden tiles, kids can start learning and calculating – even before they've started to write!
A Rock Is Lively – Diana Aston & Sylvia Long (ages 5 to 8) CHF 12.90
Rocks are really quite amazing. And learning to appreciate them is a little bit like learning how to read history books in a secret language! This book helps children to use their imagination and curiosity to find out how rocks are made, what their characteristics are, and what that tells us about the environment and its past. 
Waldorf Steiner Gifts
For slightly younger Waldorf children, the world is a huge, fun colourful place to be explored… and created! For imaginative play and lots of messy, arty fun, take a look at some inspiration!

Silk Rainbow Cape – Sarah's Silks (ages 3 and up) CHF 39.90
For that dreamy 5-year-old in your life who is always off to the fairy realm, no Waldorf child is complete without their ever-so-special, magical cape. And, if they are in need of an upgrade, then this rainbow silk cape, made with non-toxic dye and from sustainable 100% silk, is the ideal accessory for all that enchanting exploration. 
Nins of the Forest – Grapat (ages 1 and up) CHF 51.95
The perfect small world play for any preschooler. Children can create their own magical place with the nins, tell stories and expand their horizons, while caregivers are reassured that they are playing with an excellent quality toy. 
Life Cycles – Educo (age 4 years and up) CHF 79.25
Teach children about the development of life across a range of species using this interactive wooden toy. As well as explaining how creatures are born and grow, it can be used as a reference for nature lessons and discussions on philosophical topics as well. 
Traditional & Durable Gifts
Planet discovery pack  – 5 Little Bears (age 3 and up) CHF 58.80
While we love exploring the world, we all know the universe is vast too! Encourage budding astrophysicists with this discovery pack all about the planets. Filled with puzzles, stamps and other materials galore, it will have them all reaching for the stars.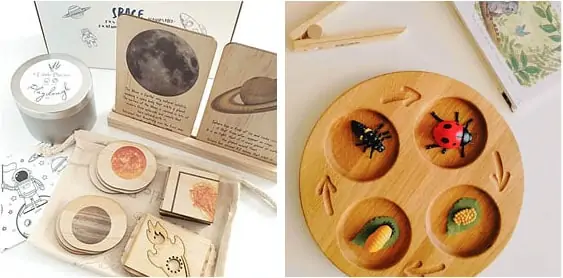 Primary to 12 years old
Montessori Gifts
For Montessori gifts for primary school children, we love things that help them explore and learn about the world around them. 
Wooden life cycle tray – Threewood CHF 59.90
This Montessori-aligned toy from brand Threewood helps children to learn about the life cycles of organisms and teaches them about how animals are born and live in the world around them. Made of solid oak, children can use it in conjunction with other items or even create their own!
Waldorf Steiner Gifts
Older Waldorf kids will be enthralled with toys and materials that encourage holistic thinking and play.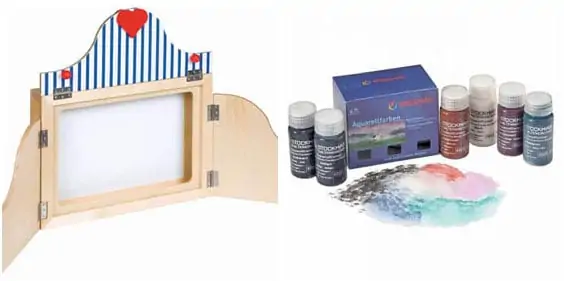 Storytelling Theatre – Educo (ages 2 and up) CHF 199.65 
This beautiful storytelling theatre gets youngsters to use their imagination, not just with the stories but how they are performed. Using the traditional Japanese art form of storytelling and Kamishibai, they can create plays, put on shows and let their imaginations run wild!
Watercolour paint assortment – Stockmar (ages 3 and up) CHF35
For budding creators, these beautiful high-quality and non-toxic watercolours are an absolute staple for their art box. Formulated ideally for mixing, they can provide a wide scope of colours and textures for creating their next masterpiece. They can be used in both the traditional way or even for the wet-on-wet technique. 
Traditional & Durable Gifts
Sometimes the simplest presents are the best. When you're looking for that perfect traditional present, why not show them how they can turn the ordinary into the EXTRAoridnary!
Make Recycled Paper – Lily & Mel (ages 3 and up) CHF 44.90
For children who are interested in ecology and sustainability, then this crafting kit is a great way to get them upcycling and creating their own paper. They can take this plastic-free kit, along with any scraps of paper and household waste and create beautiful, bespoke sheets of paper. They can even add in flowers and other natural materials for added "wow! factor".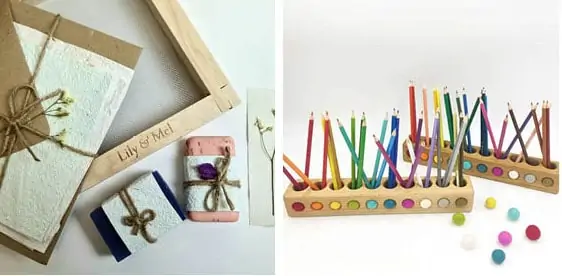 Gifts That Can Be Enjoyed By All!
Age is truly just a number and while many of the Montessori, Waldorf and traditional toys on our site come with an age suggestion, it doesn't mean the fun has to stop as you get older!
Montessori Gifts
Montessori Pencil Holder – Threewood CHF 39.00
This gorgeous pencil holder by Montessori-aligned Threewood is the perfect gift for any multi-generational family. While it does fulfill its function of keeping things neat, ensuring that no pencils go astray, it's also ideal for popping on the dining room table and enjoying a family evening of sketching and creating together. 
Waldorf Steiner Gifts
Garden tool set – Glückskäfer (ages 10 months up) CHF 22.90
Waldorf and Montessori children often like to get messy. Mud, frogs, grass, flowers… if they don't have a bug in their hands, we'd be very surprised. Encourage that curiosity and love of nature, while also learning about cultivation and self-sufficiency with this handy garden set. Plant vegetables together and watch them grow, or at least get them to help you dig up the weeds!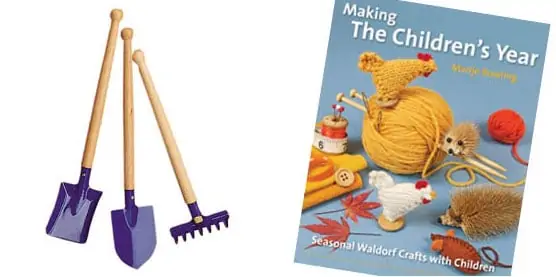 Making the children's year: seasonal Waldorf crafts with children – Marije Rowling CHF 41.50
For those who love to craft, this book is a treasure trove of makes, ideas and inspiration for creative fun. Perfect for rainy days and the potential "I'm bored!" moments, this book is perfect for dipping in come rain or shine. Featuring plenty of starting points and steps to follow, it's also a good jumping-off point to let their creativity run free. 
Traditional & Durable Gifts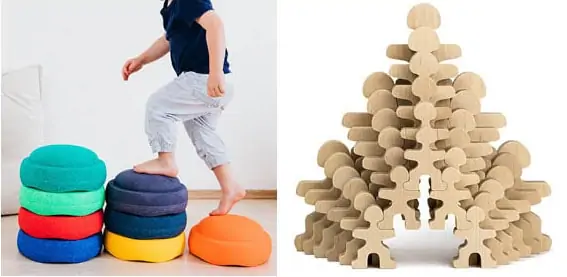 Stapelstein Rainbow Stacking Stones Set Large – Stapelstein (ages 1 and up) CHF 248
We love the Stapelstein stacking stones and they make a more durable alternative to using all the sofa cushions! Play stacking games, jumping games or whatever you can create as a family. Containing 8 stacking stones in varying colours, you can create the best obstacle course ever with these and just a little bit of imagination!
Flockmen Family (30 pieces) – Flockmen (ages 2 and up) CHF 99.00
Suitable for children, but definitely fun for grown-ups too (!) the Flockmen Family is a great way to practice a spot of mindfulness or enjoy a whole host of open-ended play possibilities. As well as this brilliant 30 piece set made of high-quality wood, you can also select up to 100 pieces for hours of calming joy.
Sarah's Silks Giant Earth Playsilk CHF 69.90 & Wooden Play Clips CHF 12.90 each
When the weather is wet and inspiration is flagging, the conditions are ideal for the world's best indoor fort! With this gorgeous forest green silk from top US brand, Sarah's Silks, and some chunky wooden play clips, you can create a woodland hideaway. With a huge range of colours to choose from including Ocean, Stone and Desert, the opportunities for adventure within the home are endless!
Guardian Angel – SINA Spielzeug (ages 3 and up) CHF 28.90
While angels on trees and sparkly Christmas decorations may delight small people, they can often be a little bit too fragile for curious hands! However, this beautifully made Guardian Angel from SINA Spielzeug is the ideal size and durability for little hands, while also providing a joyful tinkling noise from its bell. As well as a perfect present for the newest additions in your life, adults and children will also enjoy this wooden doll whatever the season.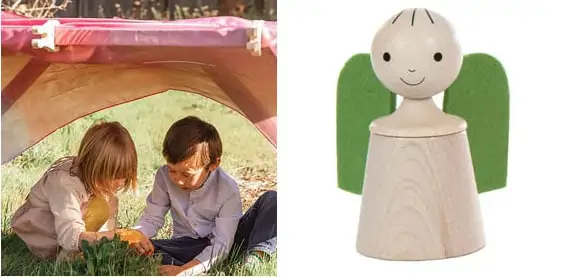 For more inspiration find our gift guides with our finest selection of gifts for babies and children up to the age of 12 years suited for any occasion or celebration here. We also have a seasonal section with Advent Calendar Gifts & Stocking Stuffers, Celebrations and a lovely Autumn Collection with products offering fun ways to bring Autumnal inspiration to your play or home-school curriculum!